CHAPTER 1: WELCOME TO ECONOMICS
Since the discouraging fiasco in the Garden of Eden, all the world has been a place conspicuous in its scarcity of resources, contributing heavily to an abundance of various sorrows and sins. People have had to adjust and adapt to limitations of what is available to satisfy unlimited desires. Some individuals and societies have been much more successful than others in thus making do.
The study of economics deals with this yoke of scarcity and the modes of behavior intended to minimize the pains and maximize the gains of getting along—behavior which is restricted and channeled, sometimes helpfully and efficiently but often hurtfully and wastefully, by the social ground rules and institutions we adopt and have had imposed upon us.
To survive (much less to prosper a bit) in this vale of tears has required enormous, unrelenting effort. The vast variety of economic activity—bidding and offering in the market, producing and consuming currently, and saving and investing for the future—typically entails coordinated decision making and labor. But even seemingly simple operations of production and distribution can require contributions by many people, most of whom never meet or directly communicate with each other and are located in scattered corners of the world.
Consider this book. Thousands of people—in addition to the authors—contributed to placing this book in your hands. Some made paper; some made ink and glue; some edited the manuscript; some printed, warehoused, promoted, and distributed the product. No single person completely planned and supervised all that, and no one was a specialist in performing each of the myriad tasks. Yet, you have the book.
The essence of the story is not different for those who have escaped the surly bounds of conventional books to enter the era of e-books, iPads, Kindles, and Nooks. The more technically advanced modes of providing reading material still require elaborate collaboration of many producers. How are such complex, interrelated, varied activities by so many people in so many places organized? We will show how and why the modes of coordination in a basically private property, individualistic society have dominated all others in productivity, growth, and freedom.
Edition: current; Page:

[

4

]
This book will help you grasp and gain a working familiarity with, and appreciation for, the most basic, universal concepts, principles, and techniques of Economics. With experience, you will build a sense of and feel for fruitful economic analysis and its worldly applications.
SCARCITY
Motivating nearly all behavior is the inevitable existence of "scarcity"—simply put, our wants and desires exceed what is available to satisfy them. Most of what you enjoy is acquired by your efforts, accompanied by strain, sweat, and anxiety. However, no matter how successful are your efforts, you want even more.
Two apparent devils restrict what you can have—the limited amounts of goods and services available, and the rest of us who also want them. It is important to understand that scarcity does not exist because society produces the "wrong" things (e.g., beer, pop-jazz, TV games) instead of the "right" things (e.g., museums, symphony orchestras, art). Scarcity exists because of our boundless desires for limited goods of all kinds and types.
GOODS: ECONOMIC OR FREE
A "good," as that word is used in Economics, is anything of which more is preferred to less. "Goods" includes services as well as physical things—services of doctors, painters, carpenters, and athletes. Fresh chicken eggs are more plentiful than stale eggs. But fresh eggs are scarce; stale eggs are not. Fresh eggs are economic goods—goods for which more is desired than is available.
If a good, however desirable, is so abundant that no one wants more of it, it is a "free" good. Hereafter, the word "good" will always mean an "economic" (scarce) good. If we mean "free good," we'll write "free good." But examples are not easy to find. The classic case of a free good, to most of us most of the time, is air: we simply inhale, and there it is, without our sacrificing anything to obtain it. However, air is an economic good to the astronaut and the deep-sea diver, and so is fresh air to the city resident on a smoggy day.
Caution: "free good" does not mean something for which a zero price is charged, like "free education," "freeways," "free public parks," "free libraries," and "free beaches." Those "zero price" goods are scarce (economic) goods. Charging a zero price does not convert an economic good into a free good. As we will see, distributing goods for "free"—at a zero price—paradoxically makes their scarcity seem even greater.
Admittedly, the term "good" creates a psychological bias suggesting that Edition: current; Page: [5] the "good" is good ("beneficial"). In Economics, however, the word "goods" refers to whatever a person wants, no matter why. Maybe you think cigarettes are not "goods" and people would be better off without them. Nevertheless, as long as someone thinks they are desirable and wants more—that makes them "goods."
SELF-INTEREST?
Self-interest, as the concept is used in Economics, means you want more power to control resources, whether for your own or for someone else's benefit. Because we engage in market exchanges, without the intent of aiding other persons, some "philosophical critics" are misled into believing that economic principles presume people are purely and thoroughly selfish. That is incorrect. You often intentionally act in ways to benefit others. You act as a Good Samaritan in emergencies, even though that's costly to you.
More important, economic analysis shows how our market actions benefit other people, even if we are not deliberately trying to help them. Both parties to an exchange must anticipate a gain; otherwise there would be no markets and voluntarily negotiated exchanges of private property. Though we act primarily with our own benefits in mind, others are benefited by market exchanges.
Let Adam Smith, the eighteenth-century Scot, author of the first systematic and classic treatise on economics, An Inquiry into the Nature and Causes of the Wealth of Nations, explain the incentive and effect:
Man has almost constant occasion for the help of his brethren, and it is in vain for him to expect it from their benevolence only. He will be more likely to prevail if he can interest their self-love in his favor, and show them that it is for their own advantage to do for him what he requires of them. . . . Give me that which I want, you shall have this which you want. . . . It is not from the benevolence of the butcher, the brewer, or the baker, that we expect our dinner, but from their regard of their own interest. We address ourselves not to their humanity but to their self-love, and never talk to them of our own necessities but of their advantages.
COMPETITION
Scarcity's inevitable companion is competition with other people for "more." According to a master competitor, the golfer Arnold Palmer, "If you aren't competing, you're dead." To which we add, "If you aren't dead, you must be competing." How? Consider a few ways to compete.
Edition: current; Page:

[

6

]
Violence
Violence is a commonly respected mode of competition. Alexander, Caesar, Napoleon, Eisenhower, Lenin, and Mao used it. They were highly respected. To be sure, had Caesar merely roughed up a few Romans, he would have been crucified. Had Lenin been defeated, he would have been liquidated on the spot.
If violence is attempted on a large enough (e.g., national) scale, the perpetrators are condemned only if they fail. The power of violence is the jealously guarded near-monopoly of a "government"—by definition of what a government is. "Near-monopoly" because, within a nation, it is often used by individuals in street demonstrations for access to political power. A government will suppress violence by individuals—except in the realm of contact sports.
A wealthy nation is more likely to be attacked—unless potential aggressors know it is willing and able to impose severe losses on the aggressor. The Iraqi government in 1991 attempted to confiscate wealth from Kuwait via invasion, but was rebuffed by the cooperation of other nations. Some years earlier, the poorer North Koreans attacked the South Koreans, but they also were rebuffed by the aid of richer countries that had taken the precaution to have sufficient defensive armor. In much earlier times, the Vikings, Mongols, and Tartars lived by raiding productive, but less defended, communities. Europeans invaded the South American and Southeastern Asiatic regions to expropriate wealth from the less-ably defended areas. Similar events have occurred throughout history.
Political Power
Governments help maintain security of person and property from violence and theft. In a democracy, that power is directed by political leaders elected by voters who are competing for access to government power for their greater protection as well as to redistribute wealth. When we complain about high government taxes or expenditures, we are commonly complaining about our neighbors whose interests conflict with ours.
Discrimination: Allocations by Authorities
Consider a college that has five thousand students and only two thousand parking spaces. On the assumption that most students desire a parking space, the college has a rationing problem: Who gets a parking space? A method of discriminating—to decide who gets spaces—is inevitable. Somehow, some people will get a space, and some will not. There are alternative ways to discriminate. All competition and choice is discriminatory. Choice is merely another name for discrimination—to rank alternatives according to some attribute. It Edition: current; Page: [7] is not discrimination that is condemned, but "invidious" discrimination—by whatever criteria enough people consider undesirable—such as religion, nationality, and gender.
First Come, First Served
The parking spaces could be allocated on a first come, first served basis. Though the money price would be zero, a competitive cost would be incurred in getting to the campus before dawn in an effort to get a space. Costs need not be in money payments. A zero price does not make something free.
Most Deserving?
The costly scramble to get a space could be avoided by prior assignment to the most "deserving" or "needy." The committee dispensing privileges would ask, "Who, other than professors, are the most deserving, most needy ones?" There is almost no limit to the ingenuity of dispensing committees in rationalizing their favors. Among the criteria may be: distance from campus, age, health, senior status, family size, major of student, grades, and so forth. But one question leads to another. For example, should those who are awarded rights to a parking space be allowed to sell the rights to others?
Jungle or Civilized Competition
You may have heard competition promotes antisocial, jungle-like, irresponsible behavior. That depends on the kind of competition that is tolerated. As we'll see, a society with reliable private property rights and readily available markets for exchange of those rights has proven to be conducive to greater production and civilized behavior than a society that condones violence or brute force in resolving differences of opinions about use of economic resources.
Competitive Cooperation by Exchanges
The primary focus of economic analysis is on (a) competition in exchange of rights to services and goods and (b) coordinated cooperation in creating wealth. Competition by offers of exchange is a form of cooperation. "I'll do this for you if you'll do that for me—at better terms than someone else." Though competing, we also cooperate—in the market, in the family, in firms, and in governments. We cooperate to make the "pie" larger; we compete over how much of the pie each of us gets. Any effective combination of cooperation and competition requires a control of the permissible types of competition so as to not obstruct social cohesion and cooperation.
Differences in amounts of wealth held by the richer and the poorer are not Edition: current; Page: [8] all results of the rich being winners and the poor being losers in some contest for the distribution of a given total. A source of the differences in wealth is difference in productivity and willingness to save for more wealth. But the resulting pattern of relative wealth can be so concentrated in a few that the distribution is deliberately altered to attempt to maintain greater social stability.
OUR INTENT
We want your study of economics to be interesting and even enjoyable. But we promise one unanticipated result: you'll be brainwashed—in the "desirable" sense of removing erroneous beliefs. You will begin to suspect that a vast majority of what people popularly believe about economic events is at least misleading and often wrong. A few examples of such common errors are:
•

price controls prevent higher costs to consumers;

•

reducing unemployment necessarily requires creation of more jobs;

•

larger incomes for some people require smaller incomes for others;

•

free, or low, tuition reduces costs to students;

•

all unemployment must be wasteful;

•

stockbrokers and investment advisors predict better than the alternatives of throwing a dart at a list of stocks or the use of horoscopes;

•

taxes are borne entirely by consumers of taxed items;

•

employers pay for "employer-provided insurance";

•

minimum wage legislation helps the unskilled and minorities;

•

housing developers drive up the price of land;

•

foreign imports reduce the total of domestic jobs;

•

"equal pay for equal work" laws aid women, minorities, and the young;

•

economic efficiency is a matter only of technology and engineering;

•

agricultural and other surpluses stem from productivity outrunning demand;

•

capitalism requires a social "harmony of interests"—but also capitalism is the source of competitiveness and conflict;

•

property rights commonly conflict with human rights;

•

business people are self-centered and rapacious, while government people are self-sacrificing and altruistic;

•

labor unions protect the natural brotherhood and collective well-being of workers against their natural enemies, employers;

•

charging a higher price always increases the seller's profits;

•

the American economy is increasingly dominated by monopolists who arbitrarily set prices as high and wages as low as they please;

Edition: current; Page:

[

9

]

•

rent control improves and expands housing;

•

there is unemployment because workers outnumber jobs;

•

fluctuating prices create wasteful uncertainty and rising prices constitute inflation, so government should make it illegal to raise prices;

•

we cannot compete in a world in which most foreign wages are lower than wages paid to domestic workers;
and on and on and on.
Fortunately, societies have progressed despite almost universal ignorance of economic principles. Without an abundance of sophisticated economic analysts, the US economy, over more than two centuries, has generally performed very well, yielding a growth and prosperity that is embarrassingly conspicuous in world history.
The collapse of the socialist Soviet Union and the rise of China and India in world markets was not the result of their sudden awareness of their ignorance of economic principles. Instead, their disappointing economic experiences—in sharp contrast to the economic performance of other nations—showed that the lack of understanding of basic economic principles ultimately creates weaknesses, and motivated their social and market changes accordingly.
SEQUENCE OF EXPOSITION AND UNSOLICITED ADVICE FOR STUDY
This text starts with the simplest principles and applies them to explain the meaning of the gains from trade and how these gains occur. It may seem silly to develop a method of analysis to explain what's so obvious—that people gain from trade. However, looking at a simple action permits an easy exposition of the very important principles of "demand" and their meaning—without distractions by side details of more complex activities. Also, the initial familiarization with graphs for applications of these principles will ease the later study of more complex events that are far less commonly understood. These results will often be surprising and counterintuitive.
To anticipate briefly, the first thirteen chapters explain and apply the concepts of "property rights," "efficiency," "cost," "marginals," "equalization of marginals to avoid waste," and the principles of personal choice and behavior, which determine the prices and allocation of existing goods. Chapters 14 through 29 introduce the principles of production, specialization, teams, and firms; decision making within organizations is viewed from the perspective of economic analysis. Market pricing tactics of different types of firms in alternative competitive situations are explored. Chapters 30 through 38 extend the Edition: current; Page: [10] exposition and application of financial capital value principles and adaptations to economic risk and wealth creation. Chapters 39 through 41 address issues that arise in labor markets, including search costs in seeking highest-valued employment opportunities. Chapter 42 addresses issues of money, inflation, and their effects on prices.
Economics really is easy—in a subtle sort of way. Rely on application of its analytic principles. Sometimes they supersede dictates of physics. The law of gravity says, "If you drop a $20 bill on the ground, it will stay there." Economics says, "If you drop a $20 bill on the ground, it will quickly disappear."
QUESTIONS AND MEDITATIONS
1)

A once popular book states (in essence): "We are trapped by the 'dismal science'—economics, which is dominated by the belief that the achievement of abundance is impossible and that the economic problem is still the distribution of scarce resources. This is nonsense. Abundance has arrived! The United States can produce so much that the basic problems are to see that the potential production is realized and distributed fairly and equitably." Are you inclined to agree or disagree?

Answer:

You are not expected to be able to answer this now. But upon finishing this course, you should be able to show why the concluding sentences are wrong. As for the first sentence, economic science has not trapped us—scarcity has.

2)

"If people were reasonable and acted with justice and good faith, there would be no strikes, no economic problems, and no wars." Do you agree?

Answer:

False. It is because people are reasonable and, therefore, act in accord with their own interest that there are economic problems and wars.

3)

"A more equal distribution of wealth is socially preferred to a less equal distribution."

Explain why you agree or disagree.

What is meant by "socially preferred," as contrasted to "individually preferred"?

Answer:

Until you know what socially preferred means, you cannot answer this question. We do not know what socially preferred means. For example, does it mean that a majority prefer it, or that the most important people Edition: current; Page: [11] prefer it, or that the current rulers of a nation happen to prefer it, or that "everyone" prefers it, or that the speaker thinks everyone should prefer it, or that merely the speaker prefers it? Beware of any expression referring to the preference of a group.

4)

What do you think is meant by a fair share? Do you think other people will agree with your interpretation? How does your interpretation compare with the idea of students getting "fair" grades?

Answer:

Fair does not mean equal, and even if some asserted that it "should," there is the problem of equal absolute versus equal proportional. It is often hard to know what people mean by equal. Would fair grades mean that there should be a minimum grade such as C−? Studies have shown that students who get better grades tend to lead more prosperous lives; but it would be absurd to assert that mandating minimum grades would cause students to be more successful.

5)

"Scarcity, competition, and discrimination are inextricably tied together. Any one implies the other two. Furthermore, to think of a society without these is to be a romantic dreamer." Do you agree?

Answer:

Choice of one thing versus another occurs because there is scarcity; competition and discrimination occur even in an imaginary world of no money, no prices, and no markets. As we will see, suppression of market-determined prices of goods and services gives rise to nonmoney forms of competition and discrimination.

6)

Name three honored statesmen who obtained their status by successfully competing in the ability to use violence and who, had they failed, would have been punished for treason or crimes against mankind.

Answer:

William the Conqueror, Julius Caesar, Napoleon Bonaparte. You can add scores of others. (Hint: George Washington and every other leader of a successful revolution.)

7)

Permissible competition:

What kind of competition is permissible in seeking political office but is not permissible in private business?

What kinds of competition are permissible in seeking admission to college but not permissible for grades in this course?

Edition: current; Page:

[

12

]

What kinds of competition are approved for business but not for admission to fraternities?

Answer:

Promises to raise or lower taxes (affect other people's wealth) in order to benefit those who vote for you. But the politician can't (legally) offer to sell services as a businessman can.

Will letters of recommendation help you get a better grade in this course? Does your past record influence the teacher of this course in making grades? Does wealth of parents?

Employees can offer to work for a lower salary to get a job with a favored employer in a preferred town. Will this work in fraternities? How about a candidate's ability to increase the wealth of the fraternity?

8)

"Government monopolizes coercive violence." "Government is a social agency for resolving interpersonal conflict."

Are those two propositions correct and compatible statements of fact?

What evidence can you cite for your answer?

Answer:

Yes. Until very recently, we know of no institution with the dominant power of coercive violence that is not the government in any country. Government is an institution for enforcing certain rules and procedures for resolving interpersonal conflicts of interest. The making and enforcement of laws and the judicial settlement of disputes are behaviors that support the propositions. (Note that the second statement says government is an agency, not the only agency. For example, many social disputes are resolved by social ostracism and by agreement to use an arbitrator.)

9)

Illegal competition:

If you had the power to decide, what forms of competition would you declare illegal?

What forms of competition are made illegal by laws establishing price ceilings, minimum wages, fair-employment practices, pure food and drug standards, private property rights, and by socialism?

Answer:

You should first want to know the behavioral consequence of each kind.

More than that we can't yet say.

The only kind of competition made illegal by a price ceiling is that of offering more money than the legal limit as means of offsetting weaknesses in other attributes in competing for goods. Fair-employment laws (prohibiting Edition: current; Page: [13] choice of employees by race, color, creed, or age) prohibit competition in terms of personal attributes. Pure food and drug laws prohibit offers of inferior food at lower prices or of new and possibly better but untested (by government) foods and drugs. Private property rights prohibit competition by violence and involuntary dispossession of goods deemed to be private property. Socialism prohibits competition in terms of offers of types of services and goods that individuals privately prefer, without having to obtain authorization of government officials for propriety of producing the services. These are merely examples of types of competition that are ruled out—not a complete chronicle and certainly not an evaluation of the desirability of the various types.

10)

Competition for admission to colleges uses mental ability, athletic ability, good looks, residence, willingness to pay, alumni status of parents, race, sex, and religious belief. Why?

Answer:

Greater use of factors other than willingness to pay is enabled by the fact that most colleges are not privately owned.

11)

On the average, who do you think are most honest—politicians, businessmen, or teachers? Why? What is your evidence? Can you think of any reasons why dishonesty would be more surely detected and punished in one of these professions? If successful, would dishonesty be more rewarding in one rather than the others?

Answer:

A predisposition to tell the truth is essential to the long-run viability of a free and democratic society that relies on private property and market-determined prices to allocate scarce resources. A shocking reality of the Soviet Union of the twentieth century was that generations of people learned that it was important to be good at lying—not only to the government, but also to close friends and even one's family.

12)

"Under socialism, cooperation will replace competition."

Is the quoted proposition correct?

What evidence can you cite to support your answer?

What is the difference between cooperation and competition?

Answer:

Since scarcity is present in socialism, as in capitalism, competition for control of resources is inescapable. In socialism more is in the form of political Edition: current; Page: [14] avenues of competition (persuasion, favors, personal connections). Competition is the interpersonal striving for more of what is scarce and desired—for production, by purchase, by striving for political power, and so on. Cooperation is a joint activity with mutual striving for a common end.

13)

Food is grown, harvested, sorted, processed, packed, transported, assembled in appropriately small bundles, and offered to consumers every day by individuals pursuing personal interests. No authority is responsible for seeing that these functions are performed and that the right amount of food is produced. Yet food is available every day. On the other hand, especially appointed authorities are responsible for seeing that such things as water, education, and electricity are made available. Is it not paradoxical that in the very areas where we consciously plan and control social output, we often find shortages and failure of service? References to classroom shortages and water shortages are rife; but who has heard of a shortage of restaurants, churches, furniture, beer, shoes, or paper? Even further, is it not surprising that privately owned businesses, operating for the private gain of the owners, provide as good, if not better, service to patrons and customers as do the post office, schools, and other publicly owned enterprises? Furthermore, wouldn't you expect public agencies to be less discriminating according to race and creed rather than privately owned business? Yet the fact is that they are not. How do you explain these paradoxes?

Answer:

They will be explained in the course of study. The query is intended to whet your interest in what is coming.
CHAPTER 2: YOUR ECONOMIC SOCIETY
The United States is not the largest country in the world in either number of inhabitants or land area, but its enormous and complex economy produces more annual output than does the economy of any other country. However, reciting a collection of various economic measurements is not analytically very useful, especially when the measurements persistently change over time. Neither would it be highly helpful to tell a first-time viewer of a football game only how many players are on a team, the size of the field, and the typical scores. Without knowing the rules and something about the competitive tactics and strategies, the viewer would be bored or totally confused. The same risk faces you in learning about the competitive game, the "economy." A first step in comprehension is awareness of the rule: private property.
RIGHTS AND PROPERTY RIGHTS
You live in a largely private property society. Whether or not it is in any sense the best type of society is not our question here. We do know that it has evolved and dominated in competition against others. Though most economic resources in the United States are privately owned and managed, some, such as large acreages of land and sophisticated and massive military equipment, are held as government property. Also, while about 80 percent of national income is earned in the private sector, government purchases of goods and services (for example, fire, police, defense, judiciary, education, roads, sanitation) account for the critical other 20 percent.
In every society, each person has various kinds of "rights." A "right" is a person's socially recognized and supported authority to do certain things. The community at large will protect you from anyone who tries to interfere. If people saw someone trying to steal your car—violate your right to it—they would usually call the police or alert other bystanders to forestall that attempt. Your property right to the car rests on the willingness and ability of other people, not your ability alone, to protect your control over that resource—your property. But though you may have physical legal possession of an automobile, you don't thereby have an inherent "right" to it. In a pride of lions, the male by dint of Edition: current; Page: [16] sheer physical prowess takes first choice of feeding on prey. That's not what a right means here. A right is lacking because lions don't enforce rights of other lions. Instead, there is cowed tolerance of dominant lions.
GOVERNMENT PURCHASES VERSUS GOVERNMENT EXPENDITURES
How much does the government spend? In the National Income Accounts—which measure the total output or product of an economy—the US government accounts for about 20 percent of everything produced. That is, the Gross Domestic Product (GDP) includes purchases of goods and services by the government along with the consumption spending of households and investment spending of business. Such government spending includes ships for the navy and the salaries of all the employees of the government.
Another measure, government expenditures—everything in the government's budget—includes all such government purchases and much more. Interest payments on the trillions of dollars of government debt are an expense of government, but show up in the national income accounts as interest income earned by the bondholders. Government also makes transfer payments for Social Security, Medicare, Medicaid, food stamps, unemployment insurance, and housing vouchers. Such transfer payments do not directly contribute to the output of the economy, so are not included in the government component of GDP. Instead, the people and businesses that receive transfer payments from government will either spend or save—just as they would earned income from wages and dividends—so GDP components such as consumer spending and private investment are larger as a result of such transfers.
That does not mean the economy is larger or the people are richer because of such transfer payments. Those payments have to be financed either by taxes collected from households and businesses—thereby reducing private consumption and investment spending—or by the issuance of additional government debt—which also reduces household and business spending.
The government expenditure concept that includes transfer payments rose to 30 percent of GDP over thirty years ago and then in the great recession of 2007–2009 shot up to over 35 percent of GDP. The result has been that a large and growing share of the spending by households for consumption and some of the spending by businesses for investment are paid for by transfers from taxpayers or by debt issuance by government.
Donald Marron, Musings on Economics, Finance, and Life, July 2012, "Has Government Gotten Bigger or Smaller? Yes," http://dmarron.com/2012/07/.
Edition: current; Page:

[

17

]
Your rights determine your status and potential welfare and your "freedoms"—what the rest of society will let you do. To understand your economy and society, you must know the "rules of the game." The "rights" are part of the rules. In playing a game, the rules are the rights defining actions a player can choose. If you don't know who has what rights, you won't understand behavior in a society.
Comparing socialist and capitalistic nations without knowing the different rights people have to economic goods would suggest that the nature of people differs in the two societies. In their underlying natures, people are everywhere much the same, but in different societies they may act within very different contexts and restraints and incentives—the ground rules differ. That's why we start with a statement of some of the property rights that dominate in a private property nation—often called "capitalistic."
PRIVATE PROPERTY RIGHTS
Private property rights contain three key features: (1) the right to make decisions about the physical conditions and uses of specified goods, (2) the right to sell the rights of ownership to other people, and (3) the right to enjoy the resulting income and to bear the loss of the use decision. These are exclusive rights; they all belong to the same person. These three elements together constitute the essence of private property rights. If any of the three is missing, private property rights are not present.
Private property rights restrain you from interfering with other peoples' rights. The physical attributes or yields of all resources owned by other persons must not be affected. If you own private property rights to something, you, and only you, may choose its future use and physical condition, or transfer that right to a willing recipient. No other person has a right to alter its physical features or uses of the good to which you have the private property right. We refer to "private property rights." If you sell something, according to the law, that is interpreted as being a sale of private property rights, not the thing itself. Even if the good itself can't be moved, as a tract of land, the rights are transferable to others. Don't be misled by statements that private property rights put rights of property over rights of people. Private property rights are rights of people over uses of goods they own.
Edition: current; Page:

[

18

]
Avoid another confusion. In economics, we are concerned about constitutionally protected rights. This is different from some people's claims to rights to education, health care, housing, a good job, and so forth. Such claims would amount to other people being forced to provide something that I want. No such constitutional rights exist. Constitutional scholars make a distinction between "negative rights," which limit what governments can do, versus the notion of "positive rights," which would require government actions to benefit some people at the expense of other people.
Physical Attributes, Not Market Values
Private property rights protect your property from physical effects caused by other people. I can't legally use my hammer to break your windows. But you are not protected from market-value effects caused by a reduced demand for your property. If I build an apartment building and increase the supply of apartments enough to reduce the rental value of your apartment, that's legal. Or if this textbook reduces the sales of a competitor's book, that's legal. It doesn't reduce the offers the competitors can make to potential customers. Nor does it reduce competitors' physical productive potential.
Beware of Presumed Clarity and Definiteness of Private Property Rights
The distinction between physical effects and market-value effects seems clear—at first thought. But consider the following situation. From your land, you have a beautiful view over land owned by someone else who proposes to erect a building obstructing your sight. Would the physical attributes of your land be affected? Yes and no—depending on what is meant by the physical attributes of your land. Physical features might not be interpreted to include the "light rays" reflected onto your land. Usually, but not always, they are excluded from your private property rights. Your neighbor can block your view without violating your private property rights. The moral is: When buying private property rights to something, first identify what the rights include and what is excluded. The less that is included, the lower the market value will be.
Alienability of Private Property Rights
Another essential feature of private property rights is "transferability," often called "alienability." That's the right to sell your rights. And that makes you pay attention to potential market value of what you own. The way you use your Edition: current; Page: [19] car or house will affect their market values. If you have the right to resell this textbook, you'll take better care of it than if you have no right to sell it. This salability of rights to the resource is a fundamental difference between private property rights and all other forms of property rights over resources.
In England, until about one hundred years ago, major land holdings were not "alienable." They passed from parent to child. All the "owner-occupant" could do was live on it or enjoy its income if rented to someone else. In China, publicly traded companies issue shares of "ownership" that are not resalable without government approval. In Switzerland, until a couple of decades ago, shares in many publicly traded corporations could not be sold to other people unless the buyer was approved by the corporate directors.
Private property rights are transferable to any person willing to accept it or share in it. You bear that right until someone else is willing to accept it. You can't just revoke your right and abandon all future responsibility for its subsequent condition. Once you acquire a private property right to some good, you either must transfer it to some other willing recipient or bear it until death. At that inevitable time, without a willing designated recipient (inheritor), the government takes the right.
At your college, if not a privately owned institution, no one has a private property right to the marketable value of the college's resources. Because the administrators are thereby more insulated from changes in market values of the resources, they use those resources less in accord with their highest market-valued uses. This does not mean that private property rights are necessarily always better. There are reasons for not having private property rights in some institutions, such as "not-for-profit" hospitals, colleges, museums, fraternities, and sororities—and we'll see later some of these reasons.
Torts
We note another kind of "property right." A taking or using of another person's property in an emergency is called a "tort." Because this occurs commonly, there is a whole body of law about "torts." In a sudden storm on a lake, if you berth your boat at my dock to save your life (without prior negotiation for my permission), have my "rights" been violated? Or, if you could have attracted my attention and asked for the right to use my dock, could I extract from you a promise to all your wealth to save your life? A more common example of a tort occurs when you berth your boat on my dock (with or without my permission), but because of some proven negligence on my part your boat is damaged or you are injured. In such cases, courts may force me to compensate you.
Edition: current; Page:

[

20

]
THE RULE AGAINST PERPETUITIES
An important restriction on the scope of private property rights is contained in the Rule against Perpetuities. That rule restricts your control of the future uses of what you own now. You might in your will try to restrict the future uses of your enormous wealth, perhaps leaving a parcel of land to a foundation as a permanent refuge for deer.
However, a reason for the ban on your unlimited future control is that it reduces the influence of future market values on the way that resource will then be used. The "dead hand of the past" is not allowed to overrule the "invisible hand" of future generations' market values. The rule against perpetuities permits restrictions on use and salability of resources for only about twenty-one years after the death of persons who were alive at the time of the death of the donor. If that rule were not enforced, resources today would still be used in ways they were generations ago—a potentially unattractive result.
CAPITALIST OR SOCIALIST
A major difference between societies is not whether property rights do or do not exist, but is instead the extent to which they apply. Even in formerly communist Russia, private property rights were not totally absent. People owned and could buy and sell furniture and automobiles, as well as vegetables grown in their gardens. However, almost all productive resources—those used to produce goods and services for other people—were "owned" by the government.
An economy with extensive private property rights over most resources is usually called a "capitalist" economy. With salable resources, the anticipated future consequences of present uses of resources are "capitalized" into current market values of the resources, as we'll be examining. Explaining what those capitalized market values reflect, and how they influence our behavior and uses of resources, is one of the basic achievements of economic analysis.
To incorporate anticipation into present values requires establishing and maintaining consistency of actions among the populace. That has to be done in an economy in which decisions and adjustments are independent in the sense that each person makes choices without requiring permission from someone else. Yet, the decisions are dependent in that they depend on what other people are expected to do. In a market economy—with restrictive private property rules of the game—individuals make risky decisions and bear the consequences of their decisions.
Edition: current; Page:

[

21

]
We have separated the particular "system" from universal "economic principles," because these principles apply to any economic system. They reflect characteristics of individuals' preferences and productive abilities that are found everywhere. We refer to "demand" to identify universal features of people's preferences among types and quantities of goods. We use "supply" to identify the abilities to produce goods and services that are common to all economies. We will start in the next chapter by looking at demand for various amounts and types of goods, assuming initially they already have been produced.
ALERT! FREE SPEECH IS NOT "FREE RESOURCES"
"Economically Free" and "Politically Free" have different meanings. Your private property rights to your land prevent me from encroaching to pitch a tent or dump garbage or hold a meeting without your permission. I would be violating your private property rights to your land. Similarly, if, without prior permission, I took your loudspeaker to talk to people, I would be violating your private property rights to the loudspeaker. I do have a right to free speech, but that does not mean I have a right to take your loudspeaker or land to communicate with others even if they would be willing listeners.
A right of free speech is not an "economically free" right. It uses scarce resources. "Free speech" means the right to communicate with your own resources to other willing listeners—without political intervention about what you say. I can't force you to hear or read my "speech" any more than I can force you to give me your wealth. I can't take property of others to communicate, nor can I regard the attention of other people as "free" to me. I must use my own, or rented, resources to communicate, and then only to willing persons. Both these critical features, (1) use of one's owned or rented resources by the speaker and (2) a willing listener, are often ignored.
This kind of confusion of "free speech" with a "free right" to use resources, as if they become "free" when the resources are to be used for speech, has confounded many judges and lawmakers and college administrators. Someone sends unwanted email to your computer. You are an unwilling recipient. Both required conditions of free speech are violated. Your computer is being used without your permission, and you are not a willing recipient of the messages. The right of free speech is neither a right to "free" access to resources of other people nor a right to "unwilling listeners."
Edition: current; Page:

[

22

]
EFFICIENCY AND THE "CONSTRAINED MAXIMUM" CONCEPT
Within the private property "rules of the game," a person can use resources under his control to produce other assets. An efficiently produced amount of some good is a "constrained maximum" of that good. More of a specified good requires reduced production of some other goods.
The necessity of that trade-off is represented by the production possibility boundary (PPB), as shown in .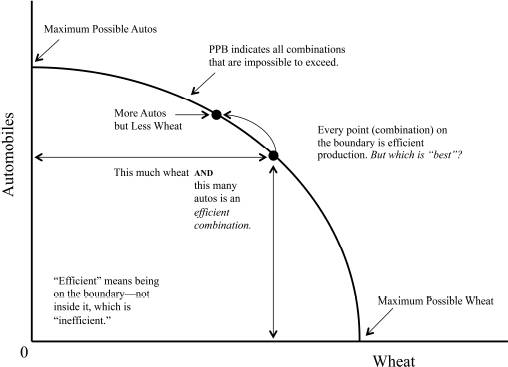 Figure 2.1
Edition: current; Page:

[

23

]
Sometimes some equipment, say a refrigerator, is called "electricity efficient," meaning merely that the refrigerator was constructed so as to use less electricity than some other refrigerator. But the "electricity energy-efficient refrigerator" costs more to produce. Whether the saving in electricity is worth more than the increased cost of production of the refrigerator is the pertinent question, not the fact that less electricity is used.
Again, the concept of "efficient" is different from the concept of an unconstrained, or "unconditional," maximum. More housing could be produced if we didn't care about anything else. That would be maximum housing, with nothing else. We'd all starve in nice homes. Similarly, a maximum of clean air would mean no production of anything that "dirtied" the air. We'd all starve while breathing perfectly clean air. Clearly, we want more than just one good. We want combinations of goods. But more of one means less of others, if we are efficient.
With investment, such as new equipment, buildings, and production techniques, the PPB is expanded outward, in one or more dimensions, though only two are shown in . But the PPB reminds us that at any given moment the production potential is limited.
Is Efficiency Desirable?
"Efficient and inefficient" suggests that it's "bad" or "undesirable" to be inefficient, because more of some goods or desirable things could otherwise be obtained without reduction of the presently available amount of other goods. However, if some of the alternatives are "good" in one person's opinion while being "bad" in another's preferences, disputes will arise. You'll be told you're considering the wrong alternatives, and therefore the efficiency for your set of possible goods is irrelevant. People differ in their preferences and evaluations. You want cleaner air even at the cost of less driving. I want more driving even at the cost of less clean air. Both of us want efficiency with respect to our preferred mixtures. Therefore, "efficiency" is not a basis for choosing among alternative "efficient" combinations.
Incomplete Span of "Components" for Efficiency!
A new refrigerator may be labeled "energy efficient" and uses less energy than required in the old model, but at the cost of having to use a more expensive motor and more expensive insulation. Does efficiency mean the least possible amount of energy is used—regardless of cost of other materials? Reducing the amount of one component, while having to increase the costs of other components even more, is not "cost efficient."
Edition: current; Page:

[

24

]
Every point on the production boundary curve is efficient; all points inside the boundary are "inefficient." But which of all the points on the boundary—all the efficient points—is most desirable has not been answered. Furthermore, the location (higher or lower) of the boundary curve depends on the reliability of laws and contracts, government policies, taxes, security of property, work ethic, entrepreneurship, education, access to markets, mobility of resources—a lot more than just the number of people and quantity of physical resources. Those other factors are major features that economic principles help us understand.
We now prepare to learn economic principles and how to use them reliably to understand events in the economy. The set of principles we'll explain is "economic theory." But don't let the label, "theory," mislead you into supposing that it's all "theoretical" and "abstract" rather than practical. There's a difference between theoretical and theory. "Theoretical" suggests it's debatable, conjectural, unproven, and thus not reliable. In fact, the economic principles that form economic theory are very powerful, proven, and reliable.
MEANING OF A "THEORY"
In scientific analysis and interpretation of an event, theory means a set of principles, or propositions, which, when logically used, will guide us to state correctly what will be the consequences of some initial action—a set of concepts and relationships that enables us to deduce what action will lead to what result.
Principles form a "science" if people can deduce from those principles consequences as a result of specified initial events. If those implied consequences happen reliably, that set of principles is a "science." The theory of physics tells us features of the swing of a golf club that reliably will make the ball go straight. That's true no matter who is the player. The theory is reliable, even if the players are not reliable in their performance.
ECONOMIC ANALYSIS IS POSITIVE, NOT NORMATIVE
Economic principles form a "positive," not a "normative," set. It's an "If this, then that" form of analysis. It helps to understand or deduce consequences. It contains no basis for deciding what is ultimately "good" or "bad," commendable or condemnable.
Principles of chemistry explain what happens if you add iron filings into sulfuric acid, or if you toss a match into a pile of paper, but it does not tell whether you should add the filings or toss the match. Physics does not imply carbon is better than lithium, or that heavier elements are better than lighter.
Economics does not tell us (imply) that governments should be smaller Edition: current; Page: [25] rather than larger, or that taxes should be lower or higher. Economics can foretell some of the consequences of a law or event, and you can then decide for yourself whether the prior action is desirable. Whether some event or consequence is good or bad is not implied, indicated, or deducible solely from economic theory.
INCREASED OR REDUCED PROBABILITY AND REFUTABLE IMPLICATIONS
To say something "may" or "might" or "could" happen is empty, useless, irrefutable—and worthless! "Could, may, or might" statements permit anything—not what will or will not happen. The world's entire population may suddenly change their behavior and act like angels. You may, might, or could become the world's greatest violinist.
A useful statement indicates (a) what will or will not happen, or b) a probability of the event, or c) what raises, or lowers, the probability. Economic analysis implies that price controls increase the probability of shortages and discrimination by gender, ethnicity, and religion. The collected evidence supports that implication. Since nothing in the world is certain, except probably death and taxes, you should think in terms of increased or lowered probabilities. For brevity, we'll often say that the implied consequence "will" occur. But in life virtually everything is probabilistic.
REPORTED VERSUS VERIFIED EVENT
A research "result" is announced in the news. Later, someone reexamines the data to see how, and how reliably, it was collected and what significant features, if any, were omitted. But by then, if the initial results were misinterpreted, the first wrong impression is hard to remove. Whether in medicine, physics, nutrition, or economics, be careful in placing heavy reliance on first reports.
TRANSIENT LUCKY EVENT VERSUS BASIC DIFFERENCE: THE UBIQUITOUS REGRESSION EFFECT
Compounding the doubts about unusual events is the "regression effect," which states that there is a higher probability of good luck to be followed by just "normal" luck, than by continued good luck. Of one hundred identical salespeople, some would, by good luck, have higher sales than others in any one week. But in the next week those who were unusually lucky in the first week would more likely get fewer sales, nearer their long-run averages. Similarly, those with very bad luck the first week would not have such bad luck the next week, so in the second week their sales would improve. The very lucky as well Edition: current; Page: [26] as the very unlucky in the first week tend to "regress" toward their longer-run average.
This universal tendency to regress toward the long-run average is the regression effect. One of the classic ways of taking advantage of this effect is to invite people to take some performance test—say a reading test—and to tell those who score below average to take lessons in "reading improvement." After the lessons (which could be nothing more than taking ten deep breaths or blinking their eyes three times) their test performance will on average improve, because their unusually low performance on the first test was at least in part due to unusually bad (nonrepetitive) luck.
ECONOMICS VERSUS ECONOMISTS
What economics says is not always what economists say. An economist (one capable of applying economic analysis logically) may express personal preferences, recommendations, and advice, such as, "Invest more, reduce the size of government, reduce tariffs, and buy this stock." But those normative, prescriptive statements are hardly more reliable or authoritative than if uttered by anyone else. What the economist can do with economic analysis is to deduce some of the consequences of a proposed act, presumably more accurately than a noneconomist. But definitely to assess and appraise whether the consequences of the action are good or bad is, to the economist, forbidden fruit. Yet, like Adam, many economists eat of it.
WHICH ECONOMIC THEORY?
The principles of economics, which form "economic theory," are intended to be reliable, useful guides to understanding economic events. Don't make the intellectual mistake of asking whether the theory (the set of principles) is "true." No theory is perfect. Ask instead, "Is it useful and reliable enough for my purposes? That is, will it lead to generally correct implications and guidance at sufficiently low cost without intolerable error?" That's the question to ask in every discipline, whether Chemistry, Physics, Biology, or Economics.
Every theory is wrong and incomplete with respect to some things—just as with maps. Maps of the same area differ in accord with the purpose of the user. No map, and likewise no theory, is a literally correct representation of every detail. Your useful road map doesn't show all the bumps, traffic signs, overpasses, degrees of traffic congestion to be expected, and so forth. There is a variety of maps, each appropriate for a different purpose—some for travel by car, airplane, or boat, some for surveying land and rivers, and some for building roads. Nevertheless, though the variety differs, all of the maps must be consistent Edition: current; Page: [27] with each other in certain fundamental respects. No valid map of the United States would show the Mississippi River emptying into the San Francisco Bay, though useful maps will differ in the degree of details.
There is not one economic theory for capitalism and another for socialism and another for some other form of economy. The situation parallels biology. The same biological principles hold no matter where animals and people live. In every society, the basic principles of human behavior are the same.
ECONOMICS AND BIOLOGY
Economics is part of "biology"—the study of life. "Economics" concentrates on the activities that are dominant in the "market" for the production and distribution of desired goods and services. Other actions, such as the social activities within the family and in social groups, or in governments, are studied in sociology and political science—although economics increasingly is being used to explain these actions as well.
THE BASIC UNIT OF ANALYSIS IS THE INDIVIDUAL, NOT A GROUP
Economics assumes that choices are made by individuals, not by a group, family, business, or government. We don't inquire about why some "firm" or "union" or "government" does something. Always, it is some person who is doing something. That's why we'll always look at the choices individuals make, whether when isolated or in organizations. However, this does not mean people make choices with only their own narrow interests in mind. Effects on other people are not excluded from a person's interests. But our focus is on an individual's chosen action.
QUESTIONS AND MEDITATIONS
1)

What does "equality of opportunity" mean? How could you determine whether it exists? What is the difference between increasing opportunity and equalizing it?

Answer:

We don't know. It depends upon your point of view and what you think is "equal" or "fair." Does it mean starting with the same amount? Then what about the differences in people's natural abilities or ability to learn? Does it mean ending with the same amount? What if people value the same amount differently? Economics doesn't answer subjective issues. The purpose of this question is to make you aware of the ambiguities in such questions.

Edition: current; Page:

[

28

]

2)

When you purchase a car, what is it that you are actually buying?

Answer:

You are purchasing the rights to exclusive use of that car provided you do not violate the rights of others to use their resources. By "owning" the car you also possess the rights to transfer (sell) the exclusive rights of usage to another person, something you cannot do if the car is rented, leased, or "owned" by the community.

3)

"The free-enterprise, capitalist system is free in that it involves no imposition of force or compulsion." Do you agree? Explain your answer.

Answer:

All societies use force and compulsion. The pertinent issue is: What kinds of coercion and force do various economic, political, and social systems use? The capitalist system uses the force of self-interest; it is impersonal in its market effects. The effects of decisions are borne by the owner of a resource. Someone who produces at a loss bears the effect and is forced out of business into some other task, perhaps with less compassion than under a socialist dictator, who might spread the loss to other people instead of concentrating the effect on one person, the owner.

More sensible than the question of which system uses less force is the question of what effects the various kinds of forces (incentives, rewards, signals, orders, and penalties) have on individuals' economic, cultural, and political behavior. For example, how does the economic system affect freedom of speech, job mobility, social fluidity, individual dignity, worship, search for the truth, and so on? The effects on all the various goals of a person must be considered. Not even reference to the use of the rule of law versus the rule of arbitrary dictators is a basis for ultimate judgment. Here too, the question is: What law and what rules will be enforced? Will it be the rule of private property rights, the rule of socialism, or some other?

4)

"The free-enterprise, capitalist system is good because it gives individuals more opportunity or freedom to choose for themselves than other systems." Do you agree? Why?

Answer:

Economics cannot make value judgments and answer the question of what is "good." Differences are implied about the kinds of opportunities or "freedoms" provided to individuals living under each system. The implications are that a free-enterprise, market economy gives individuals a Edition: current; Page: [29] greater range of consumption patterns or goods from which to choose. Whether it is "good" that individuals should have such a range of options to explore is a question that economic theory cannot answer. A greater range of choice can be regarded as a greater range of temptation, risk, error, regret, and deviant behavior. Just as parents restrain children's choices for their own good, we may prefer to restrain the choices of adults because everyone retains some childlike impulses. Whether you wish to regard one system or the other as giving more freedom depends upon your meaning of "freedom." In one sense, freedom can include protection from the costs of temptation and unfortunate choices; in another sense, freedom might include the right to bear those costs and to make those choices and explore tempting alternatives. The implications derived from economic theory about the factual consequences of different systems will be helpful in forming a judgment.

5)

"The college football team has a goal."

a.

Is it the social goal of the "team," or is it the common individual goal of each member of the team?

b.

Are you sure that each member has only that goal?

c.

Is it helpful to talk of one goal being preferred over another?

Answer:

a.

Each team member has a goal. In analyzing problems look at the individual. Individuals make decisions, not entities such as "teams, firms, governments."

b.

We're not sure; some members may have more goals.

c.

No. It's a matter of fulfilling some of one goal and some of the next.

6)

In trying to understand some policy enforced at your college, why may it be misleading to ask why the college adopts that policy?

Answer:

Individuals, not abstract things called "colleges," make decisions.

7)

If you don't smoke, is tobacco a good? Are purchase and sale necessary for something to be considered a good?

Answer:

Although you do not smoke, there are others who want more tobacco products than are available at a zero price. They are willing to trade some amount of other goods to acquire a given amount of tobacco. Tobacco is an economic good, even if you do not think it is good to use tobacco.

Edition: current; Page:

[

30

]

8)

"Economic theory is built on an idealization of people: that they have tremendous computational power, a detailed knowledge of their desires and needs, a thorough understanding of their environment and its causal relationships, a resistance to acting on impulse or by habit." Explain why this statement incorrectly characterizes economic theory.

Answer:

It is theory and its structure that are logical. The predictable regularities of people's responses to changes in their environment do not require their rationality any more than the response of water to a slope requires rationality by each molecule of water.

9)

Suppose it were claimed that a denial of college facilities to some speaker is a denial of the right of free speech. Show how that argument confuses free resources with free speech.

Answer:

Free speech means a right to speak or communicate with others who are willing to listen, free of intervention or prohibition. It is not a right to take resources of other people for one's own purposes of communication. To use college property without permission of the college authorities is not a right of free speech; it is simply appropriation of property as if the property were free for the taking. Nor is it a denial of free speech if a college or anyone else denies the use of resources under its or his control which others would like to use for their own purposes. This does not mean that colleges ought to refuse to others all uses of their resources for communication of popular or unpopular ideas; it is a clarification of the difference between free speech and the proposition that resources are "free" to anyone for the taking to be used for communication.

10)

Evaluate the statement: "When property rights conflict with human rights, property rights must give way."

Answer:

The statement is vacuous. Human rights are the rights of people to use scarce resources. The property itself has no rights.

11)

What is nonsensical about the proposition, "A good economic system maximizes the welfare of the maximum number of people"?

Answer:

Only one quantity can be maximized subject to all others being held at specified levels. You can maximize the welfare of one person provided that the welfare of each of the other people is unchanged.

Edition: current; Page:

[

31

]

12)

What are theories, and why are they useful? What is logical validity of a theory? What is empirical validity of a theory? Does either imply the other?

Answer:

Theories provide a coherent and facilitating framework for explaining and predicting events in the world. Theories have two aspects—logical and empirical. A theory interprets events in terms of a general framework, using principles considered to be true. Using logic and the principles on which a theory is based, one can draw implications. If the principles and the derived implications are logical, the theory is logically valid. Second, useful implications are those which can be tested empirically against events in the world and shown to be wrong or "refuted." If the implications are not refuted by empirical testing—that is, by events in the world—the theory is empirically valid or conditionally confirmed. Logical and empirical validity do not imply each other. In short, use of theory and empirical testing is a way to increase the probability of making more accurate predictions or reduce the probability of making erroneous predictions.

13)

Can a theory be proven true?

Answer:

No. Logically it's impossible to prove a theory. A theory says that an assertion or proposition X logically implies some event Y. Empirically, if we observe event X and then the event Y, we can't infer that X caused Y to occur, because there may be something else (Z, which we may not be aware of) that caused Y to occur. We can say that the evidence supports the theory. "Confirmed" or "validated" however do not here mean "proven."

14)

"The assumptions or principles underlying the theory are too simplistic or unrealistic, so the theory is not useful or won't work." Do you agree?

Answer:

No. The usefulness of a theory depends upon its simplicity (how easy it is to use) and predictive power (how accurately it predicts events in the world). A theory with complicated "realistic" assumptions may generate implications which are not supported or confirmed by events (it predicts very poorly) while a theory with simplistic assumptions may generate implications that are largely realized by events (it predicts well). Use the theory that predicts best—even though its assumptions are simplistic. The predictive power or empirical validity of a theory does not depend upon the complexity (or realism) of the theory's underlying assumptions, propositions, or assertions.

Edition: current; Page:

[

32

]

15)

"It's better in theory than in practice." What do you think this means? Do you agree?

Answer:

"It's a good theory but it predicts badly." Disagree. If the theory predicts badly, it's not a useful theory. A useful theory predicts well—the theory makes implications that are confirmed or supported by events.

16)

What is meant by (a) the logical validity of a theory? (b) the empirical validity? Does either imply the other?

Answer:

A theory is logically valid if all its elements are logically consistent with each other or with some broader theory with which it is associated. It is empirically valid if its implications about observable phenomena are consistent with the observed phenomena. Neither implies the other.
CHAPTER 3: CHOICE AND COST
A candy-store owner told Annie: "I want to give you some candy for free. Select whichever one you want." She responded, "Thank you. But it's not free!" Annie's smart! She recognized that choosing her favorite, Snickers, is costly. She would have to give up her next best-liked candy, a bag of M&Ms—her alternate personal highest-worth good. Costs can occur in several forms, and some things that are not costs are often called costs.
DEFINITION OF COST OF A CHOSEN ACTION
The cost of an action is the best alternative you otherwise would have chosen. Cost is what you forgo. When Annie chose the Snickers, she gave up one of the several other kinds of candy she could have had. The best—the highest valued—alternative in her opinion was the M&Ms. So for Annie, the cost of the Snickers was the M&Ms. "Opportunity" is sometimes used with "cost"—"opportunity cost"—to emphasize that the cost of an act is the best of the forgone opportunities.
Annie did get the right to choose some candy. Getting that right didn't cost her anything. The cost occurred when she had to choose to have this rather than that. We must recognize the difference between (a) the gift of the right to choose among the specified items and (b) the act of choosing among them. Though the right to choose some candy was obtained without payment, the choice itself was not free.
PERSONAL WORTH
When Annie was then asked if she would rather have the Snickers over two bags of M&M's, she replied, "No, I'd still choose the Snickers. But I would have a hard time deciding whether one Snickers was worth to me as much as three bags of M&Ms. I'd let you choose whether I obtained a Snickers or three bags of M&Ms." She could have added, "My personal worth of a Snickers is the most bags of M&Ms I'd be willing to give up to get a Snickers. Cost is what you must pay to get something. Personal worth is the highest value you'd be willing to pay. For any action, if your personal worth exceeds your cost, you'll do it. If your cost exceeds your personal worth for it, you'll not do it."
Edition: current; Page:

[

34

]
SOME CONFUSIONS THAT MUST BE AVOIDED
Consequences of Act versus Cost
Distinguish between (a) the cost of a chosen act and (b) the "bad" consequences of that act. Undesirable features of choices are not the "cost." People say that the cost of playing tennis is the resulting sore arm, or that the cost of studying is eyestrain. The eyestrain is a consequence, or part of the act, of studying; the sore arm is a consequence, or part of the act, of playing tennis. Don't confuse the undesirable features of a chosen act with its cost—the best alternative given up. The cost of "studying and getting a headache" is the "best opportunity" thereby given up, which may be the two hours of playing video games you give up in order to study.
Purchases versus Use—Explicit and Implicit Costs
Another distinction is between the cost of getting some good and the cost of using that good. When you buy something, you trade rights, giving up rights to one good in exchange for rights to what you bought. What you paid is a cost of getting what you bought. But when you use something you already own, you incur a cost—giving up the next best use of the object. You might call that a cost of "use." Whatever it's called, cost can occur without giving up some good in exchange.
If I use my garage as a workshop, there's a cost of using the garage in that way—the loss of storage space for my car. Because no rights are transferred or goods given up to someone else, the cost is called an "implicit" cost. The implicit cost here is the best forgone use of goods I already have. Thus, even already owned resources are not costless to use, because their use for "this" means giving up the opportunity to use them for "that." The label "implicit" is a way of reminding us that a forgone opportunity is a cost. Every cost is appropriately called an "opportunity" cost, to emphasize the opportunity forgone, whether as a payment or as some alternative use.
Precisely What Is the Action?
Consider three related activities concerning an auto: (1) purchase of its title, the ownership; (2) continued ownership of the car; and (3) use of the car. Each of these acts has its cost. Suppose a car with a purchase price of $20,000 could immediately be resold for $19,000. What is the cost of purchasing title to the car? Is it $1,000 or is it $20,000? The cost is $1,000, because your wealth is reduced by only $1,000 when you purchase the car ($1,000 = $20,000 minus the immediate resale value of $19,000). Only $1,000 is initially forsaken. But immediately there is a cost of continuing to own the car. And there will be costs of driving the car.
Edition: current; Page:

[

35

]
Price versus Full Cost
More than money payments are involved in the costs of most acts. Suppose you spend an hour shopping for a movie on DVD you then purchase for $10. That's an hour of time otherwise available for some other activity, like working at $8 per hour. The full cost of the purchase is $18, the $10 money payment plus the $8 value of what you could have done with that time. Suppose, instead, you hired an agent to do the shopping, purchasing, and delivery for a total money price of $15 ($10 price of the DVD plus the $5 cost of the agent's services). That would have been cheaper, though the money price was higher—the $18 full cost without the agent compared to $15 with the agent.
The value of your time is one reason you don't drive across town to purchase at a lower money price—but at higher full price. The relatively high value of time for some customers is why convenience stores thrive. Richer people (who have higher-valued alternative uses for their time) typically pay higher money prices to get faster service. They don't shop around to save a dollar waiting in lines as long as do people with lower hourly earnings. Wealthy people pay higher greens fees on golf courses or higher fees for tennis courts that have less waiting time or faster play; they insist that sellers of service (restaurants, hair stylists, tailors, lawyers, doctors, auto mechanics) provide reservations and faster service. The rich pay a higher dollar price for the faster service, because the greater value of time saved reduces the full cost for them. Conclusion: Do not regard the money price as the full cost. Consider all components of cost.
Expenditures versus Purchases
An expenditure (payment of money) is not a cost if you are already obligated to make the payment, as when you repay a debt. After you buy an automobile under an installment payment plan, the later expenditures, when made, are not costs. You incurred the cost at the moment you agreed to the installment plan. At that moment, you gave up your right to the stipulated amount of future income to be used for other things. When making the installment payments, you are fulfilling an obligation. Those contracted expenditures are not costs—and some costs are not expenditures, as we'll see next.
Changes in Implicit Costs
Depreciation is a reduction of current value, not of initial purchase price. Suppose you have just purchased a used car for $15,000 to use in a limousine service business. You contemplate a 100,000 mile service life, with zero final resale value. The depreciation due to use of the auto would be $.15 a mile (= $15,000/100,000 miles).
The day after you bought the car, you discover it has been owned by a celebrity Edition: current; Page: [36] and therefore could be resold for $100,000! You've just gained $85,000 in wealth. But at the same time, the rate of depreciation of the car has increased from $.15 a mile to $1 a mile (= $100,000/100,000 miles). You have become wealthier. But you now lose more of that greater wealth with each unit of use. Depreciation always must be based on the pro-rata share of its current value—not its initial purchase price.
Misfortune can make us understand the world more clearly. You buy a used car for $15,000 for a limousine service, and the next day you discover some defects in it, which reduce the value of the car to $5,000. You've suffered a wealth loss of $10,000. However, the depreciation per mile of use of the car falls to $.05 per mile (= $5,000/100,000 miles), assuming the car will still render 100,000 miles of service. Again, the point is that the depreciation of an asset is the decrease in its current value, not in the initial value at the time of purchase.
"Sunk Cost" Is No Longer a Cost
The concept "sunk costs" is important in many decisions. You are writing a term paper and have already spent twenty hours on it. Someone says you could write a paper on a different topic and get a better grade. Would your decision depend upon how much time and effort you have already spent on the present topic? We hope not! That time spent is sunk, gone, and unaffected by any future actions.
A sunk cost is the cost of a past act. It is not a cost of any present or future action. It may provoke tears, sadness, and regret. But costs of past acts are bygones, sunk and irrelevant for present acts. However, at the earlier time of initial action, the contemplated act's foreseen (but not yet incurred) sunk cost is of prime relevance in deciding whether to undertake the act.
Time Used versus Time of Use
Time passes no matter what you do. It can't be saved and accumulated; there is no choice about delaying or speeding up time. Therefore, the time required to do something cannot itself be a cost. Instead, the cost is the alternative act that otherwise would have been accomplished within that amount of time—possibly later and not just at the present moment.
EXTERNALITIES: UNCOMPENSATED EFFECTS BORNE BY OTHER PEOPLE
"Externalities" are effects on other people to whom adequate—mutually agreeable—compensation is not made. If compensation for effects on another person were made, that would be a "purchase." Theft has an external effect, but if you had bought the item, that would not be said to result in an externality. Edition: current; Page: [37] So long as mutually agreeable compensation is made to those who would otherwise be harmed, that's not an externality.
You will not always bear all the costs of your action. You may impose some losses on the property of other people. That would happen if you stole some of the resources you were going to use. Or your action might inadvertently harm someone. If I eat a hamburger with onions during a close conversation with you, that's legal, even though I have polluted the air you breathe.
If I turn up my sound system and annoy neighbors, or throw litter on their land, or drive my noisy motorcycle near their land, I am abusing—reducing—the benefits they receive from their property rights in land. But often the actor abuses resources that aren't clearly owned by anyone. If a steel mill discharges polluted water, or if a refinery emits pollutants and reduces the quality of air, these acts change the physical characteristics of resources over which no one seems to have unambiguous enforceable and transferable property rights.
Actions that are legal but incidentally impose costs or losses on other people are "externalities." Whether such actions would be illegal usually depends on the cost of assigning and protecting property rights over the abused resources. If declared illegal, they are punishable by government power.
Trivial harms to other people's property are permitted if the harm is a side effect of some productive action, or if its prohibition is too expensive relative to the benefits of initiating action. Many external effects typically are tolerated because the costs of prevention by laws would exceed the benefits of prevention. Smoke from a neighbor's bonfire of leaves in the fall season may be legally "dumped" on neighboring property. The same is true for typical traffic noises. In many situations, social customs, rules of etiquette, and ostracism help control our behavior.
If you owned well-defined and enforceable property rights to air over your land, I would have to compensate you for the right to dump smoke on your property. Then I would have to take those costs into account when deciding whether to burn leaves or haul them to a dump. The costs would be "internalized" (borne by me). But since complete private property rights are not perfectly enforceable over all resources, people aren't forced to take account of, or bear, all the costs. As another example, an employee strains and suffers in his work. That would be an external effect imposed on the employee by the employer—if the employer hadn't agreed to pay enough to the employee for the right to have the employee do that work.
Edition: current; Page:

[

38

]
Environmental Pollution
What is called "pollution" is the use of a nonowned resource without compensation. In some situations, there are no private owners, as with the air. If there were, they could demand compensation for permission to use the resources, as with ordinary purchases. The consequences would be "internalized" on the responsible person, and pollution might be avoided or reduced.
Complete, exhaustive private property rights are difficult to specify and enforce. Does a right to the view across the parcel of land neighboring your property belong to you or to the neighbor? If someone did own the view and that ownership was salable, as land is bought or an employer buys one's labor, the effects and costs and benefits would be "internalized" on the actor, and the resources would be used accordingly.
Inducing Beneficial Externalities
Some of your actions improve the resources or environment of other people, increasing the benefits they derive from their property, though you weren't paid to do that. Examples are better hygiene, prettier gardens, politeness, and so forth. How are we persuaded to do that when we are not paid to do so, or no reward can be forced from the beneficiaries? Social pressures, social approbation, ethics—such as "Keep up the neighborhood" or "Neighborhood Watch"—are sometimes influential. Also government rules and regulations are applied, as in compulsory vaccination.
Pecuniary Externalities
All these examples of externalities are "physical" externalities, pertaining to the physical attributes or uses of a resource. There are also "pecuniary"—market value—external effects, without any physical impact. An example of a pure pecuniary externality is provided by the book in your hands. When this textbook was published, it lowered the market value of competing texts. Other text publishers did not have to be compensated for the loss in the market value of their texts. No one has rights to particular market values of resources. The market value depends on offers of other people. No one has the right to make other people continue to buy something and to do so at a specified price. That kind of "right" is not part of private property rights. Only governments have that right—mainly in the power of taxation.
COSTS AND EFFECTS OF ACTIONS
The distinctions among costs, losses, rights, and externalities are not hair-splitting trivial distinctions. Let's review some of these key concepts.
Edition: current; Page:

[

39

]
•

Definition of Cost: The cost of a chosen act is the best of the alternative actions forgone. The chosen act is the one most preferred of all options.

•

Full Cost: Money plus other resource costs.

•

Implicit Cost: Best alternative use value of already possessed resources.

•

Explicit Cost: Transfer, or reduction in value, of property rights in an exchange.

•

External Cost: Reduction of options of uses of resources owned by other people and for which no compensation is made to the other people.

•

Sunk Cost: Past cost of a past action; not a cost of current or future choice.
CHOICES REFLECT PRINCIPLES OF PERSONAL PREFERENCES
Individuals Are the Choosers
If you couldn't choose, you'd have no costs! But when free to choose, you don't choose at random. Your choices reflect patterns of preferences. We will always look at the behavior and choices of individuals. If you ask, "Why does the government or General Electric or some union behave as it does?" you should ask instead, "Why do the decision makers decide as they do?" This direction of attention to individuals does not mean that people are solely self-interested and self-seeking without regard to other people. But we regard individuals as the basic units of choice, no matter what are a person's motives or ultimate objectives.
The likelihood of a particular choice depends on its cost and personal worth. And a bigger "basket" will, at the same cost, be chosen over a smaller one. "More is preferred to less." But our choices aren't typically the easy choices between bigger and smaller baskets. Instead, we must choose between combinations of goods. They differ in the relative amounts of various goods. One has more "oranges" but fewer "apples." One area has nicer indoor living, while another has better outdoor activities. The fundamental premise is that for each person there are several other equally preferred and equally costly (affordable) combinations of goods or activities among which he can choose. If the cost of any of the components in that combination should change, you'd shift to a new equally costly, but possibly better or worse, combination. In other words, you'd alter your lifestyle, behavior, and the goods you buy.
If we know of some reliable regularities in personal preferences, we can deduce the adjustments to changes in costs and opportunities, whether in Edition: current; Page: [40] domestic or in business activities. Some reliably consistent features, called a "pattern of personal preferences," have been identified. The preferences are about more of one good relative to more of other goods.
The principles are not about which goods we prefer over other goods. No such absolute ranking of goods according to importance or purpose is known. Instead, what is known are some preferences for amounts of one good relative to other goods—how much more or less of one good is substitutable for how much more or less of other goods. These principles apply to people living in socialist, as well as to those in capitalist, systems. And they apply to all living objects—people, animals, and even plants.
THE PERSONAL PREFERENCE PRINCIPLES
Principle 1:: For Every Good You Desire More
You want more of this and more of that. You want also to accomplish more than one goal. But we live in a world of scarcity and limitations. Choices must be made.
Principle 2:: You Are Willing to Forgo Some of One Good for More of Other Goods
You do not wait until you have obtained some "necessary minimum" of one good, say food, before you want to have some clothes. And you don't then wait until you have some minimum necessary amount of clothes before you want some of other things. There is no hierarchical ranking of goods as "needs." You prefer combinations of goods, rather than a successive fulfillment of essential goods. This is described by the principle of marginal substitutability among all goods. The principle asserts that you are willing to give up some (not necessarily all) of any good, if you are able to get enough of other goods in return.
Principle 3:: The More You Have of Some Good, the Less of Other Goods You Are Willing to Give Up to Get an Additional Unit
To obtain one more pint of ice cream a week, you would be willing to pay only a lower price if you are already consuming much, than if you are consuming little. An extra pint has less added worth to you, the more you have. Some would call that "diminishing marginal utility" at larger amounts of a good. The larger the amount of a good a person possesses or controls, the lower is its marginal personal worth to that person.
We use the word "worth" rather than "utility," because we don't know how to measure utility or if it means anything other than "personal worth." Edition: current; Page: [41] This principle can be called "diminishing marginal rate of substitution." The amount you'd be willing to pay (give up) for an additional unit diminishes the more you have of the good. We always refer to personal worth, because it reflects each person's own personal opinion and judgment. Often we'll write just "worth," instead of "personal worth." But "worth" always will refer to one's personal worth, not the market value.
We take the following "observations" to be true:
OBSERVATION 1:: PREFERENCE PATTERNS DIFFER
Preferences differ among people, and they are different for any given individual at different times and different circumstances. Though the three "principles of patterns of preferences" apply to everyone, not everyone has exactly the same numerical magnitudes in their trade-offs among relative amounts of goods.
OBSERVATION 2:: PEOPLE ARE INNOVATIVE
People innovate and experiment in attempting to improve their situation, at the risk of ending up worse off. This does not mean people like risk and uncertainty; instead, in the prospect of a (sufficiently large) gain, they are willing to incur some risk of loss.
OBSERVATION 3:: PEOPLE ARE CHARITABLE, BUT NOT IN MARKETS
People are not purely selfish, without interest in the welfare of other persons. An enormous amount of philanthropy and charitable activity occurs. This is consistent with the principle that a person prefers command over more rather than less goods and wealth: one can want such power in order to help others as well as one's self. But people are not charitable in all their actions. The market (wherein people exchange property rights in arranging for consumption, earning incomes, and investing) is not the place to expect charity. Charity begins outside the market.
OBSERVATION 4:: ETHICS IN MARKET BEHAVIOR
Ethical, honest, reliable, and moral behavior is generally a survival behavior and wealth-enhancing characteristic in the market. Not only are violations of ethics more likely to prevent successful market activities but they are arguably more powerful in the economic market than in the markets of political and social exchange. Ask whether a seller/supplier or a politician tends to make more reliable promises. Which will suffer most, and most quickly, if caught being dishonest or evasive?
Edition: current; Page:

[

42

]
OBSERVATION 5:: GOODS AND PRINCIPLES—THE GENERALITY AND SCOPE OF MEANING
The three personal preference principles apply to all goods and all desired attributes of life. Living in Los Angeles or Miami provides some combinations of conditions and attributes more cheaply than does living in some other area. There are combinations in Omaha that are equally desired, possibly involving larger homes on more land with more wide roads and security, but with poorer climate and cosmopolitan variety. We "trade" some amount of one desirable attribute for more of another.
These trade-offs (substitutions on the margin) apply to ideals and even to honesty. Each of us on occasion sacrifices or risks some small degree of our integrity, of our fidelity to an ideal or principle, for some sufficient increase in income or safety or popularity or power. (Imagine a world in which no one ever told the slightest "white lie," such as "I've had a wonderful time," when you were bored stiff, or hid the slightest truth when commenting on someone's new clothes or hairstyle.) Goals and ideals, like ordinary goods, are competitive and substitutable in degrees of attainment and fulfillment, where the tradeoff is between more or less, not between all or none.
QUESTIONS AND MEDITATIONS
1)

If there is more than one opportunity to be forsaken, which forsaken opportunity is the cost?

a.

How are opportunities made comparable so that one can determine which one is the cost?

b.

Can there be production without cost?

Answer:

The highest-valued opportunity is the cost.

Expressed in a common denominator or measure of value.

In general, no. Not if more than one thing could have been produced—including leisure.

2)

"The time involved in purchasing something cannot be considered part of the cost since the time would have passed anyway. It is an error to count the value of time as part of the cost of any action." Evaluate: What is meant by the value (or cost) of time?

Answer:

The first statement is true, but the second is false. The value of an hour is the highest-valued use one could have made of that hour. Hence the cost of an act taking an hour is the value of the best alternative action forsaken Edition: current; Page: [43] during that hour. (A common, though not always accurate, measure of the value of time is the earnings one could have obtained during the time.)

3)

"Joe builds a garage next to his house. Later, he decides to park his vehicle on the street and use the garage for storing miscellaneous items. Since the garage has already been built and paid for, it costs nothing to use it for general storage." What is "cost"? Is using the garage for storage "costless"?

Answer:

Cost is the most valuable of options forgone. Joe cannot use the garage for both housing his chariot and storage: he must make a choice. Evidently, he values the garage for storage more than for coddling the car, but that treatment of the car is the cost of the storage capacity, even though Joe now makes no money payment.

4)

"In an open market, with buyers and sellers unrestricted in coming to agreements on transactions, the money price of the traded object is the full price: the specified market price is not greater than the personal valuation of the buyer." Right? Or are there nonprice ways in which consumers compete in obtaining commodities? Are there costs to the buyer in addition to the money expenditure directly for the good?

Answer:

There are exertions, time expenditures, uncertainties and frustrations, and money outlays in buying almost anything—put on your shoes, drive to the store, park and deal with clerks who may be inept, gamble on the quality of products, and pay the babysitter. All this is part of the "full" price.

5)

Are costs the same thing as the undesirable consequences of some action? Explain why not.

Answer:

Costs are not the undesirable consequences of an act; they are the highest-valued forsaken opportunity. Anticipated unattractive consequences of a possible action may well play a role in deciding whether or not to pursue the activity or in determining how far to pursue it, but they are not formally a "cost" of the venture.

6)

What is meant by equality between private and social costs?

Answer:

All costs are private. Social costs are simply the total of all private costs. If a person does not bear all the costs of his action, then the social costs Edition: current; Page: [44] exceed the total of the costs he bears, because some of the costs are borne by others. With equality of private with social costs, all costs of a decision are then borne by the decision maker.

7)

"Cost is an opportunity concept and exists wherever a choice exists." Explain.

Answer:

A choice is an opportunity among two or more options. The cost of the chosen alternative is the most valuable option given up.

8)

What is the relation between opportunity costs and compensation for work?

Answer:

If my rights to myself and my labor are protected, I cannot be forced to work. But I can be induced to work if paid at least the costs of my doing the work—the value of what I otherwise could have done. If I had been forced to work without regard to my rights, then I would be suffering the externalities of the actions by the person who forced me to work. But if I'm compensated by a negotiated wage, the "externality" has been "internalized." The employer bears the cost. We could use the term "uncompen-sated externality" to mean "taking without compensation" or theft, while reserving the term "compensated externality" or "internalized externality" for an ordinary purchase and sale of goods and labor. But we already have such standard terms as "purchase," "sale," "wages," and so forth. Later we'll examine some important examples of existing externalities.
APPENDIX TO CHAPTER 3:: INDIFFERENCE CURVES
The principles of choice and behavior can be described by so-called preference maps. In , point A denotes a combination of two goods, X and Y. The amount of X is measured by the horizontal distance to the right from the vertical axis, and the amount of Y by the vertical distance upward from the horizontal axis. Point B contains more Y, but no more X, than does combination A. Combination C contains more X than point A, but no more Y.
If point B is preferred to A, Y must be an economic good. If point C is preferred to A, X must be an economic good. If B were not preferred to A, the good Y must either be a free good or a "bad" (rather than a "good"). But we have defined X and Y to be economic goods, meaning they are not so plentiful as to make no more wanted even at a zero price.
Edition: current; Page:

[

45

]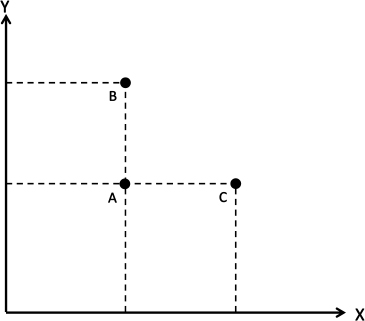 Figure 3.1
How could you portray the personal worth of an additional (marginal) unit of X at point A? Since "personal worth" of a good is defined and measured only in terms of an added amount of some other substitutable good that would offset one unit of X, that personal worth depends on the amount of X that is held. The greater the initial amount of X, the less the amount of Y that will be offered for one unit more (preference principle #3).
Combination B has more Y, and no less X than at A, so more Y will be offered for an X if that person is initially at B than if at A. A person at B would offer more Y to get an X than if that person were at C, for the more Y held, the less each is worth relative to other goods.
In , points B and C are on the same indifference curve I2, meaning either is as preferred as the other. And point A is less preferred than C or B or any other point on I2. The two lines become flatter as they extend to the right to more X. The resulting shape of the line connecting all combinations (points) that are equally preferred (indifferent) is curved, and sags in toward the origin. (In chapter 2, the production possibility boundary [PPB] also was not a straight line, but it bulged out from the origin.) The slope of curve I2 is (negatively) "steeper" at B than at C; I2 is "steeper" at B than is I1 at A; and I1 is "steeper" at A than is I2 at C. For example, one more unit of Y (vertical movement) is worth more X forgone (leftward horizontal movement) when starting at C than when starting at A.
Edition: current; Page:

[

46

]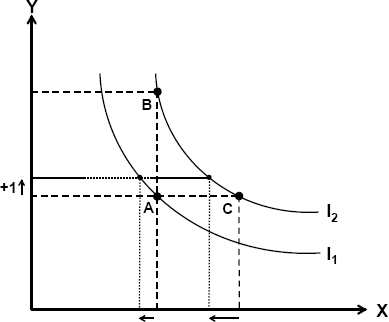 Figure 3.2
Meaning and Measures of Marginal "Personal Worth"
A marginal personal worth of a unit more of a good, X, is the amount of other goods (here denoted by Y) that a person is willing to give up to get the added unit of X. The curvature of an indifference curve reflects the diminishing marginal personal worth at more units of a good (measured on one axis) and with less of another good (measured on the other axis). If an indifference line were straight from upper left to lower right, the relative marginal personal worth of the two goods would be constant regardless of the relative amounts of the two goods. That would not be consistent with reality. The marginal rate of substitution of X for Y can be expressed: MRSxy = −ΔY/ΔX (where Δ denotes the quantity change). The ratio is negative, for X and Y change in opposite directions as we substitute a little more of one for a little less of the other. And the numerical value decreases as we move to the right on an indifference curve, for we must gain ever larger amounts of X to compensate for a given reduction in Y.
We use a smooth curved line for simplicity, though a realistic curve could be kinked with straight-line segments, but the slope becomes successively flatter, meaning that the less of a good a person has, the more of other goods that must be obtained for further unit reduction in the good.
The meaning of the first principle, "More of a good is preferred to less," is represented by a choice of a point on a higher indifference curve. Being at any point on the higher indifference curve is preferred to being on any of the points on a lower indifference curve. In , the higher curve, above and Edition: current; Page: [47] to the right, represents a set of baskets that are: (1) each of the same worth to a person, and (2) each preferred (superior) to each basket on the lower curve.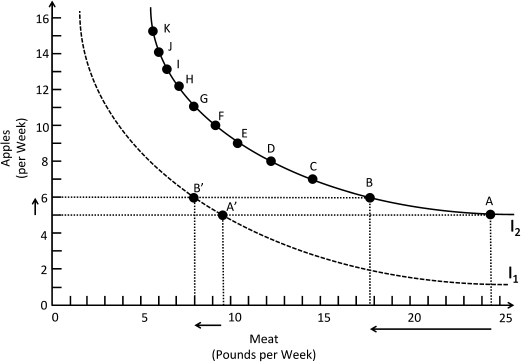 Figure 3.3
Higher and Lower Indifference Curves
All points on an indifference curve represent equally preferred alternative combinations. Combination A and B on curve I2 are equally preferred, as are points A′ and B′ on curve I1, and any point of the higher curve, I2, is preferred to any on the lower.
All three preference principles are summarized graphically in . (1) The upper indifference curve, representing combinations preferred to those on the lower indifference curve, portrays the first proposition—more is preferred to less. (2) The negative slope portrays proposition 2—the principle of substitution on the margin. (3) Sagging toward the origin, and becoming flatter as one moves from left to right, portrays proposition 3—diminishing rates of marginal substitutability of X for Y at larger amounts of X relative to Y along a given indifference curve.
We can think of "personal worth" of this versus that good or action without having to make psychological comparisons with any other person. The comparison is "before" and "after" for the same person. Personal worth means how much a person is willing to pay for something, not measures of psychological Edition: current; Page: [48] satisfaction or distress of some action. For each person, personal worth of one action is compared with that person's personal worth of an alternative action, measured in market value of what is given up.
An indifference curve is sometimes called a "constant utility" curve. That doesn't define what "utility" is. It means only that, no matter what you mean by the word "utility," its amount is constant—the same at every combination on an indifference curve.
ARITHMETIC
lists alternative, equally preferred combinations—baskets—of amounts of meat and apples for Adam. Adam is indifferent in his preference among these alternative baskets. That is to say, "Each alternative is equally preferred." Or, "Adam is indifferent among those baskets—he doesn't care which one is obtained. Or, "Adam would let even his worst enemy choose which of those combinations Adam gets!"
If Adam initially had basket D, representing a weekly rate of consumption of eight apples and thirteen pounds of meat, Adam would be neither helped nor hurt (as judged by Adam) by having basket E instead—with two fewer pounds of meat (eleven versus thirteen) but one more apple (nine versus eight). Two fewer pounds of meat for one more apple is a "marginal rate of substitution" between apples and meat that would leave Adam no better or worse off than before, according to his own opinion.
Table 3.1 Adam's Equally Preferred Combinations of Apples and Meat

| Basket | Apples | Meat | Meat given up for additional apple |
| --- | --- | --- | --- |
| A | 5 | 24.5 | |
| B | 6 | 18.5 | 6.0 |
| C | 7 | 15.5 | 3.0 |
| D | 8 | 13.0 | 2.5 |
| E | 9 | 11.0 | 2.0 |
| F | 10 | 9.3 | 1.7 |
| G | 11 | 8.0 | 1.3 |
| H | 12 | 7.0 | 1.0 |
| I | 13 | 6.2 | 0.8 |
| J | 14 | 5.6 | 0.6 |
| K | 15 | 5.2 | 0.4 |
Edition: current; Page:

[

49

]
The adjective "marginal" means two more pounds of meat is the personal worth of one more apple, not the personal worth of all nine apples.
Why is the marginal personal worth of another apple lower between E and F (1.7 pounds of meat) than between D and E (two pounds)? Adam has more apples at E than D, and less meat. An additional apple is not worth as much to him when more apples are possessed. The marginal personal worth of an apple (or of any good) falls the more one has of the good. He is willing to give up less meat (only 1.7 pounds) for another apple between combinations E and F, where more apples are possessed.
As we move to more apples and less meat for Adam, the amount of meat that would be given up for one more apple diminishes. The larger the ratio of the amount of one good possessed relative to other goods, the lower is the marginal personal worth of the first good. The greater is the amount of a good relative to other goods in one's consumption pattern, the less is the amount of other goods one will be willing to give up for one more unit of the first good.
If the amount of apples and the amount of meat were both twice as large as in the initial situation, we don't know how that doubling of wealth would affect the marginal personal worth of apples relative to meat. We don't know how wealth (having more apples and more meat) affects your willingness to substitute among the goods. But we can be sure that at larger amounts of a good, its marginal rate of substitution with any other good will fall. Note also, in accord with our earlier observation 1, that one person's marginal personal worth of apples may be different from another person's even though both have the same combination of all goods.
You can move up the table and discover the marginal personal worth of meat, instead of the marginal personal worth of apples. Between baskets I and H, the marginal substitution ratio is one apple for .8 pounds of meat. So the marginal personal worth of one pound of meat is 1.25 apples (= 1 apple/.8 pounds of meat). Between E and D, the marginal personal worth of one pound of meat is .5 of an apple (= 1 apple/2 pounds of meat), or the marginal personal worth of one apple is two pounds of meat.
CHAPTER 4: GAINS FROM EXCHANGE
It's been going on for thousands of years. Long ago, flint arrowheads were traded for olive oil and fish. Today, it's crude oil for fish. But there is much misunderstanding about why we trade. Sometimes, trading is (wrongly) called a zero-sum activity, in the sense that what one person gets another gives up—with no net change in the total.
Trading (or exchanging) is a positive-sum activity in that both participants end in preferred situations. In some exchanges, both traders may end up with fewer goods—even though they both gain. To see how, we'll look at exchange in an imaginary refugee camp.
TRADE IN A REFUGEE CAMP
We visit a camp where hurricane refugees are housed. Monthly, each receives Red Cross parcels containing, among other things, twenty bottled waters and twenty granola bars (shown as basket A in and ). Into the camp comes a newcomer, who does not receive a gift parcel. The wily newcomer offers Sam ten bottled waters in exchange for seven granola bars: "If you'll give me seven granola bars, I'll be back in a moment with the ten bottled waters." Sam is willing to give as many as eight granola bars for the extra ten bottled waters. So Sam agrees.
Sam started with basket A. The hypothetical basket B1 is equal to basket A in terms of Sam's preferences: he is indifferent between baskets A and B1 in . Now, we'll see exchanges among all three—Sam, Joe, and newcomer—improve everyone's situation despite the fact that Sam and Joe end up with less water and granola between them, because some are taken by the newcomer.
The newcomer dashes to Joe and offers five granola bars in exchange for ten bottled waters. Joe would have been indifferent to selling the ten bottled waters for as few as four granola bars (basket B1 in ). Being offered five granola bars, Joe agrees to the trade.
The newcomer pays Joe five granola bars and delivers the promised ten bottled waters to Sam (baskets B2 in and ). Both Sam and Joe are pleased by the improvements in their situations; for each, basket B2 is better
Edition: current; Page:

[

51

]
Table 4.1 Sam's Equivalent and Preferred Baskets (to Basket A)

| | Water | Granola | Baskets |
| --- | --- | --- | --- |
| Basket A | 20 | 20 | Original |
| Changes from A to B1 | (+10) | (−8) | Changes from A |
| Basket B1 | 30 | 12 | Indifferent to A |
| Changes from A to B2 | (+10) | (−7) | Changes from A |
| Basket B2 | 30 | 13 | Preferred to A |
Table 4.2 Joe's Equivalent and Preferred Baskets (to Basket A)

| Baskets | Water | Granola | Baskets |
| --- | --- | --- | --- |
| Basket A | 20 | 20 | Original Baskets |
| Changes from A to B1 | (−10) | (+4) | Changes from A |
| Basket B1 | 10 | 24 | Indifferent to A |
| Changes from A to B2 | (−10) | (+5) | Changes from A |
| Basket B2 | 10 | 25 | Preferred to A |
than basket B1. The newcomer, too, is happy, having acquired a profit of two granola bars by selling water to Sam at a price of seven granola bars after buying from Joe for only five.
LESS IS MORE: FEWER GOODS, MORE SATISFACTION
The total of goods left to Sam and the Joe has been reduced! The newcomer has taken two granola bars from them. Yet, each thought the trade to be a good deal. Has the wily newcomer confused them or exploited their irrationality? No, everyone is better off. The newcomer explains:
"You have not been cheated. In fact, you are both better off. You both obtained something worth more to you than what you paid. Sam, shows that you accepted my offer of ten bottled waters for seven granola bars as a good deal. You were willing to pay as many as eight granola bars for ten additional bottled waters, but I accepted a price of only seven. That trade was worth as much to you as a gift of one granola bar. And Joe, you paid ten waters and received five granola bars, which gave you one more granola bar than your value of the ten bottled waters you paid. You received a benefit equal to a gift of one granola bar.
"You both benefited. I kept two granola bars as payment for my services. True, I didn't do this only because I liked you. I was interested also in helping myself. Edition: current; Page: [52] In helping you, I helped myself—or if you wish, in helping myself, I helped you. Furthermore, admit it—each of you thought you were outwitting and exploiting me, because you were each prepared to give up more (or receive less) than you did. Of course, you would have benefited more if I had traded on less favorable terms to myself, and kept fewer than two granola bars. Yet, there is no denying that you are now better off. None of us has been foolish."
THINKING ABOUT THE TRADE
1)

What made the trade mutually beneficial?

When two individuals have different personal worths of a good, each can gain from a trade. Sam's personal worth of ten bottles of water was eight granola bars; Joe's was four granola bars.

2)

Which is the direction of the trade? That is, who gives up water, and who receives it in the trade?

Sam has a higher personal worth of bottled water in terms of granola bars, so Sam buys water, and Joe sells it.

3)

What is the maximum possible payment to the wily newcomer

(intermediary) that would leave neither Sam nor Joe better or worse off?

At the limit, the intermediary could receive four granola bars per ten bottles of water traded. This is the difference between Sam's personal worth of ten bottles of water (eight granola bars) and Joe's personal worth of the bottled water (four granola bars).

4)

Who has a higher personal worth of granola bars in terms of bottled water?

Sam's personal worth of a granola bar is 1.25 bottles (ten bottles/eight granola bars = 1.25 bottles per granola bar). Joe's personal worth of a granola bar is 2.5 bottled waters (ten bottles/four granola bars = 2.5 bottles per granola bar). Joe's personal value of granola bars is greater than Sam's.

5)

Arranging trades can sometimes be very costly. Suppose the cost of arranging the trade of ten bottled waters amounted to six granola bars. Would the trade still occur?

The cost of setting up the trade would exceed the difference between Sam's and Joe's personal worths of bottled water. The trade would not occur because the costs exceed any possible gains from trading.

6)

What would be the final achieved combinations of bottled water and granola bars for each person at which no further trades would be Edition: current; Page: [53] mutually acceptable? How far might the trading go between Sam and Joe?

The answer depends on a more complete understanding of personal worth, which later chapters explain.
MORE ABOUT PERSONAL WORTH
The intermediary, or "middleman," did not ask if Sam likes bottled water more than Joe. One of them may regard both granola and water as barely desirable, while the other may drool at the thought of each. Instead, what was important for the exchange to occur was each person's personal worth—the value of one good relative to another.
Nor did either Sam or Joe have a "surplus" or too much of the good traded away. The critical feature is that the two persons had different personal worths of bottled water and of granola. Trade can benefit both if their personal worths for a good differ.
Personal Worth: The Most of Other Goods a Person Is Willing to Pay to Get a Good
While people do barter some goods for others, "most of other goods" are typically measured in terms of their dollar value. The largest dollar amount a person would be willing to pay for a good is a measure of its personal worth to that person. If you are willing to give at most $100 for a fancy pair of shoes, your personal worth of those shoes is measured at $100. You'd prefer to get them for less. But if you wouldn't pay the $100, then your personal worth must, by definition, be less than $100. Or, in reverse, a person's personal worth is the smallest amount of other goods for which that person would sell a good. If you already owned a good and would not sell it for less than $120, then $120 is a measure of its personal worth to you.
Personal worth doesn't refer to an emotional or psychological concept. Mere words, wishes, or assertions of desires say nothing about one's personal worth for a good. Actions are what count—how much of other goods one is willing and able to pay to get more of a good.
Economic analysis doesn't rest on any presumptions of why a good is desired. You may believe that someone is foolish, or ill informed, in placing high personal worth on some good, such as opera tickets, tofu, or a round of golf. Personal worth differs for each of us because we make different judgments and have different preferences or whims. Certainly, one's opinion may be influenced by the arguments, pleadings, and behavior of other people. And a parent Edition: current; Page: [54] may regard a child's personal worth for a good (e.g., candy) as "improperly and inappropriately" high. The parent might not allow the child to have the candy, but that wouldn't alter the child's personal worth for it. That would merely restrict the child's right to make exchanges.
Presumably, a person becomes an adult when one has a right to choose according to one's own personal worth. By law, that comes for most goods and services at the age of eighteen in the United States. Nevertheless, you can't buy some kinds of medication without the approval of a physician, reflecting that physician's judgment of what the personal worth of the medication should be for you. We will hereafter ignore those restrictions and deal with goods and services you may choose on the basis of your own personal worth.
Distinguish between a) an individual's personal worth of a good (the most that person is willing to pay, or the least that would be accepted for its sale) and b) the good's market value (its market price). In any exchange, the buyer's anticipated personal worth of a good exceeds its market value (price), or the purchase would not be made. And the reverse is true for the seller, whose personal worth of the good is less than its market value (price).
TO HAVE?
"The most that a person is willing to pay to have more of a good." What is meant by "have"? When buying some land, what does it mean to "have" the land—which may be located far away? We will mean by "have" the possession of the private property rights to the good. In any exchange, one obtains the private property rights to goods. If some other exchange is meant—like rental, or loan, or permission to use without ownership—we'll say so.
BACK AT THE REFUGEE CAMP, COMPETITION DEVELOPS
Back in the hurricane refugee camp, a competing copycat dissipates the newcomer's profits. She offers to sell Sam ten bottles of water at a price of 6.5 granola bars for ten bottles—a price 0.5 bottles below the former price of seven bottles. Sam accepts, saving 0.5 granola bars per ten bottles bought.
In turn, the new dealer offers to pay Joe a higher price, 5.5 granola bars, rather than the five paid by the first dealer, who argues that the new dealer is unreliable and will not deliver granola bars as promised, or will deliver dry, old granola and sell impure water. But Joe takes a chance and trades with the new dealer. Both Joe and Sam benefit. Buyers like lower prices, and sellers like higher prices. Joe and Sam now are even better off than they were with only one intermediary.
Competition between the two dealers decreases the dealer gains by reducing
Edition: current; Page:

[

55

]
Table 4.3 Achieved Baskets after Competition among Dealers

| | Water | Granola |
| --- | --- | --- |
| Sam | | |
|  Before Trade | 20 | 20 |
|  After Trade with Only One Dealer | 30 | 13 |
|  After Trade with Second Dealer | 30 | 13.5 |
|  Gain is equivalent of 0.5 bar. | | +0.5 bar |
| Joe | | |
|  Before Trade | 20 | 20 |
|  After Trade with Only One Dealer | 10 | 25 |
|  After Trade with Second Dealer | 10 | 25.5 |
|  Gain is equivalent of 0.5 bar. | | +0.5 bar |
the spread between the buying and selling prices of the goods. The consumer/buyer pays less to the intermediary dealer, and the supplier/seller gets a higher price. The spread between the buying and selling price for bottled water is narrowed from .2 bars (two bars/ten bottles) to .1 bars (one bar/ten bottles), and the gain to the new dealer is one bar instead of the two formerly obtained by the initial dealer.
Competition among actual and potential intermediary dealers reduces the price spread to where it just covers the costs of providing the service customers demand. A larger spread would attract new dealers, while a loss would force some people out of business into other, more useful tasks. Competition that reduces prices to buyers and raises prices to sellers is competition of intermediaries against each other. Intermediaries do not compete against consumers or against suppliers; they compete against other intermediaries.
It is often argued that intermediaries like wholesalers, retailers, sales agents, and advertisers exploit the ignorance of customers. That is true in the same way a teacher exploits the ignorance of students, doctors exploit the ignorance of patients, and authors the ignorance of readers. Intermediaries exist (survive) because they reduce the costs of exchange. Imagine what it would cost you to obtain the products you normally buy from their producers. You'd have to know who and where they are; you'd have to travel and communicate with producers; you'd have to inspect their offerings; you'd have to know enough about each product to be able to judge quality; and you'd have to arrange for components to be assembled properly and delivered. Instead, you rely on retailers—intermediaries who supply goods they think customers will prefer and will value at more than the cost of supplying them.
Edition: current; Page:

[

56

]
PROMISES AND DEPENDENCIES
The intermediary in our story has the opportunity to take the offered goods and not return with the promised goods. But intermediaries rarely disappoint customers. When an intermediary receives ten bottles and promises to return promptly with granola bars, it happens. The intermediary is swift to pay even the most timid and weak of customers. Why? Why not "hold-up" a customer by promising the 6.5 granola bars, but later pay less and keep the difference? Or perhaps the intermediary might mix sawdust with the granola, diluting quality and retaining an extra portion of granola. The customer wouldn't discover the loss until later.
Intermediaries don't tend to cheat customers because intermediaries have valuable reputations to protect. A customer treated unfairly would not only refuse to patronize the intermediary again but would broadcast the intermediary's dishonest behavior. While the intermediary might have made a one-time gain by cheating a customer, the lost reputation implies a loss of future profitable business. But what about an aging intermediary who is growing too weak to run between customers? Why not hold up all customers and make a final profit before retiring—known as the "end problem"?
There are at least two restraints against that. One is that a retiring intermediary often can do better. He can sell the business to a young protégé for a share of future profits, vouching for the reliability of the protégé. Another powerful restraint on cheating "at the end" is the force of a personal sense of shame. This is considered more fully in chapter 34. Here, we say merely that you will render help to someone in an accident or emergency because you "want to." If you did not, and even if no one else knows, you still would suffer qualms of conscience from your unethical behavior. Ethics commonly are effective, widespread, and desirable in a harmonious, productive, and civilized society.
RELIABLE GENERAL DEPENDENCY: ESSENTIAL IN EVERY ECONOMY AND SOCIETY
You depend in general on other people to play an important part in your welfare, so long as you make an attractive offer. You depend also on specific other persons. This distinction between "general" and "specific" dependency is important. When you shop for goods, you depend on the rest of the world to supply you. But once you decide to buy from a specific seller, you become dependent on that seller.
In many situations, such as marriage or as an employee in a firm, you will continue to be dependent on the behavior of specific other persons. Much of economics Edition: current; Page: [57] is about methods of assuring reliabilities of dependencies on specific other persons.
TRADE BENEFITS BOTH PARTIES, NOT JUST ONE AT THE EXPENSE OF THE OTHER
We've considered a) the conditions for mutually preferred trade, b) the direction of trade, c) the nature of the gain from trade, and d) the extent of trade. Trade is not a matter of one person gaining at the expense of the other. Instead, it supplies a gain to both—each moves to a new combination of goods preferred to the prior combination.
Trade provides more personal worth to each party. What may lead many to think a trade results merely in a transfer from one person to another is the presence of "haggling, dickering, and bargaining" about the terms of trade. That haggling is a zero-sum activity, in which one person gets a greater share of the gains of trade at the other's expense. But the trade itself is a positive-sum activity in which both sides gain.
In the next chapter, we will flesh out the nature and extent of the gains from trade. To do that, we will define and explain marginal personal worth and show why marginal is a critical concept in economics and in all sciences. You will learn, for example, how marginal underlies the basic principle of demand.
QUESTIONS AND MEDITATIONS
1)

The left half of the table shows three combinations of vegetables and meat among which Linus would have been indifferent if he had been offered a choice; that is, all three are equally desirable to him. The right half shows three combinations among which Charlie would have been indifferent.

a.

If Linus has combination B, what is his highest and lowest personal worth of vegetables? What is his highest and lowest personal worth of meat?

Table 4.4
Linus
Charlie
Options
Vegetables
Meat
Options
Vegetables
Meat
A
10
and
14
A
40
and
16
B
13
and
13
B
45
and
15
C
17
and
12
C
52
and
14

Edition: current; Page:

[

58

]

b.

If Charlie has combination B, what is his highest and lowest personal worth of vegetables? What is his highest and lowest personal worth of meat?

c.

In what sense is it impossible to say who likes vegetables more, Linus or Charlie? In what sense is it possible?

d.

If Linus and Charlie each have their combinations designated B, does any possible trade exist whereby each could reach a preferred combination? If so, give an example.

e.

What must be true about personal worth of two individuals if they are to gain by trading with one another, even though they lose part of their goods in the process?

Answers:

a.

Between .25 and .33 meat for one unit of vegetables. Between three and four vegetables for one unit of meat.

b.

Between .14 and .2 units of meat for one unit of vegetables. Between five and seven vegetables for one unit of meat.

c.

We don't know who gets more psychological satisfaction or utility from each good considered separately. We can measure only their value of one good in terms of the other—their personal worths. Linus values vegetables more than Charlie in the sense that his personal worth of vegetables is higher. And Charlie values meat more than Linus because his personal worth for meat is higher.

d.

Linus would be willing to move to combination C, giving up no more than one meat for four vegetables; Charlie would be willing to give up as many as five vegetables to gain one meat in a move to combination A. They both have an incentive to arrange a trade in which one unit of meat is traded for between four and five units of vegetables. The trade would make each of them better off.

e.

The personal worths of both individuals must differ if exchange is to be mutually acceptable.

2)

Suppose that Charlie and Linus have the following initial personal worths:

Charlie: 7 meat = 1 fruit

Linus: 3 meat = 1 fruit

a.

Compared to Linus, is Charlie fonder of fruit or meat?

b.

If the government makes it illegal to trade fruit for meat, always assuming that the law is obeyed, who gains and who loses? Why?

c.

Now, the government relents and allows trade, but makes it illegal

Edition: current; Page:

[

59

]

for anyone to trade at any exchange ratio other than one meat for one fruit. Explain the likely consequences of this new ruling.

d.

Next, suppose the government relents even more, but in order to protect fruit consumers a price ceiling is put on fruit. The maximum price of one unit of fruit is set at four meats. Who is likely to gain, and who is likely to lose by this price control? Explain.

e.

Finally, imagine that the government takes off all restrictions on the trade of meat and fruit. Introduce a middleman who conducts the trade between Charlie and Linus. What is the maximum cut the middleman can take in the form of meat? Or of fruit?

Answers:

a.

Fruit.

b.

Both lose because both could be better off if permitted to trade.

c.

No trade will occur; neither is willing to give up 1 fruit for only 1 meat.

d.

Neither will be as well off as they would be under free trade; however, there is opportunity for trade because Charlie would be willing to give up 7 meats for 1 fruit, while Linus demands only 3 meats in exchange for 1 fruit.

e.

With free trade, a middleman can offer Linus 3 meats for 1 fruit, then trade 1 fruit to Charlie for 7 meats, keeping 4 meats for his efforts.

3)

You obtain a permit for one of a limited number of parking spaces allotted by your college; a friend is allotted a desk in the library stacks. Suppose that you would each be better off if you were to trade your parking permit for your friend's desk space.

a.

This kind of trading is almost invariably prohibited by the college authorities. Why?

b.

If you were the college president, why would you prohibit it?

c.

Would you consider solving the whole problem by simply selling parking space to one and all, like a private downtown parking garage? Why?

Answer:

a.

College authorities cannot pocket the money from the sale of the parking space since it is not their private property. However, the power to control who gets the use of the parking space is a valuable good, so the authorities could capture that value in nonmonetary forms.

b.

Since the president cannot pocket money from the sale of parking spaces, nonmonetary forms of competition for the parking space become

Edition: current; Page:

[

60

]

more important. He can capture the value of the space in non-monetary forms, such as from commitments to help raise funds for the college, from speeches to promote the college, or from personal favors.

c.

The value of the parking space can be captured in either monetary or nonmonetary forms. If decision makers cannot receive money for the space, nonmonetary forms of payment become more important. (As a student, would you prefer the parking space be sold, or would you prefer to have the college authorities decide how the space is distributed?)

4)

"Economic analysis implies that permitting trade is better than prohibiting it." Does it?

Answer:

No. It does not imply what is good, bad, better, or worse. It implies what will be observed in the real world. Individual economists, however, often assert that trade in various circumstances is good or bad.

5)

"Trade between the Mediterranean and the Baltic developed when each area produced a surplus of some good." What do you think this quotation from a history text means? Can you propose an alternative explanation of that trade?

Answer:

If it is supposed to mean that one area had more of some good than it wanted (could possibly use at all), the statement is wrong. And we can't think of anything else it might mean. We propose that the relative supplies were different, so the relative values (personal worths) were different, leading to mutually preferred exchange and reallocation of goods among Mediterranean and Baltic people.

6)

"Middlemen and the do-it-yourself principle are incompatible." Explain.

Answer:

Middlemen facilitate exchange and specialization, while "do-it-yourself" is a reduction of specialization and exchange—"eliminating the middleman" who economizes on transactions costs and doing it yourself is not necessarily cheaper. (This doesn't mean that it's not ever cheaper to "do it yourself"—to the contrary, look at the home improvement industry.)

7)

Based on and , what is the value of the combined gains of trade to Sam and Joe measured in bottled water? What is the combined Edition: current; Page: [61] value, measured in granola bars, of the gains of trade to Sam, Joe, and the newcomer?

Answer:

Sam gained an additional 10 bottled waters worth 8 granola bars but paid only 7. To Sam, therefore, the gains were 1 granola bar, worth 1.25 bottles of water. Joe paid 10 bottles worth 4 granola bars but received 5 granola bars. To Joe, the gain was 1 granola bar, worth 2.5 bottles of water. So the combined gains to both Sam and Joe were worth 3.75 bottled waters (or 2 granola bars).

The newcomer gained 2 granola bars from the trade, so the combined worth of the exchange to all three participants (its social gain) was: 1 granola bar + 1 granola bar + 2 granola bars = 4 granola bars. Everyone gained from the trade, even though Sam and Joe ended up with 2 fewer granola bars between them.

Can we also measure the social gain in terms of bottled water? No, because we don't know the newcomer's personal value of granola bars in terms of bottled water.
CHAPTER 5: DEMANDS AND THE LAWS OF DEMAND
We don't live in refugee camps. We live in economies with markets, where we can compare goods and offers and can buy and sell. So widely recognized are the advantages of markets that "primitive" tribes have truces on market days. Several medieval political leaders amassed fortunes by fostering marketplaces (fairs) in their favorite cities and inviting foreign merchants to attend—for a modest fee. And doubtless merchants recognized one general economic law: the "First Law of Demand."
FIRST LAW OF DEMAND
The First Law of Demand says, "Less is demanded at a higher price." No matter what the amount demanded at the current price, there is a higher price at which less would be demanded. Or, in the opposite direction, "The amount demanded is larger at a lower price." We will be explaining two demand functions. One is the demand by one person; the second is the demand aggregated over a population.
Demand Function Relates Amounts Demanded to Prices: The word "function" is a way of indicating that the amount demanded depends on—is a function of—something. Here, it's the price. Sometimes we'll refer to a demand curve or schedule (when imagining the demand function in a graph). "Demand" will mean the whole curve, schedule, or function—not just the amount demanded at some specific price.
Simplicity Is a Virtue: Realistic Data Are a Burden: Concepts and principles will be explained with simple, seemingly unrealistic numbers. Don't assume that the simplicity weakens the analysis. And we use "quantity demanded" and "amount demanded" interchangeably.
Arithmetic Example of a Demand Function: shows the typical feature of a demand function. Here, the commodity is quarts of milk per week. The demand function, or demand schedule, lists the number of quarts demanded per week for each price. In , at the price $.70, the quantity demanded is four quarts per week.
Edition: current; Page:

[

63

]
Table 5.1 Demand Function (Schedule) for Quarts of Milk Weekly

| Price of a Quart | Weekly Demanded |
| --- | --- |
| $1.00 | 1 |
| .90 | 2 |
| .80 | 3 |
| .70 | 4 |
| .60 | 5 |
| .50 | 6 |
| .40 | 7 |
| .30 | 8 |
| .20 | 9 |
| .10 | 10 |
"QUANTITY DEMANDED" VERSUS "DEMAND"
It is analytically sinful to confuse (a) the whole schedule of amounts demanded at various prices, such as shown in , with (b) one of the amounts demanded at a specific price, like six units at $.50. In , the demand schedule is represented by a graph. The line on the graph is the "demand curve." The "amount demanded at a particular price" is represented by one point on the demand curve.
Graph of the Principle of Demand—Demand Curve
The data of are plotted in , with the points identifying the combinations of price and quantity being linked with a smoothed line. It is conventional to measure price along the vertical scale and quantity along the horizontal scale.
The "quantity demanded" is the amount demanded at any one of the prices in the schedule. An increase in "demand" means the whole schedule of listed quantities has increased. A person's wealth may have increased, so that at each possible price more is now demanded.
Quantity: Rate or Stock?
For some storable or durable goods like tennis rackets, shoes, or automobiles, the number demanded at a particular price may mean the number of items kept on hand as a stock. At some price of milk, you might wish to keep consistently about two quarts on hand, replenishing your supply at convenient shopping times, while consuming at a relatively steady daily rate. So there are Edition: current; Page: [64] two measures of the "amount demanded." One is the stock of milk on hand, say, generally two quarts. The other is the flow or rate of consumption of milk per week. Even though at any moment there are only some two quarts in the refrigerator, the demand measured as a rate of consumption (or use) might be six quarts per week.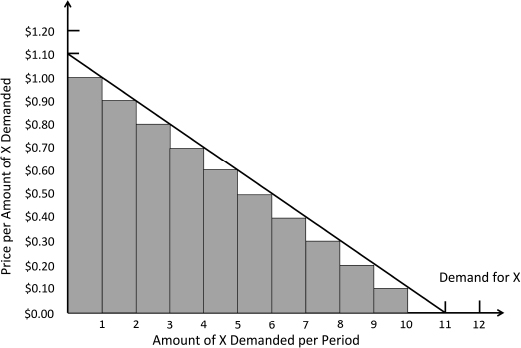 Figure 5.1
The demand function does not require that the amounts demanded have to adjust continuously and smoothly to every tiny change in price. A slightly higher price might have no discernible effect on the current quantity demanded; nevertheless, at some sufficiently higher price, or threshold, the quantity demanded will be reduced. The quantity of gasoline you demand at $3.50 per gallon might be the same as at $3.40 a gallon. But at some higher price, say, $4.00, you would buy less. You'd cut back on the gasoline to minimize reductions in everything else.
At some higher price of a good, less will be demanded, and at some lower price more will be demanded. That's the First Law of Demand.
Examples of possible shapes of demand curves are shown in . Each of these demand curves "slopes downward." At lower prices more is demanded, Edition: current; Page: [65] and at higher prices less is demanded. The amount demanded and a price are "negatively" related.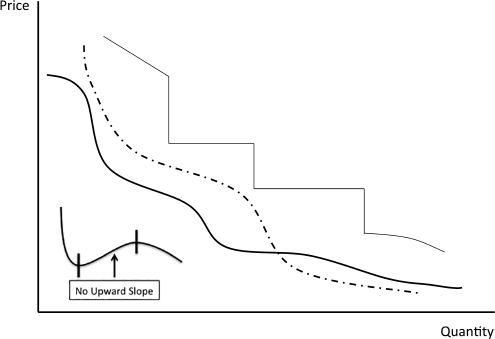 Fig. 5.2
NEGATIVELY SLOPED DEMAND
While the demand curve can have many shapes and slopes, it will not have an upward (positive) sloping segment—unless an unusual "wealth effect" occurs. A demand curve can be vertical in a range of prices, indicating that within that range, the quantity demanded doesn't change. But at a sufficiently higher price, the amount demanded will be decreased. The principle of demand is possibly the most reliable and most important principle in Economics.
SLIDE VERSUS SHIFT
Though many other things affect the quantity demanded—income, health, age, sex, family size, past personal experience, prices of other goods—they are assumed to be unchanged during the time the demand schedule is used. The effects of changes in any factor other than the price of the good are represented by a changed demand—a shift in the demand, which means that at a given price the quantity demanded has changed.
Edition: current; Page:

[

66

]
"Change in demand" means the whole demand schedule has shifted. "Change in amount demanded" means a change in quantity demanded because of a change in price with no change in the demand schedule. Always distinguish between: (1) a change in the quantity demanded because of a price change (a slide along the demand schedule) and (2) a change in demand (a shift in the entire demand schedule due to a change in some factor other than the price).
Demand depends in large part on a demander's income or wealth. In , the lower demand is associated with a lower income. Shifting the demand curve shows the effect of a higher income.
By common terminology, the quantity demanded of a "normal" good increases or decreases with increases or decreases in income. "Income elasticity of demand"—the proportionate change in quantity demanded relative to the proportionate change in income—is positive, but not necessarily unitary. If less of the good is bought as a result of greater income, the good is designated as "inferior." Our attention is generally directed to demand responses to income changes of "normal" goods, that is, goods with positive income elasticity of demand.
Relative Prices
We've looked at the price of just one good, without regard for the prices of other goods. However, if the dollar price of eggs was $13 a dozen and gasoline was $29 a gallon and a hair styling was $100 and a hamburger was $16, you'd probably consider a $1 price of bread to be "low"—relative to prices of other goods. The price of just one good is not sufficient to discern the true cost of buying a good. The relative price of a good is important in determining its "real" price in deciding whether to buy and how much to buy.
During inflation, when almost all prices rise, there's an extra complication. A rise in the price of one good doesn't mean its price has risen relative to prices of other goods. Others may have gone up even more. You've got to look at many other prices, more than if there were no inflation. More mistakes of computation and comparison are then made. This confusion is a major reason inflation tends to reduce "productivity" of the economy. The effects of inflation on money prices are discussed further in chapter 42.
ASSUMPTIONS ABOUT ACTIONS, NOT ABOUT THOUGHT PROCESSES
We are not presuming people consciously think in terms of explicit demand curves. You may never have heard of the "demand function," yet you behave in accord with what the demand curve concept implies. Atoms and rocks have Edition: current; Page: [67] Edition: current; Page: [68] never heard of the laws of physics, yet their behavior is consistent with—implied by—the laws of physics. We use those laws and principles to deduce behavior—not to deduce or characterize some process of thought.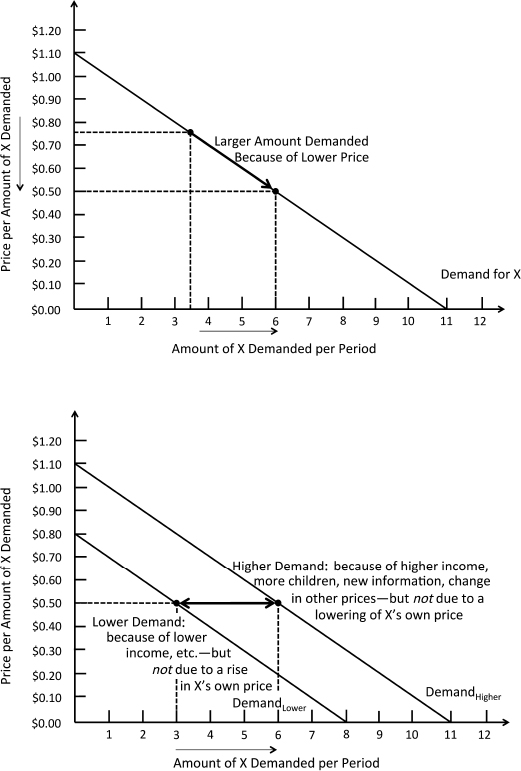 Figure 5.3A & B
Interpretation of a Person's Demand Function with "Personal Worth"
If you buy two quarts of milk per week, we'll assume you do so because the milk is worth to you at least the price to be paid. Your total personal worth of the 2 quarts of milk per week is the total amount of other goods you'd be willing to give up, or pay, to get the 2 quarts. The measure of the "amount of other goods" we'll use is a generalized measure—the dollar purchase cost of the other goods. If you were willing to pay $7 for 2 quarts per week, your total personal worth of 2 quarts per week would be $7. We don't have to ask why the milk is wanted. It's sufficient for our purposes that you are willing to give up something to get it. And people accept options and exchanges that have a personal worth to them at least equal to the price to be paid.
In , we interpret the demand function (schedule) in terms of "personal worths."
Total and Marginal Personal Worth
The first two columns of describe the demand function (schedule). Because one unit per day is demanded at $1.00, we interpret that to mean that having one unit daily has a personal worth at least equal to $1.00 to the buyer—or else the buyer wouldn't have bought it.
Looking at two units, the data indicate that if the price were $.90, two units are demanded. A second unit must have an added (marginal) personal worth
Table 5.2 The Demand Schedule and Personal Worths

| Price | Quantity | Marginal Personal Worths | Total Personal Worths |
| --- | --- | --- | --- |
| (1) | (2) | (3) | (4) |
| $1.00 | 1 | $1.00 | $1.00 |
| .90 | 2 | .90 | 1.90 |
| .80 | 3 | .80 | 2.70 |
| .70 | 4 | .70 | 3.40 |
| .60 | 5 | .60 | 4.00 |
| .50 | 6 | .50 | 4.50 |
| .40 | 7 | .40 | 4.90 |
| .30 | 8 | .30 | 5.20 |
| .20 | 9 | .20 | 5.40 |
| .10 | 10 | .10 | 5.50 |
Edition: current; Page:

[

69

]
of at least $.90 (column 3), or else the buyer would not have purchased a second unit at a price of $.90. The total personal worth of two units daily is $1.90 (column 4). That's the sum of the marginal personal worth of one unit plus the marginal personal worth of a second unit. It is not equal to the price ($.90) multiplied by the quantity purchased (2) at that price.
"Personal worth" identifies the greatest price a person would offer to get that unit of the good. We didn't specify what item or items we'd give up to get the good. We'll think and measure in terms of the most dollars a person would offer to get the good. Fortunately, we're almost always able to buy the good for less—yielding a "gain from trade" whether measured in money or in goods purchasable with that amount of money.
At a price of $.80 per unit, a buyer would buy 3 units each week. We deduce that a fourth must add less than $.80 of personal worth, or the fourth would be demanded at that price. We are presuming that a buyer won't buy a unit whose contribution to the buyer's total personal worth is less than the price of that unit.
Distinguish between the total and the marginal personal worths. The total personal worths increase at larger amounts of the good. This is a generally valid relationship for every good and for every person. In contrast, marginal personal worth decreases at larger amounts of the good. Diminishing marginal personal worths at greater amounts of a good is a universal characteristic of all people for all goods—or so we presume in economic analysis.
DIRECTION OF RELATIONS, NOT EXACT DATA, IS PERTINENT
Two Margins: Marginal Personal Worth and Marginal Units of the Good
"Marginal" applies to a) the added unit of a good, and b) the added amount of "personal worth" associated with that marginal unit of the good. The "marginal personal worth" of a marginal unit of a good is the increase in total personal worth consequent to that additional (marginal) unit of the good. In , if the buyer purchases six, instead of five, units, the total personal worth to the buyer increases by $.50. That's a marginal personal worth of $.50 at the sixth unit of the good. is the same as with two added columns, "market value" and "consumer surplus."
Marginal Units with Marginal, Total, and Surplus Consumer Worths
The sum of marginal worths on the marginal units one through five plus the marginal personal worth at the sixth, the marginal unit, is $4.50 (= $1 + .90 + .80 + .70 + .60 + .50); this is the total personal worth of six units. The consumer surplus is $1.50 (= $4.50 − $3.00, the excess of personal worth over
Edition: current; Page:

[

70

]
Table 5.3 Concepts in the Demand Function
Price
Quantity
Personal Total Worth
Marginal Personal Worth
Total Market Value
Total Consumer Surplus
If the price were $.50, the buyer purchases six units at an expenditure of $3.00 ($.50 × 6), while personally assessing the total personal worth of the six units at the equivalent of $4.50, as illustrated in figure 5.4. The buyer would have achieved a consumer surplus that is the equivalent of obtaining $1.50 (= $4.50 − $3) more of total personal worth.
$1.00
1
$1.00
$1.00
$1.00
$0.00
.90
2
1.90
.90
1.80
0.10
.80
3
2.70
.80
2.40
0.30
.70
4
3.40
.70
2.80
0.60
.60
5
4.00
.60
3.00
1.00
.50
6
4.50
.50
3.00
1.50
.40
7
4.90
.40
2.80
2.10
.30
8
5.20
.30
2.40
2.80
.20
9
5.40
.20
1.80
3.60
.10
10
5.50
.10
1.00
4.50
market value). The quantity demanded brings the marginal personal worth down to equality with the price. That maximizes the "consumer surplus worth" at that price.
Personal Worth or Market Value: Which One Indicates Welfare?
Don't be like a governor of California who—in defending a law that reduced the aggregate quantity of tomatoes harvested in California—bragged that the total market value had increased. (He neglected to mention that the smaller crop had a smaller total personal worth.) The increase in the market value of the entire crop may have made the tomato growers wealthier, but it cost society a reduction in total personal worth.
It is an error to try to leap from total market value of some quantity of a good to an inference about its total personal worth. Both the market value and the total personal worth are shown in . The market value rectangle, formed by the new price and the smaller quantity produced, may be larger at the higher price. But total personal worth, shown by the entire area under the demand curve, is smaller at the smaller quantity. And, more pertinently, the consumer surplus is smaller at that smaller quantity.
The consumer's surplus, not the market value, is usually considered the desirable thing to maximize. How much of the personal worth is obtained by the buyer/consumer or is captured by the seller depends on the pricing tactic Edition: current; Page: [71] of the seller. How much should go to the seller is a source of argument, with no general consensus.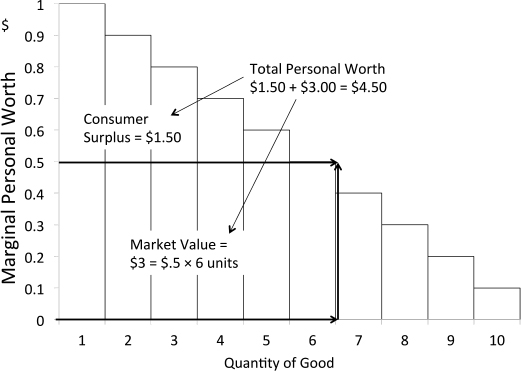 Figure 5.4
In general, a higher price for a good will reduce the quantity demanded, and therefore will reduce both total personal worth and consumer surplus. But that higher price may cause consumer spending on the good (market value) to rise or fall, so changes in market value of the quantity purchased as the output and price change tell us nothing about changes in consumers' total personal worth.
WHY SO MUCH CONCENTRATION ON "MARGINALS" RATHER THAN TOTALS OR AVERAGES?
When you buy something, you act as if you had made two decisions: 1) whether or not to buy, and then 2) how much of it to buy. Those two become just one if you are considering the purchase of just one unit, say a car, house, or piano—at least for most people!
The amount you'll buy will be interpreted as being the amount that maximizes Edition: current; Page: [72] your net personal worth (your personal total worth of the good minus the cost). That net total personal worth is "consumer surplus." We assume the most reliable presumption is that people will buy an amount for which the achieved consumer surplus is maximized. You won't buy one more if the added personal worth to you is less than the cost of buying one more. And you will buy more so long as added personal worth to you exceeds the cost of buying one more. The prospective addition to total personal worth is compared to the additional cost of one more. The cost of one more is the "marginal cost." The added personal worth obtained with an additional unit is the "marginal personal worth."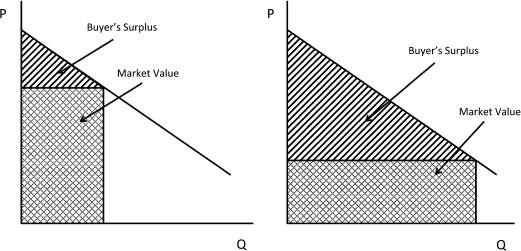 Figure 5.5
The average personal worths and average costs don't tell how much will be bought. In , at the fifth unit, the marginal personal worth is $.60, and the average per unit personal worth of 5 units is $4.00/5, or $.80. However, you wouldn't buy a fifth if it costs more than $.60, its marginal personal worth. Indeed, at any price over $.60 you'd be worse off (less total personal worth net of cost) if you bought more than 5 units, despite their higher average personal worth.
DOLLAR PRICE AND RELATIVE PRICE
When making purchase decisions, you want to know something about the general, or average, level of prices so you can tell whether the price of something is high or low. What counts is the "relative price," not just the "dollar" price. A Edition: current; Page: [73] relative price change occurs, for example, when just one price in dollar terms changes while other prices are constant.
But in the real world, we can't reliably assume other dollar prices are constant. If the dollar price for the product of some business firm falls, the question facing the business manager is: "Is there also a fall in the (dollar) price of all other goods (called deflation) or is it a fall in just this one good's (dollar) price? If it's a fall for this one product, I may not be able to continue to produce profitably. If I were sure it's associated with a fall in the dollar price of all goods, so that the costs of my inputs also will fall, I am more likely to be able to continue profitable production. If I'm not sure which it is, however, I'm going to hesitate in maintaining production and in investing."
The confusion caused by inflation and deflation, which mask relative price changes, reduces productivity of the economy and even causes recessions. People tend to speak in terms of "dollar prices," but act in response to relative prices.
MEANING OF "CHANGE IN PRICE"
When referring to a change in the price of a good, we'll mean that only that good's price changes. Thus, the price of that good has changed relative to the prices of other goods. If, instead, every other price also were to be changed by the same proportion, there'd be no change in prices of one good relative to another. The demand curve shows that more is demanded at a lower dollar price on the assumption other prices aren't changed.
Cross-Price Effects on Demand: Substitutes and Complements
Goods can be substitutes or complements in the sense that the demand for the good depends strongly also on the price of another good. The demand (curve) for margarine depends on the price of butter, as illustrated in . A higher price of butter raises the whole demand for margarine. As a result, at a given price of margarine more will be demanded the higher is the price of butter.
This shift in the demand curve for one good caused by a price change in another is a "cross-price" effect. The goods can be substitutes, in the sense that a higher price of one raises the demand curve for the other, as people shift to purchases of the good whose price has fallen relative to the good whose price was raised. Pairs of goods are "complements" if a higher price of one good reduces the demand curve for the other good. And two goods are "independent" if a change in the price of one has no discernible effect on the demand for the other.
Edition: current; Page:

[

74

]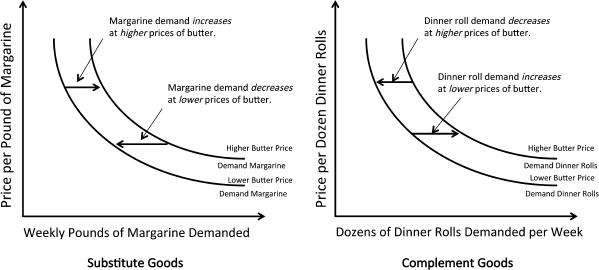 Figure 5.6
As illustrated in , a rise of the price of butter causes the demand for margarine to shift in the same direction, for margarine and butter are "substitutes in demand." But if a rise in the price of one good causes a reduction in the demand for another good, those are "complements in demand."
On the other hand, as the right-hand diagram indicates, an increase (decrease) in the price of one good, butter, can cause the quantity demanded of another good, dinner rolls, to decrease (increase) at all prices. Goods related to one another such that the change in the price of one good causes a shift in the demand of another good in the opposite direction are "complements." When the change in price of one good causes no discernible change in the demand schedule of another, the goods are said to be "independent."
SUGGESTIVE LABELS
Is "personal worth" just a fancy label? Note the distinction between labels or names as a) "identifiers" versus b) "descriptor-definers." A movie labeled "Gone with the Wind" has nothing to do with a past hurricane. A "hot-dog" is not a dog in heat.
The word "worth" in "personal worth" is dangerous, because it suggests Edition: current; Page: [75] some inherent "worth" in the good being demanded. Economists have used the word "utility," which suggested a reason the good was demanded. But what is "utility" to one person is often "disutility" to another. Smoking, alcohol, pornographic literature, golfing, and playing games on computers have disputable "utility." By using the more neutral expression "personal worth," we can avoid disputable opinions about "good" and "bad." If someone is willing to pay for something, it has "worth" to that person, whether other people approve or disapprove.
QUESTIONS AND MEDITATIONS
1)

and illustrated the difference between a change in demand and a change in quantity demanded. This distinction is crucial. In , identify which movement indicates a change in demand and concomitant change in quantity demanded and which indicates a change in quantity demanded with no change in demand.

2)

The following is characteristic of Mr. A's market demand for pencils. Each price is associated with the number of pencils he would buy each year.

Figure 5.3Alt

Edition: current; Page:

[

76

]

| Price | Quantity | Total Revenue |
| --- | --- | --- |
| $1.00 | 1 | $1.00 |
| .90 | 2 | $1.80 |
| .80 | 3 | $2.40 |
| .70 | 4 | $2.80 |
| .60 | 5 | $3.00 |
| .50 | 6 | $3.00 |
| .40 | 7 | $2.80 |
| .30 | 8 | $2.40 |
| .20 | 9 | $1.80 |
| .10 | 10 | $1.00 |

At a price of $.60 Mr. A would own five. At a price of $.50 he would own six. At each of these two prices, he would have a total of $3.00 in pencils. Does this mean that he attaches no value to a sixth? What value does he attach to the sixth?

Answer:

He values the sixth at $.50.

3)

The demand schedule of the preceding question shows that at a price of $1, the annual consumption is 1 unit. At a price of $.90, the annual consumption is 2 units.

Can it be said that this person wants each one of those 2 units more than he wants 90 cents' worth of annual expenditures on any other goods? Note that at the price of $1, he spent annually $1.00 on this good, whereas at a price of 90 cents he spent $1.80 or $.80 more than previously. Do you still say he values the extra unit at approximately cents, even though he spends only $.80 more? In explaining your previous answer, what is meant by "value"?

Answer:

No. Only a second unit.

Yes—90 cents.

He can choose to buy one or two or more at the price of $.90. He chooses to buy two, so the second must be worth the extra $.90 he pays for it. Value is the amount of some other good one is willing to give up to get this good whose value is being defined.

4)

Can the table in question (2) be read as follows: "A person sees a price of $1, and he therefore buys one egg. The next hour he sees the price has fallen to 80 cents; so he dashes out and buys three. A couple of hours Edition: current; Page: [77] later, the price rises to 90 cents; so he buys two"? If it can't be interpreted that way—and it can't—how is it to be interpreted?

Answer:

A person's demand schedule relates his quantities demanded at alternative possible prices at a given time; if a purchase is then made, circumstances affecting his preferences are thereby altered, and he will have a new schedule.

5)

Consumption is a rate concept, even though the good being consumed may be held as a stock of goods. True or false?

Answer:

True.

6)

Mr. A currently uses water at a rate of 3,650 gallons per year at the present price. Suppose that his demand doubles, so that his rate increases to 7,300 gallons per year. How many more gallons of water will he consume during the first week of higher demand?

Answer:

If Mr. A spreads his purchases out evenly over each week of the year, he will consume an additional 70 gallons for a total of 140 gallons during the first week. However, consumption is a rate concept, hence we do not know the pattern of purchases—we do not know how many he will consume during the first week. He may consume nothing during the first 51 weeks and then in the 52nd week consume the initial 3,650 gallons as well as the additional 3,650 gallons (maybe to refill his now new and larger swimming pool).

7)

"According to the law of demand, the lower the price of vacations, the more vacations I should take. Yet I take only one per year. Obviously the law of demand must be wrong." Is it?

Answer:

No. I may take longer vacations. Or, the length of my vacations does not change, but they will be more elaborate or exotic.

8)

There are three conceptions of the amount demanded: (1) the rate of consumption; (2) the quantity a person wants to buy in order to increase his current stock; (3) the quantity a person wants to own. As an example of each: (1) a person may consume eggs at the rate of 6/7 per day (which does not necessarily mean he buys and eats a fraction of an egg each day); (2) on Saturday he buys a half dozen eggs; (3) he may own an average of Edition: current; Page: [78] three eggs in his refrigerator. Which of these three measures is a rate of activity and which is a "stock"?

Answer:

First is rate; second and third are stocks.

9)

Using the demand-schedule data in question 2, suppose that these refer to the number of diamond rings a person would want to own at each price. He now owns four rings.

a.

How many more would he buy or sell at each possible price?

b.

If the equilibrium price in the market turned out to be $.30, how many would he want to buy or sell and how many would he then own—remembering that he has four initially?

Answer:

a.

Sell 3 at $1, for he presently holds 4 but wishes to hold only 1 at a price of $1; 2 at $.90; 1 at $.80; and so on. Buy 1 at $.60; 2 at $.50; and so on.

b.

He would buy 4 more to have a total of 8.

10)

Why is it nonsense to talk about urgent, critical, crying, vital, basic, minimum, social, or private needs?

Answer:

No such thing as basic, vital need—except that we "need" more of everything that is not free. It's a matter of what price we are willing to pay and a matter of more or less, not all or none.

11)

A book was entitled Social Needs and Private Wants. Would the title have suggested something different if it had been Social Wants and Private Needs?

Answer:

Whatever might be suggested to innocent readers, each title displays sloppy use of analytic language.

12)

An increase in demand (the demand schedule) is shown graphically by a demand curve above (to the right of) or below (to the left of) the old demand curve. Which is it?

Answer:

To the right or above.

13)

Which of the following would increase the demand for wigs?

a.

A raise in one's salary

b.

Higher price of hats

Edition: current; Page:

[

79

]

c.

Having a swimming pool

d.

Rise in cost of hair care

e.

Getting divorced

f.

Number of other people who wear wigs

g.

Lower price of wigs

Answer:

All, except the last one. Why? (Lower price induces a movement along the demand schedule, not a shift in the schedule.)

14)

Explain how what is often called "impulse" buying is consistent with the laws of demand. Explain why habitual buying is also consistent. Suggest some behavior that would not be consistent.

Answer:

Whatever provides the impulse, the lower the price of the item, the greater is the probability the impulse to buy will result in a purchase, and the higher the price, the less likely the impulse will be effective. Habitual buying is consistent with knowing the price from prior purchases and having settled on a consumption plan which is generally repeated over time. However, let the price of the consumption goods change, and the habit will be revised. Only with inconsistent behavior would less be purchased at lower prices and more at higher prices.

15)

Does the demand to have children obey the fundamental theorem of demand? The demand by immigrants for entry to the United States? The demand for divorces? The demand for pianos? The demand for a winning college football team? The demand for "As" in this course? The demand for appendectomies?

Answer:

Yes, to all.

16)

A governor of California once asserted that the reduction of Mexican labor in California (as a result of the end of the guest worker program) did no harm, because the total value of the crop harvested was larger than before. Evaluate the relevance of that criterion.

Answer:

Welfare change is not measured by total market value of the entire crop. If demand elasticity is less than one, bigger supply will lower total market value (total market revenue) while total personal worth increases because of larger supply (larger total worth measured by total area under the relevant Edition: current; Page: [80] portion of the demand curve). Do not confuse total personal worth with total market-exchange value (market sales revenue). Total personal worth is closer to a welfare criterion.

17)

If one pair of shoes can be exchanged for four shirts, and one shirt trades for two pairs of socks, and if one pair of shoes trades for six pairs of socks, what series of trades could you make to get steadily richer? (This is known as "arbitraging" among markets for different goods.)

Answer:

Borrow one pair of shoes; sell the pair for four shirts; sell the four shirts for eight pairs of socks; then sell the six pairs of socks for one pair of shoes—leaving you with two pairs of socks. Repeat the operation, each time picking up a net gain of two pairs of socks.

18)

What are prices? Can there be prices without money?

Answer:

Exchange rates among goods are prices, whether or not money is one of the goods exchanged.
CHAPTER 6: THE EXTENT OF EXCHANGE
With the concept of the demand function, we can answer the question asked at the end of the refugee camp story, "What determines the extent of mutually preferred exchanges?"
EXCHANGE
We start with two-person exchange and later explain the advantages of intermediaries in facilitating trade. shows two demand curves, one for Rae and one for Ted. Each person initially has 20 eggs. Rae places a higher marginal worth, $.12, on one more egg, when she has 20, than does Ted, whose marginal worth of eggs at 20 eggs is only $.04.
Mutually advantageous trade opportunities exist when the marginal worths of a good differ among people. Both Ted and Rae would gain by trading, wherein Ted offers to sell some eggs at a price over $.04, and Rae will buy at a price below $.12. When their marginal worths are equalized, with Ted then having 8 fewer for a total of 12 eggs and Rae having 8 more at 28, there can be no further mutually beneficial trade.
The Gain to Rae: Consumer Surplus
Because their marginal personal worths differed initially ($.12 and $.04), both will gain by trade at some price between $.12 and $.04 per egg. When Rae has 28 eggs per month, her marginal personal worth of eggs is down to $.08, the price. Her total gain in personal worth is represented by the area under her marginal worth line, her demand curve, and above the $.08 price paid to Ted. That gain is "buyer's surplus," or "consumer surplus," obtained by trade.
The Gain to Ted: Seller Surplus
Ted was willing to sell 8 eggs to Rae at a price of $.08 each, because his marginal worth of the 8 eggs sold was less than $.08. His gain, "seller's surplus," is represented by the shaded area above his demand curve and below the price received for what is sold.
Edition: current; Page:

[

82

]
Figure 6.1
The Extent of Gains to Both: Exchange Brings the Marginal Worths of Both Parties to Equality
The total personal worth of Ted plus that of Rae was maximized. Of course, neither Ted nor Rae cared about that combined total personal worth; they each traded only because what they got was "worth" more than what they gave up. Whenever marginal personal worths are not equal, there is an exchange that both will be willing to make.
The exchange benefits the trading parties as if there had been a costless increase in goods to both of them. Each achieves a situation of greater personal worth even though the total amount of goods has not increased. The reallocation of various goods in the trade benefited both. It is as if we each had bread and butter, but I had a lot of butter and only a little bread, and you had a lot of bread and only a little bit of butter. A trade of some butter for bread would improve each of our situations.
BASIS OF NATIONAL POLICY ON MARKET COMPETITION
Demand versus Demand, Instead of Demand versus Supply
The two traders are viewed as "cooperative rivals," "cooperative" in being willing to trade, and "rivals" in trying to buy at a lower, or sell at a higher, price. Cooperative rivalry is a fundamental trait of a civilized and productive society.
Edition: current; Page:

[

83

]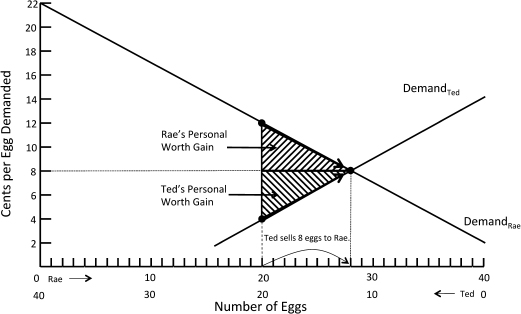 Figure 6.2
In , the total supply of 40 eggs is measured by the entire width of the base of the diagram. Both Ted and Rae initially have 20 eggs. Ted's demand is measured to the left from the right edge. We start with the case in which there are no costs of trading—that is, no search, information, or transactions costs are incurred by either Rae or Ted.
We wish to see not only why trade is mutually beneficial, but also why intermediaries, despite their costs, can reduce the total costs of trade and enable everyone to obtain more total personal worth.
In the initial allocation, each party has 20 eggs. Rae's marginal personal worth exceeds Ted's. That difference in heights (marginal personal worths) of the two demand curves implies that both would gain by trade, by sales of eggs from the lower marginal worth person (Ted) to the higher marginal worth person (Rae). The feasible gains to each are marked as shaded areas.
Edition: current; Page:

[

84

]
Supply to "Me" Depends upon "Your" Demand
The supply of more eggs to Rae depends on the demand by Ted. And the supply of eggs to Ted depends on Rae's demand for eggs. The supply conditions facing you depend on the demands of other people. The higher their demands, the smaller is the supply to you from the existing supply of eggs.
Convergence to "Equilibrium"
We can expect a series of transactions in moving to the final revised distribution. The agreeable prices will be between the two different initial marginal valuations of the traders.
With 20 eggs held by each, Rae would offer up to $.12 for an egg, and Ted would be willing to sell at any price above $.04. As they trade, Ted's marginal worth of eggs rises, and Rae's decreases. The price to which they converge is 8 cents, indicated by the height at which the two demand curves intersect.
Trade slides people along their demand curves toward equalization of their marginal personal worths. Each puts a higher worth on what is obtained than on what is given up. The resulting price is the "equilibrium" price, and the final marginal worth equalizing allocation is the same no matter what the initial allocation. A good from other people is obtained by pushing up the price so as to induce others to demand less (offer more) to you, when you are willing to pay a price higher than their marginal worth of those units.
We have dealt with the prerequisite conditions, the direction, the gains, and the extent of trade. But there are, for both parties, costs of searching for someone who wants to sell or to buy eggs.
INTERMEDIARIES AND TRANSACTION COSTS
The extent to which the full potential of trade can be realized depends on costs of discovering the differences in marginal worths and of arranging for purchases and sales. A vast array of auxiliary devices, procedures, activities, and arrangements has evolved to reduce transaction costs.
"Transaction costs" is a name for costs of shopping among potential traders, discovering goods and qualities being offered, finding and canvassing alternate possible suppliers, assembling, transporting, and making the goods available at the time desired, providing inventories to enable inspection and prompt delivery, record keeping, advertising, insurance, warranty service, replacing defects, negotiating and recording the terms of trade, and enforcing the exchange and contractual agreements—to name some aspects of exchange.
Rarely is trade conducted directly between the ultimate parties. "Do-it-yourself" Edition: current; Page: [85] transaction costs are not small. They are usually larger than the observed spreads between the retail and wholesale prices of goods. Otherwise, people usually would buy direct from producers rather than retailers. At the retail level for most household consumption goods, the spread between buying and selling price ranges from about 15 percent to 50 percent of the price to the consumer. Some discount houses provide a smaller spread by asking the consumer to bear some of those costs by self-service. The customer receives less retail service, less credit, less delivery and location convenience. To customers whose time is less valuable, that may be worthwhile. To others it is not. So the degree of intermediation varies to suit various customers.
Intermediaries, as in the refugee camp, reduce the costs of finding trade possibilities, of assessing the characteristics or qualities of goods, and of negotiating exchanges and arranging for such legal protection as warranties. The cost reductions permit more of the potential trade to be realized.
How much would you buy if you had to buy your food directly from the farmer, your shoes from the manufacturer or the wholesaler, your gasoline from the refinery, and your milk from the dairy farmer? And how would you feel about being denied the opportunity to sell your used car through a dealer, and being required to find a willing buyer completely on your own? Successful intermediaries make their livings by performing their services at lower costs than feasible for the consumers and producers of the purchased goods.
INTERMEDIARIES' REDUCTION OF FULL PRICE BY REDUCING TRANSACTION PREPARATION COSTS
Both the buyer and seller can benefit by intermediaries' reductions in transaction costs.
Benefits to the Buyer—Lower Full Price
In , consider the buyer of the eggs. Without helpful intermediaries, the cash price is $.08, along with self-service transaction costs of $.01, the full price being $.09. The cash price with intermediaries is 8.5 cents, a greater money charge but less than the full price in the do-it-yourself transaction.
Benefits to the Seller—Higher Net Price
Without intermediaries, he receives a price of $.08, but bears costs of 0.5 cents, yielding a net return of 7.5 cents. With intermediaries, his receipts are 7.75 cents.
Total transaction costs for the buyer and seller are 1.0 + 0.5 = 1.5 cents in a do-it-yourself arrangement; they are only .75 cents with intermediaries.
Edition: current; Page:

[

86

]
Table 6.1 Money and Full Prices without and with Intermediaries
Without Intermediaries
Money
Nonmoney
Full Price
Buyer
8
1.0
9.0 (paid)
Seller
8
0.5
7.5 (received)
Do-it-you rself costs
1.5¢
1.5¢
With Intermediaries
Money
Nonmoney
Full Price
Gain Cost Reduction
Buyer Pays
8.5
0
8.50 (paid)
0.50 (=9-8.5)
Seller Gets
7.75
0
-7.75 (received)
0.25 (=7.75-7.50)
Cost Reduction with Intermediary
.75
+.75 Gain to Buyer and Seller
Reduction in Transaction Costs
Do-it-yourself Cost
1.50
Intermediary Cost
0.75
Intermediary Cost Reduction
.75
The intermediary has earned .75 cents per egg for his services—he saved the buyer .5 cents and saved the seller .25 cents for a total saving of one-half the transactions costs the buyer and seller would have incurred without his services.
DIAGRAM OF REDUCED COSTS OF ARRANGING EXCHANGES
shows a buyer and seller trade without an intermediary. Both buyer and seller are at X1 before trading. (Remember that Ted's demand curve is reversed, so for him a move to the right is a reduction.) As trading occurs, both—buyer and seller—move toward X2, the point at which their respective personal worths equal the full price. If the buyer's (Rae's) "do-it-yourself" prepurchase search and product inspection costs are the equivalent of $.01 per unit of the good purchased, the buyer's full price is $.09 ($.08 paid to the seller, Ted, plus the $.01 of Rae's prepurchase costs).
The seller also has prepurchase search, negotiation, and exchange enforcement costs equal to, say, $.05 per unit of egg. So the seller's net realized price is only $.075, not $.08. Of the total potential gain from trade, part is dissipated by the prepurchase search and negotiation costs, and part is unrealized because of Edition: current; Page: [87] the reduced extent of trade—trading stops before reaching the intersection of the two demand curves because of the existence of transactions costs.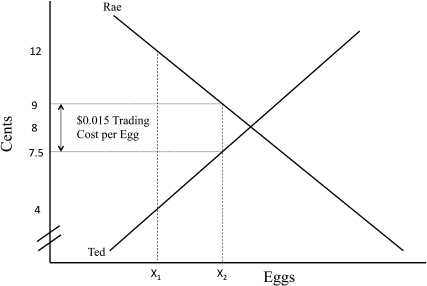 Figure 6.3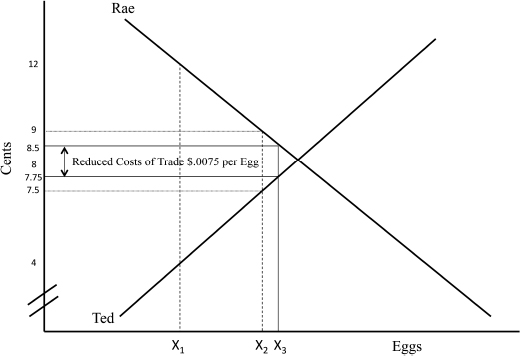 Figure 6.4
shows a situation with intermediaries doing some of the transaction preparation actions. Both the consumer-buyer and the producer-seller gain from trade when intermediaries reduce the "shopping" costs. The full Edition: current; Page: [88] price paid by the buyer is reduced to $.085 and the net amount received by the seller rises to $.0775. Importantly, the quantity of eggs traded increases to X3—closer to the equilibrium that would have resulted in a world without transactions costs.
Full Price Is the Pertinent Price
Intermediaries reduce the seller's money receipts (from 8¢ to only 7.75¢) and raise the buyer's money payments (from 8¢ to 8.5¢). However, both the buyer and the seller are made better off in light of the distinction between the "money price" and the "full price." The costs of the trading have been reduced and the extent of trade is greater because of the specialized services of an intermediary.
"Buy direct from the manufacturer and eliminate the middleman's cost." In fact, it is incorrect to regard intermediaries as interposing extra costs and raising the price for the buyer and lowering the price paid the seller. Successful intermediaries reduce the costs of exchange, permitting benefits to both the ultimate buyer and seller.
MARKETS: OPEN OR CONSTRAINED ACCESS?
The narrowed spread (resulting from competition among middlemen) between the buying and selling prices of intermediaries is a consequence of free-entry market competition, or "open markets." "Open markets" mean that access to markets is open to all people without arbitrary, contrived barriers—not that there are no costs involved in providing exchange-facilitating services.
Constrained Access to Markets; "Closed Markets"
Open markets are not universal. Constraints are interposed—often at the urging of those already in the business. Existing intermediaries would prefer to restrain newcomers and tend to complain of the new "unnecessary, inexperienced, low-cost, cutthroat, excessive, unfair" competitors. Existing intermediaries or suppliers may be able to protect themselves by closing newcomers' access to markets. Several possibilities are available, some crude, some refined, but all in use.
Threats of Violence
An intermediary contends to a prospective intermediary, "It was my idea to develop the trade. Why should you be allowed to copy and benefit from my innovative actions?" The initial dealer may warn impending new dealers about a few lost teeth and possibly a broken leg.
Edition: current; Page:

[

89

]
Collusion
As a desperate tactic, a current intermediary approaches a newcomer and offers to merge, agreeing to maintain the old price spread and divide the profits, which is better than seeing the profits eliminated. But if new entrants joined the collusion, the profits of collusion would be spread among more suppliers until the gain to each was virtually zero.
Compulsory Licensing as a Restraint on Entry
The colluders ask for political help. They offer to contribute to the election campaigns of legislators. They lobby for restrictions on entry, or higher costs of entry by newcomers. Normally, licenses and permits to do business require that performance meet certain standards of safety and reliability. Applicants for entry are often required to have taken costly prior training or education. And incumbents argue there are already enough people in that business. Or consumers should be protected from "fly-by-night, quack, unreliable" dealers—or from imports from foreigners in order to protect local suppliers. Or newcomers could be screened and refused admission under the pretense that the newcomers would not maintain the "highest standard of quality." However, newcomers may offer the politicians rewards greater than those from incumbents. The cost of the competition between incumbents who are trying to defend restrictions and newcomers seeking to remove or bypass them can exhaust the potential gains to restricting competition. But this tactic is widely used.
Reducing the Pie to Get a Larger Share
Competition for favorable legislation or regulation is often called "political rent-seeking." "Rent" refers to the "gains," which are called "rents" because they are obtained not by production of more value, but instead by transferring wealth from one person to another—either directly or indirectly—by altering competitive conditions. Competition for the politically obtained favors differs from market competition for purchase and production of goods and services. In the market, you buy as many units as have marginal worths exceeding the price of a unit, and you compete by superior production, not by attempts to prevent other sellers from producing or selling.
In contrast, when you compete in politics or in nonexchange form, you are using productive resources to increase your prospects of getting protection from competitive market forces. Although market competition among sellers redounds to the benefit of consumers, political competition tends to result in Edition: current; Page: [90] transfers of wealth. Consultants, lobbyists, and lawyers are hired, and contributions are made to political campaigns. Those resources are diverted from producing more goods and services. The politically imposed restrictions on potential competition are equivalent to changing the share of the total pie (national income) going to competitors, while reducing the size of the total pie.
MARKETS—EVERYWHERE
Markets are arrangements and means for facilitating exchanges. To say that the "market" does something is a shorthand way of saying that people, in the process of arranging for and completing mutually preferred exchanges, bring about certain consequences. Don't think of the "market" as a place, but rather it is people who are doing something—usually seeking, negotiating, and conducting mutually preferred exchanges. In that sense, the "market" is a process by which people's beliefs, values, and demands are compared, with resultant exchanges of rights at mutually agreeable prices or terms that enable mutually preferred exchanges.
Members of Congress trade votes on issues in the "political market." Professors trade offices, furniture, and course assignments in an "academic market." In a family, children trade duties and obligations. Favors are exchanged, and exchanges occur in markets. It is impossible to conceive of a society without exchanges or trades, or of any society without markets—whether they are for personal favors, ideas, private property rights, political favors, family obligations, and so forth. This text focuses primarily on markets for exchanges of goods with private property rights, where money is involved in the exchange. However, we will see also that exchanges still occur in "markets" in which money prices are controlled or are not permitted.
IMPLICATIONS OF MARKET EXCHANGES, NOT JUDGMENTS
As stated in chapter 1, economic principles are silent on normative issues and questions. The implications of economic analysis are not judgments about whether something is good or bad, desirable or undesirable—no more than are those of physics, chemistry, or biology. Economics deduces only what happens in response to some change in specified circumstances. It says that if you think in terms of preferences of individuals, you can interpret exchanges as mutually preferred exchanges. Each person is seeking a preferred situation, as judged by each. If you believe individual judgments and choices are desirable actions, then you could deduce that markets are "good."
There is a strong temptation to conclude that economic analysis proves that exchange improves a person's situation. But some critics of the "desirability" Edition: current; Page: [91] of personal choice attach more weight to the consequences for those who make unfortunate choices, than the weight they place on the "right to make one's own choices." Neither the critic nor the defender of the right to make choices is necessarily the more humanitarian.
Everything in life involves a trade-off between alternative amounts of goods and degrees of achievement of goals. The question then arises of who might make better judgments for others. Can you expect other people to act entirely on your behalf? Or could you plausibly argue that people, as a matter of moral duty or propriety, should have to make their own decisions? It is universally the case that some people are not regarded as being capable of properly understanding the consequences of their decisions and therefore should be restricted or controlled "for their own good," much as with children.
Indeed, in many instances—for example, for medicines, health care, and food—even "mature" adults are prohibited from entering into some mutually agreeable exchanges with whomever they please. Furthermore, it has been contended that people do not always have the appropriate tastes: the contention is that people would place a higher value on classical music, museums, or education if properly exposed to those things, and they would spend less on flashy cars, television, or sports. If these critics had their way they would try to tax more heavily "improper pleasures." Where and how is the line to be drawn—and by whom?
Warning: Don't jump to the inference that economic analysis therefore assumes that people do not care about ethics. Quite the contrary: we'll show later that the analysis includes issues of ethical behavior. The point here is that economic analysis doesn't tell you what is "good" or "bad"—just what "is" or "is not."
CONTRACTS AND RELIABLE PROMISES: THE BINDING FORCES OF SOCIETY
We have been examining the fundamental forces and features of exchanges enabling people to gain by market activity. We assumed that once a deal is struck, the goods are exchanged as promised. But it's pertinent to know what tangential features we have been ignoring. One thing, which we'll explore later, is the reliability of the promised performances by the parties in an exchange. There's often a temptation to renege and get a quick gain. For example, an employer may promise payment to you after you have worked two weeks, or a retirement pension if you work a specified number of years with that firm. You want assurance the promise will be fulfilled.
Explicit contracts involving binding written or verbal commitments are Edition: current; Page: [92] usually enforced in a court of law. But that can be too expensive. No one can foresee all the possible future events and pertinent details. To help ease that enormous task, the contract is taken to include well-established side conditions, sometimes called "commercial codes," as completions of the contract by the law. Nevertheless, explicit contracts are difficult to adjust to unforeseen contingencies.
An unexpected change in the availability of a resource may prevent delivery of a product as scheduled. Even before entering into negotiations, you may incur costs preparatory for business with that person. You drive to a distant grocery to get some bargains, only to find out upon arrival the price has changed or the items are sold out. The person you expected to deal with may refuse to deal or may ask prohibitively higher prices.
Most of the time, however, the promises and expectations will be made reliably without enforcement by a legal proceeding. An astounding variety of noncontractual methods exists for increasing the assurance of promised performance—such as publicly preannounced fixed prices, reputations, goodwill, social pressures, ostracism, and the force of "ethics." We'll be examining these commonplace, though much misunderstood, "noncontractual" procedures that rely on "natural" consequences of the market. An "exchange," or "trade," is more complicated than merely paying money and receiving the good.
QUESTIONS AND MEDITATIONS
1)

Which of the following are compatible with open (or free) markets?

a.

A lawyer must get permission of present lawyers before he can engage in that profession.

b.

Medical doctors must pass a state examination before being allowed to sell medical services.

c.

Selling is prohibited on Sunday.

d.

Pure food and drug laws restrict the sale of "impure" foods and drugs.

e.

Consumption, manufacture, or sale of alcoholic beverages is restricted.

f.

Securities dealers and brokers must be certified by the US Securities and Exchange Commission before they can act as middlemen in buying and selling stocks and bonds—that is, before they give advice or execute transactions.

Answer:

All are denials of open markets.

Edition: current; Page:

[

93

]

2)

You are campaigning for mayor or councilman in your hometown, in which the taxi service (or garage service, trash pickup, electric power, water, gas, etc.) is provided by anyone who wants to operate a taxi business or drive his own cab. In other words, the taxi service is provided by an open market. You campaign for more government control on taxi drivers in order to ensure better quality of service.

a.

If elected, would you initiate a system of giving just one company the right to perform the service? Why?

b.

If so, how would you decide which company?

c.

Would that company be one of your campaign contributors?

d.

In some states, the right to sell liquor is restricted by the state government to far fewer stores than would prevail otherwise. Would you be surprised to learn that the liquor dealers are a political "lobby" and source of "power" in state politics? Why?

e.

What generalization does this suggest about use of political power once obtained?

Answer:

a.

Yes, unless all consumers could agree to pay me more than the one seller to whom I gave the monopoly right. (In principle, they could always pay more than a monopolist would gain.)

b.

The one who helped me most to get elected.

c.

Answered in b.

d.

No surprise. Their monopoly rents are partly used to aid (pay?) politicians, and are also dependent on political favors and support.

e.

Once in office, create favored monopoly privileges by prohibiting entry of competitors to those who support you. As we shall learn later, consumers lose more than the monopolies gain. But the ability of monopolists to pay politicians exceeds that of consumers, who have more difficulty in arranging payment because there are so many consumers, each with only a small amount involved.

3)

A piece of history: "It is well to remind ourselves from time to time of the benefits we derive from a free market system. The system rests on freedom of consumer choice, the profit motive, and vigorous competition for the buyer's dollar. By relying on these spontaneous economic forces, we secure these benefits: a) Our system tends automatically to produce the kinds of goods that consumers want in the relative quantities in which people want them. b) The system tends automatically to minimize Edition: current; Page: [94] waste. If one producer is making a product inefficiently, another will see an opportunity for profit by making the product at a lower cost. c) The system encourages innovation and technological change. . . . I regard the preservation and strengthening of the free market as a cardinal objective of this or any Administration's policies" (President John F. Kennedy, September 1962). It is discouraging that while extolling the virtues of an open, competitive economic system, businessmen and politicians restrict markets—for example, by controlling allowable imports of sugar to maintain sugar prices in the United States above the open-market level—in order to maintain larger wealth for incumbent businessmen and their employees. Confusion between freedom of competition and freedom from competition is suggested. What explains this praise of the virtues of a system of private property and open markets with simultaneous attempts to suppress it?

Answer:

Restrictions on entry by new competitors are denials of open or free markets. Those in the restricted industry gain at the time the restrictions are imposed, although their gain is less than the loss imposed on others.

4)

Some discount stores advertise that they can sell for less because they buy directly from the manufacturer and sell to the consumer, thus eliminating many middlemen. What is the inadequacy in this reasoning?

Answer:

It assumes that the middleman performs no service to consumers or producers in facilitating exchange, and therefore he can be eliminated without someone else having to perform the service in which he specialized. Eliminating the middleman is a form of the do-it-yourself principle, and is not necessarily more economical.

5)

A history textbook might tell you that trade in the Mediterranean Sea developed after the Greeks began to produce a surplus of olive oil and found that the Spaniards were producing a surplus of silver. What would economics have to say about the development of trade of olive oil for silver?

Answer:

There was not a surplus of either olive oil or silver. But the worth of additional amounts of olive oil to the Greeks and silver to the Spanish declined Edition: current; Page: [95] as production increased. Greeks became increasingly willing to trade olive oil for a quantity of silver, while Spaniards became increasingly willing to trade silver for a quantity of olive oil. It became economical to pay for boats and crews to transport the olive oil and silver, while still leaving both the Greek olive growers and Spanish silver miners better off than if trade had not developed.

6)

For most of the items you find in the produce department of your grocery store, the packaging, transportation, and distribution costs are a much larger share of the price you pay than the share of the price that goes to the farmer. Is that a fair distribution?

Answer:

Economics does not help in making judgments about what is fair. The farmer cares most immediately about how much he is paid—relative to his costs—not about what share he received of the final selling price. The same is true of all others who participate in bringing food from the farm to the grocery store. Of course, some people enjoy "cutting out all the middlemen" and incurring the personal costs of traveling to "farmers markets" to purchase fruit and vegetables and transport them home. However, personally incurring such middleman costs does not deny that they exist and must be borne by someone.

7)

It is easy to see how we all can gain by increasing aggregate output—the social pie gets bigger. It is not so apparent that everyone engaged in a trade is made better off—that seems to be just reapportioning the pie. And if there are middlemen involved in the trade, they siphon off some of the pie, leaving less to divide between the traders. What can be "the gains from trade"?

Answer:

Preferences—marginal valuations—differ among people, and they change for a given person as his holdings of goods are altered. A has cheese and would like some crackers; B has crackers and wants some cheese. Each would like to get his desired good as manna from heaven, but he is willing in this hard world to give up some of his initial holdings of the one good in exchange for some of the other. Each puts a greater personal valuation on what he gets than on what he gives, so each gains from the transaction. And some of that gain can be paid, if need be, to a middleman who conducts the trade.

Edition: current; Page:

[

96

]

8)

The text speaks of "money" price and "full" price in trade, with and without intermediaries (middlemen) involved in carrying out a transaction. Distinguish between these price measures.

Answer:

The money price is the equilibrium price paid by the buyer and received by the seller when there are no costs of making the transaction. But there can hardly be a costless transaction, and those costs are reflected in a full-demand price greater than the money price and a supply price less than the money price—and there is a reduced volume of trade. Often, intermediaries can arrange and carry out the exchange at a cost smaller than that incurred when buyer and seller deal directly with each other—and which results in trade greater than the volume would be on a transactions do-it-yourself basis.
CHAPTER 7: KEEP YOUR EYE ON THE MARGINALS
The principles of economic analysis require a persistent focusing on marginals rather than on just averages. This chapter illustrates the principle of maximizing a total by equalized marginals.
TOTALS, MARGINALS, AND AVERAGES
Suppose you have taken two tests in a class, receiving scores of 80 and 86, for a current total of 166 as listed in . Your average score is 83 (= 166/2). You take a third test and score 89, raising your total score to 255. That addition to your total score is your marginal score. Because that marginal score of 89 on the third test is higher than your average (83) of the first two scores, your new average rises from 83 to 85 (= 255/3). The average is a historical measure of the past, whereas the "marginal" is more identifiable with the present. And the present or future is the basis of a current decision.
Table 7.1 Marginal, Total, and Average Test Scores

| Tests | Marginals | Total | Averages |
| --- | --- | --- | --- |
| 1 | 80 | 80 | 80 |
| 2 | 86 | 166 | 83 |
| 3 | 89 | 255 | 85 |
Table 7.2 Marginal, Total, and Average Costs

| Chairs Made Daily | Marginal Cost | Total Cost | Average Cost |
| --- | --- | --- | --- |
| 1 | 100 | 100 | 100 |
| 2 | 80 | 180 | 90 |
| 3 | 105 | 285 | 95 |
Edition: current; Page:

[

98

]
Table 7.3 Prices and Total, Marginal, and Average Revenues

| Chairs Sold Daily | Price | Total Revenue | Marginal Revenue | Average Revenue |
| --- | --- | --- | --- | --- |
| 1 | 110 | 110 | 110 | 110 |
| 2 | 100 | 200 | 90 | 100 |
| 3 | 90 | 270 | 70 | 90 |
COST
In , a firm producing chairs can make one chair a day, at a total cost of $100. If it makes two chairs a day, the total cost rises to $180. This $80 increase in the total cost when making one more chair is the "marginal" cost of chairs.
Producing three chairs daily raises the total cost to $285. That increase of $105 is the marginal cost at a rate of three chairs daily. The average cost at three chairs is now $95 (= $285/3). Adding a $105 marginal cost that exceeds the former average cost ($90) will pull up the average, from $90 to $95. Looking back at the change from one chair to two chairs daily, the average cost fell from $100 to $90, because the $80 marginal cost at two chairs was less than the preceding average ($100) at one chair.
REVENUE
Suppose you are selling chairs. The sales revenue data are in .
You set your price at $150, but you don't sell any. So you cut your price to $110, and you sell one chair a day. To sell more chairs each day, you cut the price to $100 and sell two. Your total revenue rises to $200. The marginal revenue is $90, the increase in the total revenue. The marginal revenue, $90, is less than the $100 price received for that second chair, because, to sell two chairs per day, you have to cut the price from $110 to $100 on both units. You give up $10 on the one chair you could have sold alone if you hadn't cut the price to sell the second chair. The $90 marginal revenue is the increase in total revenue when selling two chairs at $100 each, rather than selling just one for $110. The average revenue per chair at two chairs daily is $100.
You could sell three chairs if you cut the price to $90. Your total sales revenue would be $270. The marginal revenue, that is, the increase in total revenue, would be only $70. The marginal revenue is the change in the total revenue consequent to cutting the price on all units enough to sell one more per day. The $10 cut in price in order to sell three chairs at a price of $90 each means the price is cut on two chairs that could have been sold at $100 each. That $20 reduction ($10 on each of the two chairs) offsets part of the $90 price received on
Edition: current; Page:

[

99

]
Table 7.4 Total, Marginal, and Average Sale by Clerks

| Clerks | Total Sales | Marginal Sales | Average Sales |
| --- | --- | --- | --- |
| 1 | $1,000 | $1,000 | $1,000 |
| 2 | $1,800 | $800 | $900 |
the third chair, bringing the total revenue increase to $70. The marginal is the change in the total, not just the amount obtained on the additional marginal unit sold.
Who Did It?
In a retail store, more clerks enable better service and more sales revenue as illustrated in .
One clerk alone generates sales revenue of $1,000. With a second clerk, the revenue rises to $1,800. The marginal is $800 and the average is $900. In fact, the second clerk registered zero sales, while the first one's sales rose to $1,800, because the second clerk assisted customers, and the first clerk recorded the sales. The marginal revenue is $800 with a second clerk. The two clerks as a team added $800 to total revenue. The marginal is the change in the total consequent to including one more unit.
USE THE MARGINAL OR THE AVERAGE?
Suppose you were told that the average cost per life saved by expenditures on automobile airbags was $1,000,000 while the average cost of saving a life with seat belts was only $500,000. Should greater safety be sought by spending more for airbags or for seat belts? You shouldn't answer without knowing the marginal costs for saving lives by airbags and the marginal costs for saving lives by seat belts. That might be $2,000,000 if seat belts are used to save an extra life, while it's only $1,100,000 with airbags. That comparison of the marginal costs reverses the ranking by the average costs. The average does not tell what the additional effects or additional costs will be. It summarizes only the past—the accumulated—effects, not the next effects. When considering where to put more resources, the marginal effect is pertinent, not the average per unit of input to date.
RELATIONS AMONG TOTALS, MARGINALS, AND AVERAGES
The total, the marginal, and the average are related to each other. In , the first column lists the number of inputs of labor in some productive act. The second column lists the total product at each amount of labor. The third
Edition: current; Page:

[

100

]
Table 7.5 Production and Inputs

| Labor | Total Product | Marginal Product | Average Product Per Unit of Labor |
| --- | --- | --- | --- |
| (1) | (2) | (3) | (4) |
| First | 6 | 6 | 6 |
| Second | 16 | 10 (=16-6) | 8 (= 16/2) |
| Third | 24 | 8 (= 24 -16) | 8 (= 24/3) |
| Fourth | 30 | 6 (= 30 - 24) | 7.5 (= 30/4) |
| Fifth | 34 | 4 (=34-30) | 6.8 (= 34/5) |
| Sixth | 36 | 2 (= 36 - 34) | 6 (= 36/6) |
| Seventh | 36 | 0(=36-36) | 5.14 (= 36/7) |
| Eighth | 35 | -l(=35-36) | 4.375 (= 35/8) |
column lists the marginal products, the change in the total amount with an additional unit of labor. The fourth column lists the average product per unit of labor.
The following relationships are: (1) The total products increase by the amounts of the successive marginal products. The total product is the sum of the marginal products up to that level of activity, because the marginal product is defined to be the change in the "total product" with each added input. (2) In this table, a special feature is that successive positive marginal products get larger at first, but then later, beyond the second unit of input, begin to decrease in size. The amount of an input at which the total product begins to increase by diminishing marginals is the "point of diminishing marginal products from that kind of input." (3) When the "marginal" is negative, the total decreases. (4) If the marginal is less than the prior average, the new average is lowered. Saying the same thing, when an added input lowers the average product per unit of that kind of input, the marginal product must be less than the average product.
In , the marginal products first increase, from six to ten. Then they decrease, even becoming negative values. When the marginals are negative the total decreases, because the marginal is, by definition, the change in the total. Where the total is maximized (and then starts to fall), the marginal is zero (changing from positive to negative).
Marginal products rise initially, but at larger amounts of input marginal products begin to decrease. Average products rise initially when marginal products exceed average products, but when marginal products decrease to below the average product, the average products are pulled down.
Edition: current; Page:

[

101

]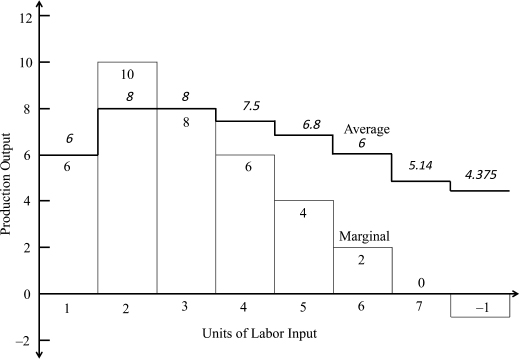 Figure 7.1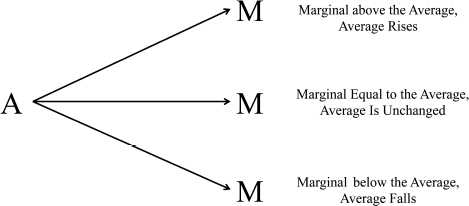 Figure 7.2
Edition: current; Page:

[

102

]
A BASIC PRINCIPLE: "THE EQUALIZATION OF MARGINALS AT THE MAXIMUM AGGREGATED RETURN"
We can now state a principle that pervades much of Economics. "Allocate resources among alternative uses so as to keep the marginal returns equal, or as near equal as possible." Or, "if marginal products aren't equal, there's a gain to be had by reallocating some resources from the use with the lower marginal product and assigning them to where the marginal product is higher."
A General Task: The Assignment of Limited Supply among Alternative Uses
In this vale of scarcity and frustration, we are incessantly confronted with problems of how best to assign limited supplies among alternative uses. We have only twenty-four hours each day for working, playing, eating, and sleeping. We have incomes too small to buy all of everything we want, so spending choices are unavoidable.
Imagine you have ten coin-like tokens which you can insert into two "money machines," A and B, from which dollars will be obtained. Your goal is to maximize the total number of dollars you get. The amounts that can be obtained from machine A and machine B are listed in and .
A marginal return is the dollar output from a machine with an added token. The marginal returns decrease with additional tokens. The "average per token" is the total output, the sum of the marginals to that point, divided by the number of inserted tokens. For machine A, the marginal returns decrease from the
Table 7.6 Marginal, Total, and Average Dollar Returns from Machine A

| Tokens | Marginal | Total | Average |
| --- | --- | --- | --- |
| 1 | 20 | 20 | 20 |
| 2 | 18 | 38 | 19 |
| 3 | 16 | 54 | 18 |
| 4 | 14 | 68 | 17 |
| 5 | 12 | 80 | 16 |
| 6 | 10 | 90 | 15 |
| 7 | 8 | 98 | 14 |
| 8 | 6 | 104 | 13 |
| 9 | 4 | 108 | 12 |
| 10 | 2 | 110 | 11 |
Edition: current; Page:

[

103

]
Table 7.7 Marginal, Total, and Average Dollar Returns from Machine B

| Tokens | Marginal | Total | Average |
| --- | --- | --- | --- |
| 1 | 15 | 15 | 15 |
| 2 | 14.5 | 29.5 | 14.75 |
| 3 | 14 | 43.5 | 14.5 |
| 4 | 13.5 | 57 | 14.25 |
| 5 | 13 | 70 | 14 |
| 6 | 12.5 | 82.5 | 13.75 |
| 7 | 12 | 94.5 | 13.5 |
| 8 | 11.5 | 106 | 13.25 |
| 9 | 11 | 117 | 13 |
| 10 | 10.5 | 127.5 | 12.75 |
Table 7.8 Aggregated Marginal and Average Dollar Returns from Two Machines

| Tokens | Machines and Tokens Used in Machine | Marginal Returns | Total Returns | Average Returns |
| --- | --- | --- | --- | --- |
| 1 | 1st in A | 20 | 20 | 20 |
| 2 | 2nd in A | 18 | 38 | 19 |
| 3 | 3rd in A | 16 | 54 | 18 |
| 4 | 4th is 1st in B | 15 | 69 | 17.25 |
| 5 | 5th is 2nd in B | 14.5 | 83.5 | 16.7 |
| 6 | 5th is 3rd in B | 14 | 97.5 | 16.25 |
| 7 | 7th is 4th in A | 14 | 111.5 | 15.93 |
| 8 | 8th is 4th in B | 13.5 | 125 | 15.63 |
| 9 | 9th is 5th in B | 13 | 138 | 15.33 |
| 10 | 10th is 6th in B | 12.5 | 150.5 | 15.05 |
initial maximum of $20 at the first token. For B, the marginal returns start at a lower value, $15, but the marginals of machine B decrease less rapidly.
In trying to get as much money as possible, you won't put all ten tokens into machine A. You'd get $110.00. Nor would you put all 10 into machine B, even though its total payoff of $127.50 is greater. Instead, you'd rationally allocate the 10 tokens between the two machines, and get as much as $150.50, ending with essentially "equalized marginals" of the two machines. shows the sequence of allocation to maximize the total return from the two machines.
You would put the first token in the machine that yielded the highest marginal return, machine A, which pays $20. The second and third tokens also Edition: current; Page: [104] would go into A, for their marginal returns ($18 and $16) are greater than the return of B's first token ($15). The fourth token in machine A has a marginal yield of $14, but that's less than the marginal return for the first token in machine B, so the fourth token becomes the first in B.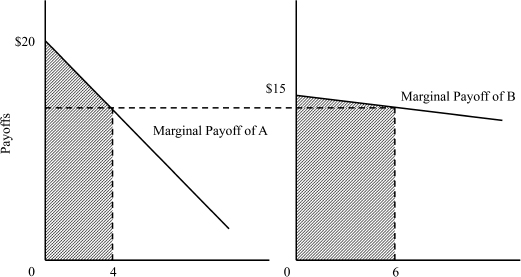 Figure 7.3
See how the averages can mislead. The average return with a fourth token in machine A would be $17, and the average with one token in machine B is $15. Nevertheless, we put that fourth token in B, because the marginals, not the averages, are pertinent. If we mistakenly used the average to direct where we put the fourth token, and put it in A, our total return would be only $68, rather than the $69 we'd get by using the marginals to direct our tokens. The next token, the fifth, would get $14.5 from machine B, compared to the marginal return of only $14 as a fourth token in machine A. That fifth token does not go into the machine (A) with the highest available average.
The ten tokens would go four into A and six into B. The four tokens in machine A obtained $20 + $18 + $16 + $14 = $68. The six tokens in B obtained $15 + $14.50 + $14 + $13.50 + $13 + $12.50 = $82.50. The aggregate total is $150.50. No allocation other than four in A and six in B will get as much.
If we think of the inputs as perfectly divisible and continuous (like rates of hours of labor input, instead of tokens), the marginal returns of added inputs Edition: current; Page: [105] would be measured by continuous lines, as in . There, the area of all the marginal returns represents the total return from a machine. With two machines, total return is represented by the areas under the combined marginal return lines in the graph. For a maximum total product from the two machines, the amount of inputs to each machine, A and B, should be such as to equalize their achieved marginal returns.
COST MINIMIZING
Let's apply the principle—equalize the marginals—to a production situation. If two plants under common ownership are producing the same goods, we will want each to operate at a rate of production that will minimize the costs of total production. We won't produce goods in one plant at higher marginal costs than are possible in the other. The idea can be stated as "assigning rates of production to each so as to equalize the marginal costs of the two." Whether plants are maximizing the total returns from two producers or minimizing the total costs, the rule is to have each produce at rates at which their marginal returns (or marginal costs) are equalized. At any point, adopt the best of the remaining options—the highest remaining marginal return, or the lowest remaining marginal cost.
QUESTIONS AND MEDITATIONS
1)

Explain or criticize the following statements and questions about the substitution postulate:

"Every student substitutes some romance for grades when he dates rather than studies as much as he otherwise could have."

"The substitution postulate says that a student does not seek the highest possible grades." Does the substitution postulate deny that water, food, and clothing are more basic or more needed than music, art, and travel? "There is no hierarchy of wants." What does that mean? Can you disprove it? Is travel in Europe a substitute for formal academic education? For some food? For a bigger house or new clothes or medical care? For what would it not be a substitute?

"I'd like to play poker with you again tomorrow night, but I don't think my wife would like it." Is this consistent with the substitution principle? Is the wife's utility being compared with the husband's? Explain.

Answer:

Substitution means there are trade-offs. A person gives up some (not necessarily all) of one good or service for some more of another. This applies to all desired things—goods, services, goals, objectives, ideals, morals. Edition: current; Page: [106] People give up some of one ideal for some more of another ideal. All goals and ideals are competitive and substitutable in degrees of achievement or fulfillment. The emphasis is on more versus less—not on all or nothing.

2)

Suppose that I am indifferent if given a choice among the following three combinations:

Table 7.9
(pounds per year)
Steaks
Artichokes
Options A:
100
and
30
B:
105
and
29
C:
111
and
28

a.

What is my marginal personal worth of steak (between options A and B)?

b.

What is my marginal personal worth of artichokes (between B and C)?

c.

If the amount of steak in A were doubled to 200, what can be deduced about the amount of steak required in B to make personal value equal to A?

Answer:

a.

One artichoke is worth 5 steaks, or 1 steak has a marginal personal worth of .2 artichokes, given options A or B.

b.

Between B and C, my marginal personal worth of artichokes is 6 steaks, greater than between A and B, because I have fewer artichokes at B or C than at A.

c.

Increases the amount of meat that expresses the marginal personal worth of artichokes, because I have fewer artichokes (and more meat).

3)

Principles of economics are used to characterize some aspects of human nature and behavior.

a.

Do you think any of them are also applicable to nonhuman animal life? For example, which of the principles would validly apply to the behavior of monkeys, ants, bees, tigers, and birds?

b.

Which principles, if any, do you think serve to distinguish human from nonhuman behavior?

c.

What evidence can you cite to support your answers?

d.

Do you think the human race would survive if it lost the attribute

Edition: current; Page:

[

107

]

described by the principle "each person is willing to forsake some of an economic good to get more of other economic goods" while some animals retained it?

Answers:

a.

Yes.

b.

We don't know that any of them do.

c.

Behavior of bees, ants, and baboons.

d.

No.

4)

A parent gives each of his two children some milk and meat. The two children then exchange with each other, one drinking most of the milk and the other eating most of the meat. If the parent does not permit them to make that exchange, which of the principles (if any) is he denying? Or does the explanation rest on some new principle not made explicit in the text?

Answer:

Denies none in the text. The implied new principle is that power over other people is a good or a goal.

5)

If I regard each of the following combinations as equally preferable, which principle is denied?

Table 7.10
Goods
X
Y
Options A:
100
and
70
B:
105
and
69
C:
110
and
68
D:
115
and
67

Answer:

The principle "the more one has of any good, the lower its marginal personal worth" is denied because in the table the marginal substitution rate between X and Y is constant between all the options.

6)

Explain the difference between the statements, "People act in accord with certain fundamental principles" and "People consult or refer to such principles for guidance in choosing their behavior." Does either Edition: current; Page: [108] interpretation assume "free will" or independence for other people's behavior or tastes?

Answer:

The first statement contains no implication about any necessary thought process. It would also apply to rocks and water obeying the law of gravity. The second statement suggests some common or necessary mental calculation and choice making. Economics does not have to assume the second statement as a basis for its theory, despite common arguments that it does.

7)

In testing a person's preference between two known options, it has been suggested that if a person agrees to let some unknown party choose for him, then he is indifferent between the two options. Do you think that is consistent with the principles listed in the text?

Answer:

It is.

8)

It is a good rule to avoid costs which exceed benefits and to seek benefits greater than costs. But with interactions of two parties, costs and benefits to whom? The longer the stay in a hospital, the greater may be the benefit to a patient, but the higher is the total hospital cost he must pay. If the total bill is $15,000 for five days, the cost of a day to the patient (and the revenue to the hospital) might be said to be $3,000. So is an extra day in the hospital worth the additional $3,000 to be paid by the patient?

Answer:

Consider also the marginal cost to the hospital along with the average cost to be paid by the patient. Perhaps the major costs occur in the first several days of care; in the later days, the care, though important, is much less costly—less than the $3,000 average cost. Should the patient be kept in the hospital for an extra day? Yes, says the hospital: It receives $3,000, equal to its average cost, but its marginal cost is less than $3,000. Maybe no, suspects the patient, for whom the marginal benefit may be deemed to be less than the average (daily) expenditure.
CHAPTER 8: MORE FEATURES OF DEMAND
The First Law of Demand is critical: A sufficiently higher price will decrease the quantity demanded, and a sufficiently lower price will increase the quantity demanded. But price is not the only thing that can affect the quantity demanded. With greater income, the quantity demanded at each price is larger for most products. Also age, gender, education, and health, to name a few things, affect the quantity demanded at each price. When so many other factors affect the quantity demanded, why concentrate on price? After answering that question, this chapter explains some measures of the degree of response in amount demanded when the price changes, and why the degree of response is important.
WHY SO MUCH ATTENTION TO PRICE?
The first question really should be, "Why so much attention to price adjustments?" A major reason is that price adjustments make the aggregate quantity demanded of a good equal the aggregate available supply. Unhappily, our tastes, preferences, or total personal worths don't change to make us desire to have only as much of a good as our income allows. Prices change so as to reconcile personal conflicts for available goods, they direct production from the less-highly to the more-highly demanded goods, and they affect your earnings and the kind of work you will be doing.
CHANGES IN MONEY PRICES AND CHANGES IN RELATIVE PRICES
College tuitions have increased in recent decades far more than the average of other goods, while prices of televisions, computers, and travel have fallen. These changes in relative prices are results of events that changed the demand for or supply of one good relative to the demand for or supply of other goods.
WHICH DEMAND?
We distinguish three demands. (1) There is the demand by one person for a good. (2) Another is the aggregated demand by all people for a good, from all suppliers—the market demand. (3) A third is the demand seen by one seller when Edition: current; Page: [110] offering that good to the market—to people in general. This is the "demand facing a seller."
ELASTICITIES OF DEMAND: RESPONSIVENESS OF QUANTITY DEMANDED TO THE PRICE
A measure of the responsiveness of the quantity demanded of a good to a change in its price is the "elasticity of demand with respect to price," or "price elasticity of demand." A seller who contemplates the effect of cutting price expects an increase in the amount demanded by customers. The additional units sold will bring more sales revenue. But, at the same time, the cut in price will reduce the sales revenue on the units salable at the former higher price. Which dominates, a) the added sales revenue of the additional units sold at the lower price or b) the lost revenue on former sales at the higher price?
Elasticity of Demand
"Elasticity of demand" for a good is the ratio of a) the percentage change in the quantity demanded in response to b) a percentage change in the price of the good.

A $1 cut in price from $10 is more important than a $1 price cut on a good from $100. The first is a 10 percent change, whereas the second is a 1 percent change. If quantity demanded increased by 5 units, from 20 units to 25 (a 25 percent increase), that would be more significant than a 5 unit change from 100 to 105 units, only a 5 percent increase.
If a price cut of 10 percent results in a 20 percent increase in the quantity demanded, the ratio of the 20 percent change in quantity to the 10 percent change in the price is 2 (= 20 percent/10 percent).

The increase in quantity demanded is in the opposite direction to the change in price in the denominator, a decrease in price. Therefore, the ratio, the elasticity, is algebraically "negative." Typically, that's ignored, and is called 2 rather than –2.
gives data on selected points (combinations of price per unit and number of units demanded) of a demand schedule. The percentage changes in price in moving down the schedule and in corresponding quantities are indicated,
Edition: current; Page:

[

111

]
Table 8.1 Elasticities of Demand

| Price | Price Cut % | Quantity | % Change of Quantity | Elasticity | Market Value |
| --- | --- | --- | --- | --- | --- |
| $10 | | 1 | | | $10 |
| | 10 | | 100 | 10 = 100/10 | |
| 9 | | 2 | | | 18 |
| | 11.1 | | 50 | 4.5 = 50/11.1 | |
| 8 | | 3 | | | 24 |
| | 12.5 | | 32 | 2.6 = 33/12.5 | |
| 7 | | 4 | | | 28 |
| | 14.3 | | 25 | 1.7 = 25/14.3 | |
| 6 | | 5 | | | 30 |
| | 16.7 | | 20 | 1.2 = 20/16.7 | |
| 5 | | 6 | | | 30 |
| | 20 | | 17 | 0.85 = 17/20 | |
| 4 | | 7 | | | 28 |
| | 25 | | 14 | 0.56 = 14/25 | |
| 3 | | 8 | | | 24 |
| | 33 | | 12.5 | 0.38 = 12.5/33 | |
| 2 | | 9 | | | 18 |
| | 50 | | 11.1 | 0.22 = 11.1/50 | |
| 1 | | 10 | | | 10 |
along with calculated elasticities between successive positions. Finally, market values (seller receipts, buyer expenditures) are provided as products of price multiplied by quantity.
A minor point in : The measure of elasticity for a price cut from $6 to $5 is not $1.00, as it should be when the total sales revenue is the same at the two prices. This discrepancy arises because the data represent discrete changes in prices, so that the measures depend upon the prices and quantities used as the basis for computing the percentages. This slight ambiguity could be removed if we had a smooth continuous demand curve rather than widely separated points.
Elasticity Review
Elasticity of demand is a measurement of movements along a demand schedule, not a result of a shift in the schedule. presents a straight-line demand schedule. The initial price is indicated by OP on the vertical axis, and Edition: current; Page: [112] the initial quantity by OM on the horizontal. We want to measure how "elastic" the demand is at, or near, price P. Consider the small segment of the demand schedule between OP and OP′. That is, for an increase of price from P to P′, is the relative decline in quantity from M to M′ larger, smaller, or the same?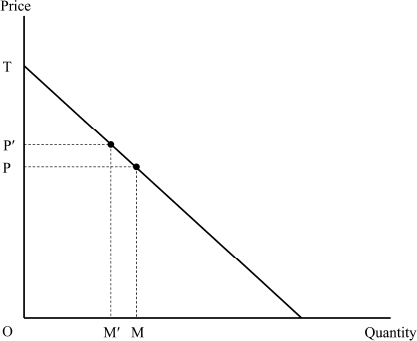 Figure 8.1
Since elasticity is measured by the proportionate change in quantity divided by the proportionate change in price:

If we are at the midpoint of the curve, then OP = PT, and elasticity at that point is equal to one (unity). At higher prices, OP > PT, that is, elasticity is greater than one; at lower prices, it is less than one. If we are in the upper half of the curve, where OP > PT, elasticity is greater than one; a decrease in price will cause a greater proportionate increase in quantity, so total revenue rises. Caution: Do not confuse elasticity of the demand curve with its slope. In particular, do not presume that a relatively flat curve is more elastic.
It has been noted that elasticity determines whether market value increases,
Edition: current; Page:

[

113

]
Table 8.2 Elasticity, Price, and Total Revenue (Expenditure) Change

| | e >1 | e = 1 | e < 1 |
| --- | --- | --- | --- |
| P↑ | ↓ | — | ↑ |
| P↓ | ↑ | — | ↓ |
decreases, or remains unchanged as price rises or falls as we move along the demand schedule. provides a summary of the relationships: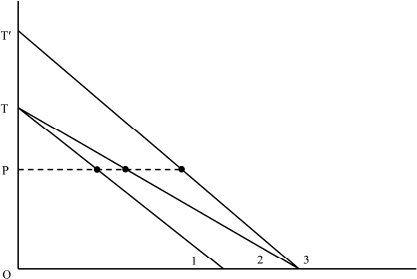 Figure 8.2
For any combination of price changes and elasticity conditions, the table indicates whether market value is increased, decreased, or is unchanged.
Compare the three demand curves of . Curves 1 and 2 have a common price-axis intercept; curves 1 and 3 are parallel, that is, they have a common slope. Since elasticity = OP/PT, curves 1 and 2 have the same elasticity at price OP. Demand 1 is more elastic than demand 3 at price OP, although their slopes are the same: OP/PT > OP/PT′.
Few, if any, actual demand curves are straight through their entire length. A special exception to a linear curve is a rectangular hyperbola. In , any price multiplied by its corresponding quantity demand, for example, OP × OM, equals any other price times quantity indicated by the curve, for example, OP′ × OM′—market value is constant as we slide along the curve—for OP/PT = OP′/P′T′ . . . = 1, unitary elasticity.
Edition: current; Page:

[

114

]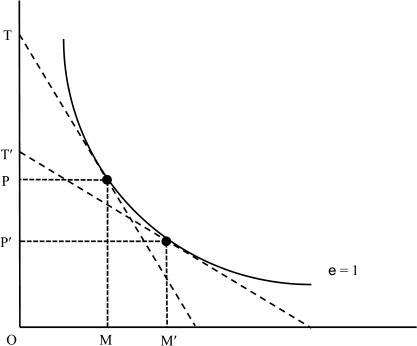 Figure 8.3
WHY BOTHER WITH ELASTICITY OF DEMAND WITH RESPECT TO PRICES? THE CHANGE IN TOTAL REVENUE
"Elasticity of demand with respect to prices" is a way to refer to effects on a seller's total market revenue, if a seller changes the price.
With elasticity greater than one, a rise in price of, say, 10 percent will reduce the amount demanded by more than 10 percent. Total revenue will fall, because the quantity was reduced more than proportionally to the increases in price on each unit. And with an elasticity of greater than one, if a seller reduced the price, the total sales proceeds would increase. The percentage increase in the amount demanded would be greater than the price cut.
Suppose, instead, the elasticity were less than one: the price effect dominates the quantity effect. A higher price will increase total sales revenue, and a lowered price will reduce total sales revenue. Look at the drop in price from $4 to $3 in . The quantity demanded increases from 7 units to 8. The percentage increase in quantity demanded (14 percent) is less than the percentage fall in price (25 percent). The elasticity is less than one. Total sales revenue is lower. It was $28 (= 7 units at $4 each); now it's $24 (= 8 units at $3 each). If elasticity is less than one, Edition: current; Page: [115] the total market value of quantity sold decreases at a lower price, and increases at a higher price.
Meanings of "Inelastic"
"Inelastic" demand is in the range of prices where the elasticity is less than one—where the percentage change in amount demanded is less than the percentage change in price along that demand schedule. "Inelastic" does not mean the change in quantity is zero! That would be "complete or perfect INelasticity" or, more commonly, "zero elasticity." Because the elasticity is generally not the same at all parts of the demand schedule, the expression "elastic" demand refers to the region of prices at which the elasticity is greater than one. And inelastic means it's less than one.
REMEMBER: ELASTICITY OF DEMAND IS A MEASURE OF MOVEMENTS ALONG A DEMAND SCHEDULE, NOT A RESULT OF A SHIFT IN THE DEMAND SCHEDULE.
The price changes referred to here are changes along a given unchanged demand schedule. If, instead, the price change were a result of a shift in the whole schedule, we couldn't use a measure of elasticity to indicate the resulting change in total market value. The difference is indicated in and . In , Edition: current; Page: [116] the quantity demanded changes as the buyer slides along an unchanged demand curve in response to changes in available supply. In , it is supply that is unchanged, and the price changes as a result of a shift to a higher demand curve.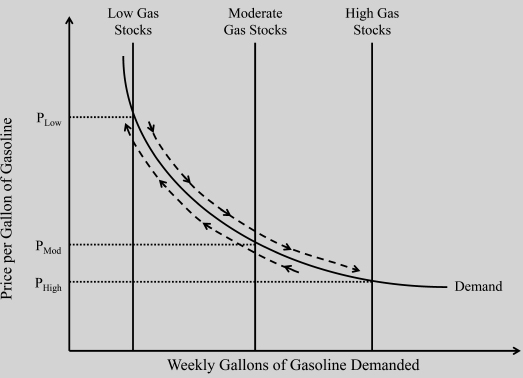 Figure 8.4A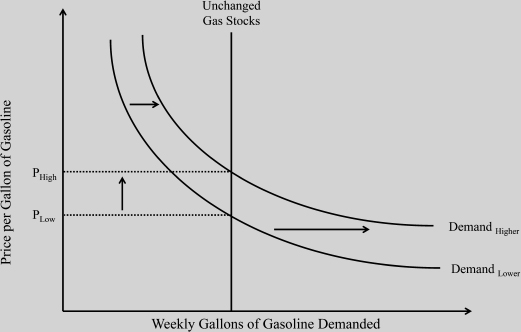 Figure 8.4B
Why Use the Concept of Elasticity When Its Measures Are Unknown for Almost All Goods?
No one can know the required actual data well enough to compute exact elasticity. But the concept explains several commonly used pricing and selling tactics, identifying situations that are "monopolistic" and "monopolizing," which are usually, though not always, regarded as "undesirable" and prohibited by law. The concept of elasticity helps in the analysis of effects of government taxes and subsidies. But here we can use it to express the second law of demand.
THE SECOND LAW OF DEMAND
The fact that adjustments are less expensive—and therefore more fully accomplished—with the passage of time is the basis of the Second Law of Demand: Elasticities of demand with respect to price are greater the longer the time after a price change.
When the price of gasoline first rose significantly after a war in the Middle Edition: current; Page: [117] East, the quantity demanded in the United States fell very little at first, but after a few months the reduction was more noticeable, and after a few years the quantity demanded was reduced drastically. Hastier adjustments are more expensive. Substitution by new types of cars and other forms of, and arrangements for, transportation, such as car pooling, consolidating errands, using buses and scooters, airplanes and railroads, become more economical as older cars wear out. Existing equipment appropriate at the older prices will be replaced in time with equipment designed to use the higher-priced inputs more effectively. Because the immediate effect is often quite small, observers tend to ignore the later extensive and major consequent adjustments.
When wages of labor are raised—say, by a legislated increase in the minimum wage—the first law of demand indicates that less labor will be demanded. But often the reductions in employment occur only many months later after the producer has been able to substitute equipment that uses less labor. By that time, observers forget that the reduction is a response to higher labor costs. With the passage of time, these changes become more difficult to measure because so many other things also change.
A quicker, more complete adjustment is preferred to a delayed adjustment, but the costs of faster adjustments are greater than slower ones. The Second Law of Demand says that in the "longer-run" more adjustments are completed.
Short and Long Runs
The terms "short run" and "long run" roughly separate the more immediate from later adjustments. Not all responses to every event occur immediately. The timing depends on a) the costs of determining the appropriate changes and in making the changes earlier rather than later and on b) the benefits of doing so earlier rather than later.
Sometimes, "short run" is taken to mean the length of time before all desired adjustments are completed. This is often summarized by saying that the "short run" is that period in which some things are "fixed" but which are "variable" with the passage of time. Saying they are "fixed" is a way to recognize that faster adjustments are too costly to be worth doing immediately. Categorizing the adjustments in just two stages, the more immediate "short run" and the delayed "long run," is convenient and usually adequate.
We could think of long-run adjustment to mean the "completed" adjustment, which will persist only until there is another change in events that affect the demand or the supply. Considering the effects during both the initial adjustment actions and the subsequent adjustment, it would be tempting to think that the long run means "later and ultimate," while the short run means Edition: current; Page: [118] "sooner and temporary." However, there's no basis for presuming later adjustments will long persist, as if there were no more shocks to which to adjust.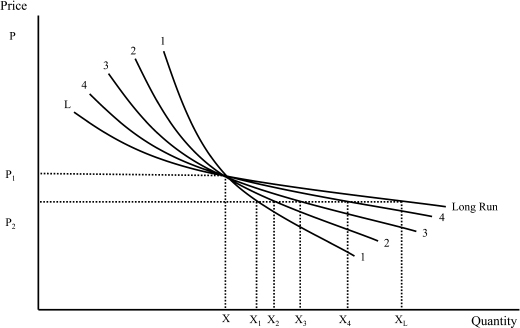 Figure 8.5
A FAN OF DEMAND CURVES
One demand curve alone, representing the adjustment to a change in price after some interval, is not capable of completely representing "demand." For every succeeding moment, the demand becomes more elastic or less inelastic. A single demand curve is one of a set of demand curves, like a fan, radiating from the initial price. illustrates the idea.
The fan of demand curves shows the general pattern of the various quantities demanded at successive moments after the price falls from P1 to P2. The price effect on quantity demanded increases over time until it reaches its ultimate full "long-run" adjustment shown by the flattest curve.
INCOME, WEALTH, AND DEMAND
Many and possibly most goods are "normal," as defined in chapter 5: a higher income raises demand, as represented by an upward (rightward) shift of the demand curve, roughly proportionally to the increase in income. For "superior" goods, increases in income or wealth result in shifts in demand that are more than proportional. For "inferior" goods, increases in income result in proportionally smaller increases in demand. A good may be "superior" for someone Edition: current; Page: [119] in the low-income range and "inferior" for someone in a richer range. Cheap wine may be a superior good at low incomes, but with greater wealth people may consume more expensive wines. We usually will be investigating situations in which the goods are believed to be normal.
Income Elasticity
Analogous to "price elasticity of demand," "income elasticity" is the percentage change of the quantity demanded divided by the percentage change of income. But which income?—transient momentary income or expected longer-run "permanent" level of income? A 20 percent increase in quantity demanded in response to a 10 percent increase in "permanent" income at an unchanged price means the income elasticity of demand is two at that income range. A momentary rise in income probably will have little effect.
Definition: Income elasticity of demand for a good is the ratio of the percentage change in quantity demanded to the percentage change in income that caused the change in the demand schedule.
WEALTH AND INCOME EFFECTS OF A CHANGE OF PRICE
The quantity demanded depends on price, as reflected by a movement along the demand curve. However, a change in the price of a good can shift the demand curve for that good—in addition to causing a movement along the demand schedule. This can happen when the demander already owns a very large amount of the good. The rise in its price makes that person wealthier. The increased wealth can shift the demand curve upward to larger amounts demanded at each price.
This is a situation in which the price change affected both the position of the demand curve and the position on the demand curve. (1) One effect is the slide along a demand curve. This "substitution" effect is the movement to a smaller amount of a good at a higher price, and to more of other goods the prices of which have not increased. (2) The other effect on amount demanded is through the effect on a person's wealth when the price of a good changes. This is the "wealth" effect of a change in the price of some good of which a person owns a substantial amount. That resulting increase in wealth tends to shift the demand curve upward. The two effects of a price change—substitution and wealth—are in opposite directions.
When the price of oil first rose sharply in response to a smaller supply available from Middle East oil producers, the owners of oil wells in the United States became enormously wealthier, and that increase in wealth increased their demand for bigger cars and for oil products, such as gasoline. The effect of that increase in wealth shifted up their demand curves for gasoline more Edition: current; Page: [120] than enough to offset the substitution effect of a higher price along the higher demand curve. But there seem to be few instances in which this wealth effect is important enough to be noticeable in individuals' responses to price changes.
PRECISELY WHAT IS MEANT BY THE DEMANDED AMOUNT?
For most things, we purchase bulk amounts at convenient shopping times, while consuming more smoothly at some rate per unit of time. Usually, the "demanded amount" refers to the average rate associated with a price, and around which there are momentary random deviations.
At any given price, for each person the quantity purchased (and consumed) by that person would vary around the average amount associated with that price. The transient fluctuations in sales from day to day usually don't call for adjustments in prices or production. However, they cause difficulties when the seller can't reliably distinguish between the temporary deviations and a change in the underlying rate around which deviations occur, and the fluctuations around the mean are important in explaining some pricing policies, which we'll be exploring later.
RATE OF DEMAND VERSUS AGGREGATE VOLUME DEMANDED
The difference between the "rate" and the "volume" demanded is parallel to a distinction between speed of travel and distance traveled. "Rate" is a "speed" while "volume" is like a distance. For demand and for supply, there's a rate (speed) of purchase and of production, such as 5 units per hour. That is the same as "40 per 8-hour day" or "200 per 5-day week." Each of these expressions denotes the same rate, or speed, of "amounts" or "quantity" demanded (or supplied). But they do not tell how many (the volume) are demanded.
A grocer may have a customer who buys at a low rate, but who continues as a nearby resident to buy for a long time at that low rate. Another customer may buy at a very high rate but for only a couple of days and then disappear. From Edition: current; Page: [121] the point of view of the seller, which buyer reveals the greater demand? Is it the total anticipated volume of purchases over time, or is it the current rate of quantity demanded that determines how a seller will respond, or is it some weighted combination? Later, we'll return to this question.
This distinction between the rate of activity and the total aggregated volume over time is important both in analyzing demand and also in considering production. If production at the rate of 5 an hour continued for only 2 hours, the volume would be 10. If production continued for 8 hours at that same rate of 5 per hour, the volume would be 40 units. When referring to "quantity" or "amount" of production or "amount" of demand, we must know whether we are referring a) to the rate, without specifying how long that rate continues, or b) to a volume, which won't tell us at what rate or speed that volume is produced over some period.
How Can We Compare Demands Differing in Rates and Timing?
Consider some different patterns of amounts demanded over time at a given price. One buyer purchases 10 per week for 2 weeks (a visitor at a vacation site). A local resident buys an average of 1 per week every week of the year. From the point of view of the seller, which is the "bigger" demand? Which is more important in its economic effects on production and price?
This kind of problem about the "temporal length of demand" by a customer faces every producer, whose planned or possible production, cost, and revenue patterns vary over time.
Some variables are at higher rates for shorter spans of time, and slower for longer spans. Which is bigger or more important in the effects on prices, production, and income? In choosing among them, the producer has to convert the varying and varied streams of costs of production and the streams of revenues from customers to comparable single-valued measures.
Miraculously, there is a way. It's being done all the time, with "capital values," one of the most important procedures and principles in all economics. Later we'll devote several chapters to it. In the meantime, we'll set aside the potential volume- and time-related effects, because they're not pertinent for the illustrations of the simple but realistic demand and supply analysis in the next chapter.
QUESTIONS AND MEDITATIONS
1)

Are the following statements correct or incorrect? Explain your answers.

a.

"A 1 percent rise in price that induces a 3 percent decrease in amount taken indicates elasticity greater than one."

Edition: current; Page:

[

122

]

b.

"A 1 percent fall in price that induces a 3 percent increase in amount purchased indicates an elasticity of greater than one."

c.

What is wrong with asking whether a 1 percent rise in price induces a 3 percent decrease in demand?

Answer:

a.

Correct.

b.

Correct.

c.

It is conventional to call this a decrease in amount demanded, not a decrease in demand—which would refer to a shift in the whole demand relationship.

2)

"Elasticity is a measure of the percentage increase in demand for a one-cent change in price." There are two errors in that statement. What are they?

Answer:

Elasticity is the ratio of percentage change in quantity in response to a small percentage change in price. It is "percent," not one-cent. And it is "quantity demanded," not demand.

3)

In the graph below, which of the three demand curves has the greatest elasticity at price P1? At price P2? Does the elasticity change as the price changes along each curve? Is the "slope" of a demand curve equal to the "elasticity" of the curve?

Figure 8.6

Edition: current; Page:

[

123

]

Answer:

Demands a and b have the same elasticity at any common price. But the elasticities of a and b decrease at lower prices. Remember: With O as the origin, P as the price, and T as the vertical-axis intercept of the demand curve, elasticity = OP/PT. Demand c has lower elasticity at any price than demands a or b, and its elasticity decreases at lower prices. Demand c has the same slope as a, but its quantities are larger at any price. Hence, for any small price cut, the absolute change in the amount demanded on line c and a is the same, but for c the increase is a smaller percentage of the amount demanded (at that price). Elasticity = ΔQ/Q × P/ΔP = ΔQ/ΔP × P/Q = 1/slope × P/Q.

4)

Price and demand:

a.

If the price of gasoline rose 100 percent, automobile manufacturers would make changes in the designs or operating characteristics of automobiles. True or false?

b.

What effect would that price rise have on gasoline consumption?

c.

Would the effect be more extensive at the end of one year or at the end of three years?

Answer:

a.

True. Economic theory says they would. Compare cars in countries with higher gasoline prices with those in countries with relatively low gas prices.

b.

Reduced gasoline usage.

c.

Effects would be more extensive in three years than in one year.

5)

Price and amount demanded:

a.

Because we represent a demand curve with precise numbers, does that mean that people have these numerical schedules in their minds?

b.

What essential property illustrated by the demand-schedule data does characterize their behavior?

Answer:

a.

No.

b.

The negative functional relationship between price and amount demanded—at a higher price a smaller amount is demanded and in the reverse direction, at a lower price a larger amount is demanded.

5)

If the price of candy rises from $4 to $5 per pound while the price of ice cream rises from $2 to $3 a quart, in what sense is that a fall in the price of candy?

Edition: current; Page:

[

124

]

Answer:

It is a fall in the price of candy in ice-cream units. Candy is cheaper relative to ice cream than formerly. The percentage increase in the price of candy is less than the percentage increase in the price of ice cream.

6)

"If the price of gasoline rose by only 10 percent, many people would not immediately change their consumption." Explain why this does not refute the law of demand.

Answer:

The law of demand does not say that every person will instantly respond, and respond fully, to every price change no matter how slight. It says a sufficiently high price will induce a response now, and it also says the response will be greater the longer the time allowed. In the case at hand, some people will respond quickly though some will not. Even for a small price rise the aggregate amount demanded over all people will respond because some will respond. In time, all will respond to a sufficiently large price rise.

7)

Income and demand:

a.

As your wealth or income increases, what happens to your demand (schedule) for gasoline?

b.

If you owned a dairy farm and the price of milk went up, would you consume more or less milk?

Answer:

a.

Demand increases. Schedule shifts upward (to the right).

b.

Can't tell. Milk production may be so important a source of your income that you consume more when its price rises (despite the higher price, because you are wealthier). But you consume less than if your wealth had increased for other reasons and without a rise in milk prices.
CHAPTER 9: SOME IMPLICATIONS OF LAWS OF DEMAND
The universal principles of demand apply to most human activity—much more than merely the prices of goods sold in markets.
"NEEDED" OR "DEMANDED" AMOUNTS?
Many speak of "needs," calling them "vital," "basic," "urgent," "critical," "crying," "minimal." Such words are appropriate in a letter to Santa Claus, not in economics. They are challenged by the concept of the demand function. There is scarcity. Command over more is better, and less is worse. We all want more of every good. The price of "more" is what must be given up to get more of the "needed" thing. If we "need" more police protection, more schools, or more housing—then what is it that we need less of, which we will give up?
Potential production is limited. Choices must be made. Poor people are poor not because they "need" or are "satisfied with" or are "accustomed to having" less. Some shamefully contend that the cost of labor is low in poor foreign countries because the people there "don't need as much as we do." But they haven't been fortunate enough to be born in an economy where they can earn as much as others do. We'll look at the reasons a person's labors are worth more in one place than another.
Direct Implications of the Laws of Demand
Because greater amounts can be sold at a lower price, prices of fruits and vegetables are lower at harvest time when the supply is larger. Merchants have clearance sales at lower prices, not higher prices. Still, public opinion polls report that many say they would not reduce their use of gasoline just because the price went up—they bought no more than they needed and would not buy less than they needed. In fact, when gas prices rose there was a reduction in the amount demanded—apparently the amount they "needed" fell when the price went up! That was in accord with the first law of demand. Further, the reduction has been greater in the long run, in accord with the second law of demand.
Edition: current; Page:

[

126

]
Demand for Beef
If beef prices rise in response to a reduced supply, people buy less beef and more of other types of meat or sources of protein—eggs, cheese, poultry, fish, tofu—which are now less expensive relative to beef. In time, they adjust still more as they learn new ways to use the cheaper product.
Demand for Wood
If wood prices rise, less wood will be demanded. We substitute some plaster, plastics, steel, aluminum, copper, glass, paper, coal, oil. You and I may not consciously respond to a 10 percent rise in the price of wood, but industrial product designers shift in varying degrees to substitutes.
Demand for Water
Although we cannot live without water, we reduce (not eliminate) water usage when prices are higher. In arid regions, the very high price of water induces people to demand less; it is not that they don't "want" or "need" less water. At that high price for water, they reduce the amount of water they use, and spend more on other things.
Per capita daily water usage has varied from 230 gallons in Chicago to 150 in New York and Los Angeles, down to 120 in San Diego and 110 in Boston. Among the reasons are differences in industrial uses. Chicago has steel and oil refining industries that use a great deal of water; New York City businesses—finance, retail, apparel—are light water users. And the cost of water had something to do with determining the locations of those industries! In many cities, industrial users take about half the water. Their demands are probably more elastic with respect to price than the demand for domestic uses. Further, there can be enormous differences in water use within the same industry. The amount of water used in production varies with the local price, as it does in consumption.
In Arizona or Nevada—with high prices of water—people have smaller gardens and lawns or just rock gardens. Sidewalks and autos will be swept or dusted, rather than washed. Softened water will be used because soft water washes cleaner with less water in flow-restricting shower heads. More houses will have circulating hot-water systems so as not to waste cold water waiting for hot water to reach the faucet.
In New York City, about 10 percent of the total water consumption has been estimated to be leakages; at higher prices, it would pay the water supplier to install meters as an incentive to reduce waste. Agriculture in California uses 70 percent of the water in the state—at prices of water to farmers that are Edition: current; Page: [127] far lower than prices to city users, even after adjustment for purification and distribution costs. If prices to farmers were as high as for water in the cities, farmers would more accurately bear the costs of farming. The extent of farming in California would be reduced. Water to grow watermelons, lettuce, rice, grapes, and alfalfa would be diverted to more valuable city uses, and more of the farm products would be produced in other states or countries where water is cheaper.
The growing population pressing on the available supply of water will require some strong means of allocating water use. Will it be similar to the method for controlling use of land, food, oil, and electricity—by market prices—or will it be political control?
Learning How to Adapt
When the price of water rises, people may not initially know how or to what extent to adjust. One way they learn is by being informed by sellers of substitutes or devices that economize on water. They sell water recycling equipment, water softeners, automatic faucets, fertilizers, irrigation and sprinkling equipment, air conditioning machinery, hardtop patios, chemicals that reduce evaporation from reservoirs, washing machines that use less water, and so forth. More expensive water creates market prospects for their production, and they will eagerly provide guidance to those trying to adapt.
INDIRECT IMPLICATIONS OF THE LAWS OF DEMAND
The power of the laws of demand can be demonstrated by indirect, less obvious implications.
Good and bad grapes: larger proportions of relatively good quality California oranges and grapes are shipped to New York than the proportions that remain in California. Are New Yorkers richer or more discriminating? Possibly—but the quality ratio is higher also in the poor districts of New York and the whole East Coast. The question can be posed for other goods: Why are disproportionately more expensive foreign cars and other "luxuries" exported than are purchased in the home country? Why do young parents go to expensive plays rather than movies on a higher percentage of their evenings out than do young childless couples? Why are "seconds" (slightly defective products) more heavily consumed at the site of manufacture? Why do more of the better, rather than the mediocre, students attend more distant colleges? Why should a tourist be more careful buying leather goods in Italy than when buying Italian exports in other countries? Why is most meat shipped to Alaska "deboned"?
The answers to these questions are based on an implication of the first law
Edition: current; Page:

[

128

]
Table 9.1 Better Quality Is Shipped Away
Prices of Grapes in New York = Transport Costs + Prices of Grapes in California
Choice $1.50
=
$.50
+
$1.00
Standard $1.00
=
.50
+
.50
Relative Prices in New York
Relative Prices in California
1.5 Standard for 1 Choice
2 Standard for 1 Choice
of demand. In , suppose California grapes a) cost 50¢ a pound to ship to New York, regardless of quality, and b) in California the choice grapes sell for $1 a pound and the standard grapes for 50¢ a pound. Since the cost is the same per unit of shipping either quality to New York, the price in New York is 50¢ higher than in California for both types. But in New York, a consumer of choice grapes sacrifices only 1.5 pounds of standard, whereas in California, one pound of choice costs two pounds of standard.
New Yorkers have a lower cost of choice grapes relative to standard grapes, and, therefore, in accordance with the first law of demand, they will demand a larger fraction of choice grapes than do Californians. In California, where standard grapes are cheaper than in New York relative to choice grapes, a larger fraction of standard grapes will be consumed. We don't need to resort to conjectures about differences in "consumer tastes and preferences" to understand this phenomenon.
A general effect of an added cost to related products: an addition of a constant value to a high and to a low value will reduce the resulting ratio of the new values. The prices of high- and low-quality meat might be $10 and $5. Now, add $10 to each, which become $20 and $15. Though both absolute prices are increased equally, the high-quality meat becomes cheaper relative to the low-quality; or, in reverse, the low-quality becomes more expensive relative to the high-quality. Formerly, a purchase of high-quality meat was equivalent to giving up twice as much low-quality meat. But, with $10 added to both prices, the new price of the high-quality is lower relative to the low-quality—being only 1.33 rather than two times as expensive.
So the amount of high-quality meat demanded increases relative to the demanded amount of low-quality meat, when the price of each is increased by the same absolute amounts. The percentage reduction in demanded amount of low-quality meat is greater than for the higher-quality. Of the total demanded amount of meat, a larger proportion is now the higher-quality meat.
Edition: current; Page:

[

129

]
ALLEGED EXCEPTIONS TO THE LAWS OF DEMAND
Some say you could conceivably be wholly insensitive to price or that you buy just as much of a good when its price rises because you "need" that amount. Really? We have already illustrated how the "need" for such life-supporting goods as water conforms to the first law of demand. Evidence indicates also that goods like insulin are not exceptions. Diabetics can stretch intervals between injections, use lower dosages, and modify food intake. These are hazardous, unpleasant, and risky actions. But at high enough prices for insulin, that's what happens. Again, this does not mean the substitution leaves one equally well off. But the ability to substitute makes one better off than if no adjustment were possible or utilized. Another alleged exception to the laws of demand is a prestige or "conspicuous consumption" good like Mumm champagne, Chanel purses, Cross pens, Mercedes Benz cars, Waterford crystal, or whatever the products for which the "elite" competes. Desire for prestige goods shifts upward the demand schedule, resulting in a higher price. But this says merely that a higher demand curve leads to a higher price, not that the demand curve is sloped upward. The pursuit of prestige is perfectly consistent with the laws of demand. Let the price of the prestige good be even higher, and less will be bought; else what prevents its price from going infinitely high?
Also alleged as contradictions to the laws of demand are occasions when a low price makes a potential buyer hesitate because of doubt that it could be the genuine article at that low a price. That is a sensible doubt given the fact that price commonly reflects quality. (Expensive, genuine Rolex watches sell better than curb side knock offs.) But for a given degree of belief about the quality of a good, a lower price will induce more purchases, not less. Higher-quality goods sell at higher prices to restrict the greater amount demanded of those better goods to the available supply.
The nearest thing to a real exception is the previously explained "change in wealth" effect when a person holds a large amount of the good whose price has changed, for which the oil price change was given as an example. This effect is a shift in the demand curve, not a change in the sign of its slope. Though a person's wealth may have increased substantially when the price of some good rises, it's still true that the amount demanded, though larger than before, is smaller than it would have been if that person's wealth had increased by the same amount without a rise in the price.
Some people may act contrarily, giving no heed to the price of an action, no matter how costly. Such a person may well be declared "incompetent." In fact, one basis for determining competency, according to legal standards, is the Edition: current; Page: [130] extent to which the person's behavior is consistent with the laws of demand. If someone pays no attention to price and buys regardless of price, or throws away valuable things, these actions are inconsistent with the laws of demand, and such a person is likely to be regarded as basically confused.
QUESTIONS AND MEDITATIONS
1)

Why is it when a couple goes out, the probability is greater that they will attend an expensive theater if they have infants than if they are childless?

Answer:

Hiring babysitters at, say, $10 an hour and staying out for four hours will cost $40. Add the cost of two movie tickets at $10 each. Theater seats are priced at $40. So the theater costs $120 (= $80 + $40), and movies cost $60 (= $20 + $40). Taking all costs into account, the $40 theater tickets cost only twice as much as the $10 movie tickets for parents who must pay babysitters. But if a couple has no babysitter fee, the theater will cost $80 and the movie $20—a ratio of 4 to 1: theater going is relatively more expensive in real terms, that is, in terms of other goods given up for childless people.

2)

Let P1 be the price of a higher-quality version of a good, and P2 be the price of a lower-quality version. Both prices are the prices in the United States. Let T1 and T2 be the transport costs of these goods to a "foreign" market. Show that if T1/T2 < P1/P2, then relatively more of good "1" will be shipped; if the inequality is reversed, relatively more of good "2" will be shipped. "Relative" to what?

Answer:

If T1/T2 is less than P1/P2, (P1 + T1)/(P2 + T2) will be less than P1/P2. Therefore, the price (including transport) of good 1 in the more distant market will be lower relative to the price of good 2 in the more distant market. More of good 1 will be demanded than of 2 relative to that in the domestic market, because the relative price of good 1 is lower in the distant market.

3)

Explain how each of these is a denial of the law of demand and the basic postulates of economics:

a.

"The budget of the Department of Defense covers only our basic needs and nothing more."

b.

"Our children need better schools."

c.

"Nothing is too good when it comes to education."

d.

"America needs more energy."

Edition: current; Page:

[

131

]

Answers:

a.

There is no such thing as a basic need. We could use more security, and we could also get by with less. It's a matter of what price we are willing to pay, and a matter of more or less, not all or none.

b.

We "need" more of everything that is not free. The amount of any economic good we choose to have is a function of its price. To say our children need more schools ignores what we propose to give up to get more schools.

c.

It depends upon the price, whether it is good enough to have at that price. If this says simply that more is better than less, OK. Otherwise, it seems to deny relevance of alternatives.

d.

Same as comment to b.

4)

Diagnose and evaluate the following news report: "Our city needs more golf courses, according to a report submitted to the City Recreation and Park Department by the National Golf Foundation. The survey discovered that many people do not play as often as they would like because of the lack of courses." Does this differ from the situation of filet mignon, champagne, and autos?

Answer:

The difference is that price is ignored in determining how many golf courses would be demanded (needed?).

5)

A competitor of the authors of this text claims his text is "invaluable." Does that sound consistent with economic analysis?

Answer:

What does "invaluable" mean? We are reminded of a news item. "This priceless necklace is now in the possession of Mrs. Lovely, who bought it for $85,000." Rarely do we find such an incongruous juxtaposition of obvious inconsistencies. However, in fairness to those who often use the term "priceless," we suspect they usually mean that it is not reproducible or replaceable. Thus, a Grecian urn or an original Dufy cannot be replaced at any price if destroyed. At the same time, one should be careful not to think it can't be bought at a finite price, or that a nonreproducible item is necessarily valuable.

6)

Economics asserts that people prefer more to less. Yet there are waiting lists of people seeking small apartments in slum areas while bigger, better apartments do not have a list of applicants. How can people want smaller, less luxurious apartments rather than bigger apartments Edition: current; Page: [132] without violating our postulates about people's preferring more economic goods?

Answer:

If this happened with equal prices for slums and for high-quality spacious apartments, we would be stumped. In fact, however, we find that the prices of the high-quality dwellings are higher, which reduces the amount of the high-quality apartments demanded. Given the law of demand, with a sufficiently higher price of higher-quality apartments, the amount people want or demand is reduced so that it does not exceed the amount available.
CHAPTER 10: MARKETS AND PRICES AS SOCIAL COORDINATORS
When the supplied amount of a good is less than the demanded amount, that's usually called a "shortage." The suppliers seem to be blamed for not supplying enough, or other demanders are accused of having too much. It is more appropriate to wonder why the price of the good failed to rise enough to clear the market and eliminate the "shortage." "Shortages" and "surpluses" are results of a failure of an adjustment in the market price.
A "MARKET-CLEARING" PRICE?
The "market-clearing price" is a price at which the amount demanded equals the amount supplied. All mutually desired exchanges at that price will be accomplished. It's also called an "equilibrium" price. That is an idealized—but exceedingly useful—concept.
For the real world, market prices are pushed toward the market-clearing price—that at which all mutually preferred exchanges can be "cleared," that is, accomplished. This presumes that people who propose exchanges are reliable and do what they say they will. (We defer analysis of less reliable behavior to later chapters.) In saying that "price depends on demand and supply," the analysis pertains to what changes in price are induced by changes in supply and demand.
MARKET-CLEARING PRICE FOR ALLOCATION OF A FIXED SUPPLY OF A GOOD
How do changes in price help people adjust to new mutually preferred situations? This can be most easily illustrated first in situations where the supplied amount is a fixed total despite a change in the market price, as it is for houses, at least for a few weeks. Any increase in the amount available is so small, relative to the existing total, that we can treat the supply amount as given. A fixed supply situation applies to many goods, even if only for a very short interval. For some things, such as land or Michelangelo statues, it's constant for a very long time, at least for increases. Land can be considered as fixed in amount, though level land can be created from hilly land by hard work. Setting aside those refinements, we'll look first at fixed supply situations—meaning the amount Edition: current; Page: [134] supplied does not respond to changes in price. More might be produced, but we'll confine our initial analysis to effects of price adjustments in the interval before the total supply is affected. That interval is the "market period."
"THE MARKET" SETS THE PRICE
It can be misleading to say "the market sets the price." The market is an arrangement and process for comparing people's demands and offerings and for conducting exchanges of private property rights. People search for and compare options prior to agreeing to an exchange, and that competition drives the prices of all the exchanges toward the same price—the market price. Saying the "market" sets the price is a superficial way of recognizing that all who buy and sell in markets have an influence in the determination of prices.
THE MARKET DEMAND: THE SUMS OF THE INDIVIDUAL DEMANDS AT EACH POSSIBLE PRICE
describes a society of four persons, A, B, C, and D, and seven automobiles. The number of cars initially owned by each person is in the top row. The demanded amounts for each person at various possible prices are listed in
Table 10.1 Auto Ownership Demands of A, B, C, and D
Price
A has 4 cars
B has 3 cars
Chas none
Dhas none
"Market Demand"
A initially owns 4 cars. At price $2,000, he will be satisfied with only 3, that is, he is willing to sell 1 car for $2,000. B starts with 3 cars, and is willing to reduce his holdings to 2 by selling a car for $3,000. C would pay as much as $10,000, but he can bargain to buy from A for $2,000. And D also values a car at $10,000, but he may find that B will sell for $3,000. As trading goes on, the price in the uncleared market approaches $7,000. At $7,000, each of the four people has the number of cars he wants at that price, the total demanded being 7 cars, equal to the total number available, and the market is cleared.
$10,000
1
0
1
1
3
9,000
1
1
1
2
5
9,000
2
1
1
2
6
7,000
2
1
2
2
7 Equilibrium
6,000
2
2
2
2
8
5,000
2
2
2
2
8
4,000
2
2
2
3
9
3,000
3
2
2
3
10
2,000
3
3
2
3
11
1,000
4
4
2
4
14
Edition: current; Page:

[

135

]
the columns for A, B, C, and D. The extreme right-hand column lists the total amounts demanded by the community at the alternative prices. It's the "market demand," the sum of all the individual demands. We presume that no person's wealth, and hence demand schedule for cars, is changed significantly by the sequence of trades.
The market price is established by competition in the market although no one acts as if the market price could be affected by that person's demand or amounts offered of the good. What's the final "equilibrating" distribution and market price if the cars can be sold among the members of this community?
IRRELEVANCE OF INITIAL ALLOCATION OF GOODS FOR THEIR FINAL ALLOCATION TO HIGHEST-VALUING USERS
Many different sequences of purchases are possible from the initial allocation, when A has 4, B has 3, and C and D each have none.
C and D are each willing to offer up to $10,000 for a car, but they discover, after some shopping, that they can for only $2,000 buy a car from A and one from B at $3,000. A would then have 3 cars, B would have 2 cars, and C and D would each have 1 car. C could buy another car by offering $4,000 to A, leaving him with 2 cars. C then has 2 cars, with the second car being worth $7,000 to C, though it was bought for $4,000. D would offer up to $9,000 for a second car, but can buy it from B for $7,000. After that transaction, A has 2 cars, B has 1, and C and D have 2 each, for a total of 7 cars.
No one could buy another car at any price less than $7,000, and no one would demand another at $7,000, which is therefore the clearing price. The amount each person has equals the amount each demands at that price, and the total amount demanded equals the total supply of cars. At every step in the sequence of trades, each party was moved to a personally higher-valued, "more preferred," situation.
No matter what the initial allocation of cars among the public, the cars will end up in the same allocation among the demanders. We assumed this re allocation does not affect anyone's wealth enough to alter his demand. If it did, some market-clearing price still would be achieved, with everyone having as many cars as demanded.
If a car were destroyed, the resulting series of exchanges would depend on whose car was destroyed. But the resulting pattern of ownership of cars would not depend on who suffered the initial loss of a car, assuming that the loss does not affect that person's demand. In every circumstance, competition in the market for cars results in a distribution and market price at which each person owns the number each demands at the resulting market-clearing price.
Resources will be pushed toward their highest market-valued uses, no Edition: current; Page: [136] matter who initially owns the income-producing resources as private property. That's a consequence of everyone's desire for more wealth.
SHORTAGES ARE NOT RESULTS OF REDUCTIONS IN SUPPLY
"Shortages" are not results of too little being supplied to the market. They are results of restrictions on prices. And a shortage should not be confused with universal, inescapable, pervasive "scarcity." As we'll explain later, "ceilings" on higher rents as part of a rent control program create "shortages" and wasteful forms of competition. These shortages often provoke a surplus of complaints that "needs" aren't being satisfied. And surpluses of goods are the result of legislation or regulation prohibiting transactions at prices below the free-market price.
Neither a shift in the supply curve nor in the demand curve is required to eliminate a shortage or a surplus. Instead, they are results of laws that restrict prices. And yet, there is persistent agitation by "housing consumers" to impose "rent controls" with too-low rent ceilings for apartments. In the opposite direction, farmer "food producers"—in almost every nation—have successfully lobbied for governments to prohibit sales of agricultural goods below a price "floor." The result has been a "surplus" of production in excess of the amount demanded at the legislated higher price.
MARKETS AND "RIGHTS"
The operation of a market depends critically on the kind of rights that can be traded. What's traded are titles, or rights—not the goods themselves which may be located someplace else and immovable, such as land and buildings. We have been concentrating on exchanges of private property rights in a "capitalistic" market. A "political market" would refer to trades of government actions.
Young people—usually defined as less than eighteen years old—are considered by the law as "legally incompetent" to know the implications of the rights being transferred. "Minors" don't have rights to buy or sell many specified rights—for example, tobacco, alcohol, guns, specific movies, marriage licenses. On the day after age eighteen or twenty-one, the legal system presumes that individuals become fully competent and aware of the rights being transferred. But "rights" in exchanges are not always clear-cut.
Does the "seller" really confer the rights you think you will be getting? Why are you asked to sign some papers? You don't have to sign papers when paying cash—but do not throw away the "bill of sale" receipt handed you by the seller, because you might have to establish your ownership rights to the goods when you walk out of the store.
Edition: current; Page:

[

137

]
When paying tuition to attend college, did you sign a contract specifying what rights you and the college have with respect to each other? Probably not. Are the rights you got as simple as those for "attending" a movie by paying the ticket price (tuition)? It's astounding how often we buy a "pig in a poke," not knowing what rights are specified, or what rights the seller obtained with respect to your future actions.
CREATION OF MARKETS
Some markets are created and organized as business ventures. The range of "formal markets" extends from stock, bond, and commodity "exchanges" to shopping malls and weekend flea markets and garage sales. While not all are equally reliable, the owners of the market institutions provide more than a convenient place or means of exchanging information. They also provide assurance that what you get is really what you were told you would get. And the seller is guaranteed that the money you agree to pay is actually paid.
The buyer or the seller may not care who are the intermediaries in an exchange. The owners of the major stock exchanges are highly reliable intermediaries who pay money to the seller and deliver to the buyer ownership rights of the purchased stocks and bonds. That reliability is strengthened by surveillance of federal regulatory commissions.
In a well-functioning market, the prices of a good asked by sellers and offered by buyers are sufficiently close together that there's no way remaining for anyone to make a profit by purchasing from a lower-price seller and selling to a higher-priced buyer. In other words, "arbitrage" assures that there are no certain opportunities to profit remaining in a well-functioning market.
RESERVATION DEMAND TO OWN
For durable resalable goods, such as land, houses, and corporation stocks and bonds, it's helpful to think of a "demand" schedule that measures the amounts a person demands to own, or have, depending on its market price. The amounts to purchase would depend on the amount already owned and the amount a person wants to own at alternative prices. If at the existing market price of the good, you own 3 units, but you want to own 5 units at that price, the purchase amount demanded is 2. Your total "reservation" demand amount at that price is 5 units, and your additional purchase demand amount is 2 units. For price behavior of a durable good of which there is a large amount in existence, the reservation demand for amounts to own can be more important than the rate of production and purchase of additional or new items.
Stocks and bonds, existing houses, used cars, and land are common examples Edition: current; Page: [138] of items being bought and sold without any change in demand or supply or in production and consumption of the good. You buy some when the amount you demand exceeds the amount you have. The law of demand still is operative in that the higher the market price of a good, the less of that good a person will want to own.
Variations in extent of market transactions may reflect merely some adjustments to shuffling individual demands, increasing for some people and decreasing for others, while the aggregate "market" demand for ownership may be unchanged. If Jack's demand to own rises by an amount that exactly offsets Jill's decline in demand to own, that will create sales from Jill to Jack, but not necessarily a change in price, because aggregate demand to own has not changed. The extent of market transactions of durable goods reflects adjustments to changes among people in their demands for that kind of good, not necessarily a general rise or decline in aggregate market demand.
When referring to a "demand," be clear whether you mean 1) the amounts a person wants to own at different prices or 2) the rates of purchase and consumption at alternative prices or 3) the amount to be bought or sold at a moment in time. More often, we'll be using the rate of purchase demand, such as when thinking of goods that are consumed or used in production at a fairly stable rate.
RENTS
Finally, consider some meanings of the word "rent." Fortunately, the context of use usually will reveal the meaning. Often, "rent" means the "value of services of a durable resource." It can mean the user's payment made to the resource owner, such as the "rent paid" to the owner of a rented apartment. It can mean also the service value from some resource you own and use yourself, though you don't pay yourself.
LAND RENT—A PURE SURPLUS?
Rent often means the excess of the value of services over the current costs of using existing durable goods. The service of land is almost universally called "rent," because land tends to be "permanent," or very long lasting, and with little damage to the value of the land when it's used. With "insignificant" costs of wear and tear and replacement, all the payment could be called a "rent"—an excess of what is obtained over the costs of maintaining the existing resource.
A physician who starts practice will receive an income that contains some rent, because once educated as a doctor, some of the doctor's services would be provided even at an income lower than that which would cover the sunk cost of the education. A person contemplating becoming a doctor would not view Edition: current; Page: [139] that large anticipated future reward as a "rent." The anticipation of that reward is necessary to induce the investment in becoming a doctor. However, once educated, those costs are sunk and irrelevant for the existing doctor to provide the services.
This is the same for paintings, books, and for every good that has some durability. The concept "rents" is necessary for avoiding confusion when considering the otherwise mysterious relation between "costs" of the current service and the effects of price changes on future supply.
A price change of an existing good or asset does two things: 1) it influences the allocation of goods or assets to their most valued uses and 2) it affects the future supply of those goods or assets that can be created.
QUASI-RENT
When the value of services of an existing resource has no effect now or in the future on the services supplied by that resource, the service (or the price received by the owner if used by someone else) is called "pure rent." The supply curve of the land services is vertical at the existing rate of service. If the land is considered "permanent," the service value is called "rent." If the amount supplied in the future responded, though not soon enough to affect its current rental or use value, the rent for its current services is a "quasi-rent," to indicate it won't last long.
More generally, "rent" for an existing house or a building is a "quasi-rent," because the resource yielding the service is not permanently durable. The earnings to Tiger Woods for playing golf contain "quasi-rent," being more than necessary to induce him to compete, but perishable in time. Almost everyone has obtained some "quasi-rents" or hope they will. Though not altering the immediate amount supplied, reallocating the presently existing supply toward higher-valued uses maximizes the "rent" component of earnings. The effect of an increased prospective quasi-rent is to speed revision toward prospective higher-valued uses, though not in the immediate amount of the good yielding the quasi-rent.
"POLITICAL RENT-SEEKING"
A modified use of the word "rent" is the phrase "political rent-seeking," often shortened to "rent-seeking." It means attempts to obtain political influence for special government benefits that cost society more than the worth of the benefits obtained by the "rent-seeker."
Tariffs on imports of automobiles reduce consumer worth more than the gains to the political rent-seekers—the domestic automakers. Contributions Edition: current; Page: [140] made to political parties to obtain legislation or regulations that handicap competitors are a form of "political rent-seeking." Government administrators inevitably are targets of "political rent-seekers."
REVIEW OF CONCEPTS TO KNOW
Market: An arrangement, place, or device where or by which offers and bids for goods can be communicated and sales-purchases are being made.
Market Price: The price agreed to by both the seller and the buyer in actual market transactions.
Market-Clearing Price: Price at which amounts demanded equal amounts offered. Same as "equilibrium" price.
Shortage: Excess of amount demanded over the amount supplied at the existing, non-market-clearing price. Always a result of price controls.
Surplus: Reverse of shortage. An amount supplied that exceeds amount demanded at the existing non-market-clearing price is always a result of too high a price.
Demand: The schedule of amounts demanded for purchase at various possible market prices.
Demanded Amount: The amount demanded at a specified price.
Market Demand: Schedule of amounts demanded by all demanders from all suppliers in a market at possible market prices.
Reservation Demand: Schedule of amounts already owned and which, depending on the market price, would be retained rather than offered for sale.
Rent: The value of the services of a durable resource.
Economic Rent: A rent that does not affect either the present or the future amount of that good.
Quasi-Rent: A payment or service value that does not affect the amount currently available, but affects the future amount.
Political Rent-Seeking: Attempts to obtain political influence for special government benefits that cost society more than the worth of benefits obtained by the "rent-seeker."
Communal Government Ownership: Every person in the society bears some of the consequences of changes in values of all durable goods, whereas in a private property society people can each choose which goods they own and which risks to bear as a consequence of changes in market values. This is discussed at greater length in later chapters.
Edition: current; Page:

[

141

]
QUESTIONS AND MEDITATIONS
1)

The demands to own by A and by B for good X are:

Table 10.2

| Price | A's Demand | B's Demand | Market Demand |
| --- | --- | --- | --- |
| $10 | 0 | 0 | ______ |
| 9 | 1 | 0 | ______ |
| 8 | 2 | 0 | ______ |
| 7 | 3 | 1 | ______ |
| 6 | 4 | 2 | ______ |
| 5 | 5 | 3 | ______ |
| 4 | 6 | 3 | ______ |
| 3 | 7 | 4 | ______ |
| 2 | 8 | 5 | ______ |
| 1 | 9 | 6 | ______ |

a.

What is the market demand by A and B?

b.

If six units of X are available, what will be the resulting allocation between A and B if open-market exchange is used?

c.

With six units available, if price were legally imposed at $4, would there be a shortage, a surplus, or exchange equilibrium?

d.

If the price were legally imposed at $9, would there be a shortage, a surplus, or exchange equilibrium?

e.

How can there be a change from a shortage to a surplus without any change in supply or demand?

Answer:

a.

0, 1, 2, 4, 6, 8, 9, 11, 13, 15 for prices from 10 through 1.

b.

4 to A and 2 to B.

c.

Shortage.

d.

Surplus.

e.

There is a change in the stipulated or imposed (disequilibrium) price.

2)

In the previous question, increase the amounts demanded by B uniformly by two more units at each price.

a.

What will be the new open-market price?

b.

What will be the allocation between A and B?

c.

If the price is held at the old level by law, will there be a surplus or a shortage?

d.

How can that surplus or shortage be eliminated?

Edition: current; Page:

[

142

]

Answer:

a.

$7.

b.

3 to each.

c.

Shortage.

d.

Remove the price control.

3)

Distinguish between the law of demand and the law of market price (which says price equates the amount supplied to the amount demanded). Which holds more generally?

Answer:

The law of demand relates purchase rate to price. The law of demand and supply states price is at the intersection of supply and demand. The law of demand holds generally; the law of supply and demand at market price may be made ineffective by governmental suspension of the open market.

4)

A Petroleum Crisis? Occasionally, charts are published plotting quantities of so-called demand and supply of something against future time. If the anticipated demand is greater than the supply (perhaps for petroleum), we supposedly will be facing an oil crisis; if supply is greater (maybe for engineers), we are to expect a glut of such specialists. Why are such diagrams fallacious and just plain wrong?

Answer:

The price is ignored in its effect on amounts demanded and supplied. Past balance or equality reflects the simple fact that the price was allowed to adjust up or down so as to equate amounts demanded with amounts supplied. Any particular forecast path of amount demanded must presume some particular price in each year. A higher projected price would reduce the amount demanded and raise the amount supplied, keeping them equal. An appropriate path of price over the future will affect the amounts demanded and the amounts supplied so as to keep the two equated. Every such projected future imbalance of amounts demanded (probably labeled "needs," "requirements," or "demand") with amounts supplied of any good (probably labeled "supply," "availabilities," or "stocks") is merely a prediction that price will not be allowed to move to equate amounts demanded with amounts supplied.

5)

When prices on the stock market fall, the financial pages report heavy selling; yet every share sold is bought by someone. Why don't they refer to heavy buying?

Edition: current; Page:

[

143

]

Answer:

They probably use the phrase "heavy selling" to mean increased supply—or so we hope.

6)

Which tactic would be more likely to get you a lower price on a new car: going to just one dealer and acting like a tough and aggressive bargainer or going to several dealers and mildly asking for their selling price while letting it be known that you really intend to buy a car and are shopping around? Explain why.

Answer:

Shopping several sellers is better because alternatives are what sellers must beat. It's sellers who compete against other sellers, not buyers who compete against sellers.

7)

Are the words "scarcity," "reduced supply," and "shortage" synonyms? If not, what is the difference?

Answer:

Scarcity is pervasive, for we have available less than is desired, but what people call shortages are simply the result of prices that are kept too low. A reduced supply is not a shortage. A reduced supply is a reduction in the amount available—pictured as a shift to the left of the supply curve.

8)

"Under open-market, private property pricing, a person is allowed to make any kind of appeal to a seller to get some of the good. Under price controls, the buyer is told that there is one appeal he cannot use—that is, offer a larger amount of other goods." True or false?

Answer:

True. "A larger amount of other goods" is an increased price offer, which is precluded by the price control.

9)

You are collecting data for a cost-of-living survey. For each of the cases below, which "price" would you report as the price? Why?

a.

"List price $125. Special discount to $90!"

b.

"Get a $1 box of Kleenex for only 29 cents."

c.

"One cent sale. First for $1. Second for 1 cent."

Answer:

Sales price, if goods were available at that price at the time of sale. Price means actual exchange prices.

Edition: current; Page:

[

144

]

10)

"Allowing the prices of goods to rise when more of the good cannot be produced is immoral, because the higher prices do not induce a larger output. They merely give unwarranted profits to those who are lucky enough to own the goods. Either prices should be prevented from rising, or the government should take over ownership in order to prevent unjust enrichment." Do you agree with this analysis?

Answer:

You should disagree. A higher price permits a reallocation of existing goods—a reallocation that would not occur in the absence of higher prices. The higher price serves a rationing function even if the amount of the good is fixed and more of the good cannot be produced. Higher prices do have a consequence—reallocation—moving resources from one use or user to another.

11)

"The community's demand to own houses may remain unchanged; yet the market demand to purchase and to sell houses may change enormously." Explain how the demand to hold houses (in a two-person community) could be unchanged while the demand to purchase and sell houses increased.

Answer:

When the demand of some people to purchase houses is exactly offset by other people's supply of houses for sale, overall demand and supply remain unchanged. Exactly offsetting shifts in the demand to purchase the supply for sale are rare, so the market price moves to adjust the mismatched demands and supplies.

12)

"It is wrong to profit from someone else's misfortune."

a.

Explain why, if that were taken literally, we would all be poorer.

b.

Does the doctor profit from your illness? The farmer from your hunger? The shoemaker from your tender feet? The teacher from your ignorance?

Answer:

a.

All voluntary exchange benefits both parties.

b.

Yes.

13)

An open-market system presumes enforcement of certain institutions or rules. What are they?

Edition: current; Page:

[

145

]

Answer:

1) Open access to markets with rights to trade or exchange; 2) private property rights in goods and services; it's also presumed that 3) each person has a desire to achieve a more preferred situation—in this case through increased profits and lower costs of getting the products.

14)

When you hear, "Everyone is selling, and driving down the price," you should respond, "For each sale, there is a buyer! Why aren't the buyers driving up the price?"

Answer:

Of course, what is sold is bought. But in an open market, each trader ends with the amount he demands at the resulting market-clearing (equilibrium) price.
CHAPTER 11: ILLUSTRATIVE APPLICATIONS OF DEMAND PRINCIPLES
Prices commonly adjust rapidly to clear the market. However, several marketing arrangements and processes that help make markets work better also slow the pace of price adjustments, and that tends to mask how markets work. In this chapter, we first explore how two of these arrangements—inventories and productive capacity—delay price changes and obscure the source of these changes. Then, we'll use demand and supply analysis to deduce land price adjustments to a tax on land, and who actually pays the tax and who benefits. Last, we extend the analysis of land values to some consequences of pollution reduction and see a reason landowners play so strong a role in governments.
MARKETING ARRANGEMENTS: BUFFER STOCKS, RESERVE CAPACITY, STABLE PRICES, WAITING TIMES, AND PRICE RESPONSE TO DEMAND UNCERTAINTY
Stable and Predictable Prices
Imagine a restaurant in which the price of food and service is adjusted instantly to avoid any waiting. With uncertain prices, planning by diners would be more difficult. Willingness to wait a bit for a table can permit more convenient planning and action on the basis of predictable prices and costs.
Some degree of price stability—as a means of producing price predictability—is desired, despite the resulting transient imbalances between amounts demanded and supplied. The extent of price stability depends, in part, on the cost of holding inventories and on the value of timing of delivery of the product. It depends also on the value to customers of reliably predictable prices, when potential customers are making investments preparatory to purchases.
Because the costs and benefits of predictable or stable prices vary among customers and types of services, some sellers hold prices steady despite increased general demand and ration in favor of certain customers. Others let the price vary to clear the market to the highest demanders at the moment, without any favoritism. We'll see why each of these occur for "sensible" reasons appropriate to particular circumstances.
Edition: current; Page:

[

147

]
Inventories
Why do sellers hold inventories of goods? One reason is that shoppers can then inspect and compare goods before deciding whether or not to buy. A second is that customers' purchases fluctuate daily. Neither consumers nor suppliers know exactly who will want to buy how much of what in any given hour, day, or week. Inventories act as buffers to accommodate the variations in transient, unpredictable fluctuations in amount demanded.
Consider the options of a newsstand selling a daily average of 100 copies—but not exactly 100 each day. The seller could: (1) require buyers to place advance orders; (2) buy fewer than 100 copies and rarely have unsold copies; (3) buy more than 100 and usually have copies left over; (4) buy 1 copy at a time, replenishing a stock by special delivery service when the copy is sold.
While each of these alternatives has been used for various goods, in the case of newspaper sales, the third option, inventories, is common. Customers are willing to pay a slightly higher price, which covers the cost of unsold copies, in order to have immediate availability at a predictable price. The cost of inventories may result in a smaller paper or fewer retail outlets, but this will result also in a lower full cost/price to consumers than will the other options. Thus, a third reason for inventories is that they help a seller maintain stable, reliably predictable prices despite minor fluctuations in demand and supply, thereby helping customers plan their shopping.
Reserve Capacity
Capacity is a form of inventories—of productive resources. It's sometimes called "excess" because it is almost never fully used. But Palm Springs, Sun Valley, and Orlando do not have "too many" hotel rooms for rent just because some are unused at almost any given time.
Nor are empty apartments necessarily wasteful if demand is not perfectly predictable. Though rents may be higher to cover costs of buffer vacancies to accommodate shifting demands, vacancies permit lower search costs and enable people to move without committing themselves long in advance. Housing costs seemingly could be reduced by building fewer houses with fewer vacancies, but that would increase the inconvenience of advance planning and commitments, and thus increase the full cost of housing.
Imagine what it would be like to try to move into a community with no current vacancies and have to wait until someone moved. The inventory of vacant housing serves a useful purpose. It has been estimated (we don't know how reliably) that something like 5 percent of the rent paid by apartment dwellers Edition: current; Page: [148] covers the cost of providing vacancies to accommodate the unpredictability of amount and timing of demand. Neither second bathrooms and toilets, nor extra dining room chairs, nor fire extinguishers are wasteful just because they aren't always in use.
We turn to examining how some markets work in various situations. Often cause and effect are easily reversed. The next chapter will derive some (probably surprising) implied effects of price controls.
SPEED OF DETECTING CHANGES IN DEMAND OR SUPPLY: THE ILLUSION THAT COST DETERMINES PRICE
Buffer stocks, inventories, and reserve capacity help make it appear as if prices are sluggish or inflexible and are determined by costs, instead of by competition among consumer-demanders. Suppose that for some reason (possibly higher incomes) demand for meat increases. As sales and consumption increase, butchers' inventories are unexpectedly depleted. Normally, as with any retailer, inventories are large enough to accommodate transiently increased sales without producers having to raise prices. Inventories larger than an average day's sales help assure that supplies are immediately available to demanders at predictable prices.
One day's above-average sales is not regarded instantly as a persistent increase at that price; nor is it viewed as a long-term sales increase that requires a higher price to keep inventories from being further depleted. When the increase in sales reflects a higher average demand, no seller will be able to detect the increase in demand immediately. A high transient deviation may induce retailers to purchase more for replacement of normal inventories, but they would buy even more if they knew the long-term demand had increased.
If the public's aggregate demand really had increased (not just toward this one butcher and away from other butchers), the demand by all butchers to restore inventories would increase the demand facing the meat packer-suppliers. Packers will see their inventories declining as they supply more meat to retailers.
To replenish their extraordinarily depleted inventories, packers will compete with each other for more cattle than before. But with an unchanged supply of cattle, some packers must get less than the increased amount they demand at the old price. They bid up the price of cattle. The packers are, in this scenario, the first to see a price (cattle cost) rise consequent to the increased consumer demand, and they will correctly interpret that as a rise in their costs.
The existence of inventories in the chain of suppliers from producer to consumer can cause a delay during which the increased consumer demand is communicated Edition: current; Page: [149] from retailers to initial producers. That delays the price increase until the cattle-producer stage.
WHO IS RESPONSIBLE FOR HIGHER PRICES? LOOK IN THE MIRROR
Packers raise their prices to retailers, saying their prices are higher because their costs are higher. But we know that costs are higher because it was the increased consumer demand that prompted a higher price of cattle at the feedlot. Because of the increased consumer demand, a higher price is obtained and maintained in the consumer market. When consumers complain about the higher price of meat, butchers say it isn't their fault. Their costs have gone up. And the packers can say the same. To see who really was responsible for the higher prices, the consumers can look in the mirror behind the butcher's counter and see themselves.
Not all prices adjust instantly to the new equilibrium price to clear the market, as they do in the organized stock and commodity markets. In fact, a lag occurs between the time some demand or supply situation has changed and the time people detect and distinguish that from a random, transient, reversible change in the current purchase rates or in supply conditions.
As emphasized earlier, the amount demanded may refer to the underlying average amount demanded in an interval, with momentary random offsetting deviations taking place around that average value. Because of the transient variations around the average, a shift in that average may be hard to detect quickly. An increase in sales may be interpreted as only a randomly high sales rate, rather than as a new higher normal sales rate. And once a seller begins to suspect that demand has shifted, difficulties exist in knowing what are the best adjustments to make in supply response.
If the demand is believed to have fallen, should a supplier shift to some other production activity or should the price be lowered and work continued at a lower rate? Should an employer attempt to reduce wages of employees immediately when sales fall?
So-called delays and lags in adjusting price or output are the result of inability to foresee the future perfectly and to understand what really is happening. They are not results of some inherent inflexibility in, or inability to change, prices. It takes time to decide that an underlying change, rather than a random, transient deviation has occurred. And the time it takes to discover what is the most appropriate adjustment misleads outside observers into thinking that prices are "rigid." Prices actually are instantly flexible—as instantly as it is discovered that a change is appropriate.
Edition: current; Page:

[

150

]
WHAT MADE THE PRICE CHANGE? ALWAYS, THE INITIAL QUESTION
A universal rule of economic analysis is: Without a shift in the demand (curve) or the supply (curve), the price won't change. So when price changes, or when asking what is the effect of a price change, first ask what made the price change. Did that initiating event shift the demand curve or did it shift the supply curve (or possibly both)?
Did a price rise because of a reduction in supply, or was the cause an increase in demand? And why did that initiating event occur? Then, investigate the effect of a change in price. Don't confuse a) the many effects of the change that caused the price movement with b) the effect of the price change.
A second rule of analysis is that if both supply and demand shifted, you must know in what directions they shifted. Thus, before you assert that a rise in the price of wheat will reduce the amount of wheat demanded, be sure the event that raised the price of wheat didn't also shift the supply of wheat.
WHO BEARS THE TAX ON LAND DEVELOPMENTS—DEVELOPERS OR LANDOWNERS?
A developer proposes to buy some land and construct apartment buildings. As a condition of granting the building permit, the local government requires amenities (like parking spaces and green areas) to a greater extent than the developer would find it profitable based on how much the occupants would be willing to pay for those amenities.
If the rental value of those required additions had exceeded their costs, they would have been voluntarily provided without the law. When they don't, who bears the excess of added costs over the value of the added amenities to the occupants? Neither the developer nor the occupant. These mandated costs are borne by the original owner of the land from whom the developer proposes to buy the land.
Being aware of the requirement for a building permit, potential developers would offer less for the land because of the costs of added amenities that exceed their worth to renters. But suppose there are benefits to other people who will not become renters. The increased parking spaces may reduce congestion on the streets and thereby make local travel safer and faster. Would that added "public benefit" imply that the "excess" cost of "excessive" parking space may not have been a waste? If not a waste but a net gain to the community, the question would then be: Is it "desirable" that the original land owner should be the Edition: current; Page: [151] one who bears the costs for better travel on streets, or should it be the users of the streets? Later chapters on property rights will discuss such questions.
TAX ON ECONOMIC RENT?
Sometimes it is contended that land should be taxed, because land rent value is a social surplus in the sense that its receipt by the landowner has no effect on the supply or use of the land. This used to be called a "single tax" by people who believed that that tax alone would be sufficient to finance all governmental actions. It has been argued that the supply of land is fixed and won't be diminished whether a "landowner" or the government collects the rent. The land will still be used in its most valuable ways. The only difference is in who gets the rent. That's correct analysis—so far.
Of course, not all land is really costless to maintain or protect from erosion. In addition, filling in bays and swamps can create more land, and no one would do that if the resultant rental value were all taxed away. Nevertheless, compared to a tax on anything else, a land tax has relatively small diversionary effects in the sense of affecting the supply. The immobility of land is a reason it's heavily taxed. The fact that it's fixed in amount is less relevant, as can be seen in comparing land to Picasso paintings. His paintings are in fixed supply, but they can be moved to areas where taxes are lower.
POLLUTION AND LAND VALUES
As another application of demand and supply analysis with fixed supply, imagine that the authors of this text possessed a magic capsule, which, if crushed, would permanently and costlessly cleanse the air of smog over the city of their residence, Los Angeles. The improved air would lead current residents to place a higher personal worth on land in the area. That would increase the demand for land and raise the price of the land.
Those people who were repelled by the smog and refused to move to Los Angeles will now do so and add to the demand for Los Angeles land. The increase in demand would result in a higher rent to occupy land and a higher price to purchase it.
Better Air versus More Other Goods
Renters would be paying higher rent for the land, sacrificing other goods with the equivalent market value of the better air. (As a result, they would not necessarily achieve improvements in their overall situation.) However, the original landowners unambiguously gain wealth (equaling the value of the improved air Edition: current; Page: [152] captured in the increased rents paid by the renters). There has been a transfer of wealth or income from one group to another. Is it worth removing the smog, even if costlessly, for that result? If we were major landowners the answer would be, "Yes." If we had been renters, the answer might be, "No."
Existing Resident Renters versus Newcomers
Consider the newcomers. They had not moved to Los Angeles earlier because the old air quality was not worth the land rent they would have to pay. The existing residents in Los Angeles did not consider the former smog level so bad as to prevent their living in that area. The potential newcomers placed a higher personal worth on cleaner air than did the existing residents.
After we crush the capsule, the newcomers will bid up the rents for the now smog-free land to reflect their higher marginal worth of the cleaner air—higher than the marginal worth obtained by the prior existing residents. The newcomers, from the Midwest and East, attracted by the now better air, will certainly be beneficiaries, as will be the landowners. Some of the prior resident renters, faced with higher rents, will lose. No one knows whether the prior renters will gain or lose on net.
Which Land Values Increase?
The authors own land near the Pacific Ocean in the fringe area where there is no smog. Removing all smog in the region would lower our ocean-area land values, because people would tend to move closer to the center of Los Angeles that used to be smoggy. We are like landowners of the Midwest, who would suffer a land value loss as people migrated toward the now less-smoggy west coast.
We, therefore, would not crush the magic capsule to remove the smog. We would lose, despite the gains to others. Or so it would seem, at first sight. However, if we possessed such a capsule, we would be induced to crush it and improve the air, regardless of the loss of value of our land. Why? The landowners in the area now heavily infested with smog would offer us a large part of the potential increase in their land values that would occur if the capsule were crushed. They could "bribe" us with part of their gains and still be better off than before. That's an offer we couldn't refuse, and so the capsule would be crushed.
Actually, only costly methods are available for reducing smog. Considering the implications of the preceding analysis, who should bear the costs of reducing the smog? That question is more complicated than most suppose.
Edition: current; Page:

[

153

]
Improved Air over Entire Nation
Let's now extend our example of improved air from an improvement of the air in one locality to an improvement of the national area. If the crushed capsule removed smog from the entire nation, landowners in some regions would benefit more than those in other areas. People living in the Great Heartland are living there now partly because there is less smog in that area. With all smog eliminated everywhere, Los Angeles would gain relatively in attractiveness. There is less smog everywhere, but land values rise more in places that formerly had more smog. And they rise because the smog-disliking residents of the Great Heartland prefer Los Angeles without smog to the Midwest without smog.
QUESTIONS AND MEDITATIONS
1)

"The rent for land in New York City is not a payment necessary to produce the land. It is a necessary payment to obtain use of the land. From the first point of view, it is an economic rent; from the latter point of view, it is a cost." Do you agree?

Answer:

Yes.

2)

It has been estimated that carrying a spare tire on automobiles costs the public millions of dollars every year. Is this a waste of idle resources? What would be the cost if that figure were cut to zero by not carrying any spare tires?

Answer:

A spare tire—idle resources—is a way of adjusting to uncertainty and unanticipated future changes or "emergencies." If no spare tires were carried, other more expensive adjustments would be made at the time the flat occurred. For example, a taxi or emergency road service could be called—both of which could involve not only the price of the service but additional costs of delay (such as missed or late meetings, appointments, and deliveries). Uncertainty is a fact of life, and information and adjusting to unanticipated changes is costly. Costs are higher for more rapidly acquiring information and adjusting to physical changes.

3)

You are constructing an apartment building. You can build one with many units and have vacancies sometimes, or you can build a smaller unit and have a no-vacancy sign virtually all the time. If the latter behavior Edition: current; Page: [154] is profitable, can the procedure of having vacancies sometimes be even more profitable?

Answer:

Yes. It pays to have some vacancies in order to satisfy unpredictable fluctuations in demand rather than instantaneously changing rents and keeping the apartments fully occupied. In maintaining some vacancies, the apartment owner is accommodating renters desiring to be able to move when they want to rather than having to make costly advance preparations, such as matching a departing tenant's move-out date with the incoming tenant's move-in date. Maintaining some vacancies economizes on the high costs of predicting the future and of immediately producing whatever a person wants. Alternatively, we could reduce housing costs by more advance planning of people's activities and by refusing to allow them to change their minds; to do this would reduce housing services and convenience and raise other adjustment costs. And it would reduce liberty.

4)

Idle resources buffer against uncertainty. Consider the amount of money you hold; items in the medicine cabinet; food kept in the refrigerator, freezer, and in canned goods; fire extinguishers; general education. Are these idle, unemployed—and thus wasted—resources?

Answer:

It is efficient to hold some resources in inventory for ready access when wanted for use; some inventory—for example, fire extinguishers—you hope never to have occasion to use.

5)

Economics suggests that if cheap enough methods are invented for metering the extent to which each motorist uses a street, streets are rationed more with a price system. Do you know of any such cases now in use?

Answer:

Tolls on bridges; parking meters; tollways; "turnpikes" with usage charges. In some countries, cars using highways must be equipped with transponders and the motorist is charged for distance driven, based on day of week and time of day.

6)

Shopping centers often provide free parking spaces, some of which are used by nonshoppers. Perhaps the free spaces provided are more than would be required to clear the market if a charge is levied to cover the construction and maintenance costs. However, policing "pay" Edition: current; Page: [155] parking space involves costs of estimating charges, collecting fees, and prosecuting violators. With such costs, might it be better to provide "too much" parking space than to provide the "right" amount with a price-rationing system?

Answer:

While it is not possible to know what is necessarily better, the total cost of providing parking space could be cheaper if it were not policed as carefully as a park-for-pay lot. A free lot would impose the costs on those who purchase from the persons who provide the free parking lot, but not on those who use the lot without doing any business with the providers of the space.

7)

The Council of Economic Advisers (to the president of the United States) once argued that keeping down the price of cattle could keep down the price of meat to the consumer. The Federal Energy Agency once asserted that holding down crude oil prices reduces the price of gasoline (made from crude oil). Explain why economic analysis rejects these contentions.

Answer:

Holding down the wholesale price of cattle to the meat processors increases the spread between purchase price and selling price for processors. The price to consumers would rise anyway if there is increased demand for meat. The wealth that would have been available to cattle growers is instead given to the cattle processors. The reasoning is analogous for oil.

8)

"Higher prices cause higher costs." Explain.

Answer:

Price increases often appear to be set by rising costs rather than by competition for consumer goods. This occurs because the way prices rise in response to increased demand is often hidden by inventories in the distribution process from manufacturer to wholesaler to retailer. When demand increases, sales at the existing price rise. Retailers often hold inventories to accommodate uncertainty about consumers' purchases (rather than by requiring advance orders, prepayment, or instantly raising prices). When their inventories are depleted faster than expected, the result is passed along to their wholesalers, then to manufacturers who turn to suppliers for additional raw materials. Prices of raw materials are bid up, which manufacturers see as higher costs. Those higher costs are reflected in the higher prices manufacturers charge wholesalers and that wholesalers charge retailers and are ultimately reflected in higher prices to consumers. Hence, although it appears to be higher costs that cause higher prices, it's Edition: current; Page: [156] the increase in demand that causes the higher costs and subsequent higher prices. Earlier in this chapter, we considered how increased meat demand raises the price of cattle, which appears as higher costs to meat packers, butchers, and ultimately higher meat prices for consumers.

9)

"Demand-and-supply is not simply a classification that is applicable only to private property market exchange. It is applicable to any problem of allocating scarce resources among competing uses. In any given possible use, the usefulness of the resource in that use is what is meant by its demand, while its usefulness in all alternative uses (against which this particular use must compete) is the supply." Do you agree?

Answer:

Yes, demand reflects the worth or value of a resource in a specific use while supply reflects the value of the resource in all other uses. All systems for determining who gets what resources are discriminatory through some process or mechanism. Under private property and open markets, competition for resources is heavily influenced by money—the amount of other goods offered. Under a non-private-property system—such as the socialist system—nonmoney criteria such as persuasion, personal connections, personality, appearance, and cultural features become more dominant.
CHAPTER 12: SHORTAGES, SURPLUSES, AND PRICES
In chapter 10, we noted that shortages and surpluses are not caused by changes in the supply of a good. They are caused by failure of the market price to adjust to changes in demand or in supply. Sometimes the adjustment is prevented by a law or regulation that restricts market prices. And sometimes the seller refuses to change the price. Those restraints on price adjustments increase the weight of nonmoney forms of competition, including such things as personal characteristics and the social and political status of the buyers.
SHORTAGES AND PRICE CEILINGS
To compare holdings of housing space before and after a demand change for housing, we start with an increased demand for housing space. Perhaps some people have become wealthier. Their increased demands for housing shifts their original housing demand curve, Db in , to D′b. The demand by people whose incomes have not increased, Da, is unaffected.
The aggregated line Da + Db is the community's initial demand. The associated initial market-clearing rental price, P1, is indicated by the intersection of the total demand, Da + Db, with supply S, the existing amount of housing space. The increased total demand curve, Da + D′b, intersects supply S at price P2.
If rents were not allowed to rise as group B people seek more housing, the amount demanded would exceed the amount available at all rentals below P2. When cities have restrained rents below the market-clearing price, the resulting excess amount demanded, FG, is perversely called a "housing shortage" rather than an "excess demand at the restrained price." There is not enough housing to satisfy the amount demanded, or as it is misleadingly called, "housing needs."
If there are no rent controls, price is bid up to P2. As the price rises, both the A people and the B people move up their respective demands, and thereby reduce the total quantity demanded by the amount of the original "shortage," and the housing market is cleared.
Almost everyone would blame the owners for raising rents, but in fact the B group's increased demands caused the higher rent. Housing owners are merely intermediaries, like auctioneers, letting the demanding tenants compete for Edition: current; Page: [158] space. The market for housing would be called "tight" or "strong" or a "seller's market." However, the owners gain by a wealth transfer in the form of higher rents, and those renters whose demands have increased also gain from the right to compete for more space by offering higher rents, while the displaced renters are worse off. The gains to the owners and to the increased demanders may exceed losses to the displaced. That is small consolation to the displaced, but it is a reason for permitting people to compete by offering higher prices in the market.
Figure 12.1
SHIFTS TO NONPRICE COMPETITION
When any prices are legally restrained so as not to exceed some value (less than what the new market-clearing price would be following an increase in demand), the amount demanded exceeds the amount available, and people shift to nonmoney forms of competition as they seek the price-controlled goods.
People then complain both about a "housing shortage" and about "capricious, discriminatory behavior" by housing owners, who in selecting renters Edition: current; Page: [159] discriminate more by gender, marital status, age, creed, color, pet ownership, eating and drinking habits, personalities, and so forth. The full rent now is more heavily loaded with nonmoney features. Laws passed with the intention of preventing the resulting discrimination are impossible to enforce. "Shortages" require selective allocation, and however conducted, whether by income, willingness to pay, or color of eyes, the selection is "discriminatory," meaning that it ignores money competition.
Rent controls are popular with people already in a rented unit who expect not to be moving. But newcomers will compete in any permissible ways to get more space from the present occupants. No frustrated demander or newcomer will idly let others get or keep something worth more than the restricted money price. Their marginal personal worth of space in excess of the permissible market price is how much cost—beyond payment of that money price—they are willing to incur in other forms of competition to curry the supplier's favor and to displace or reduce the space for existing occupants. New demanders will drive up the full rent paid for the higher worth of housing space. At the same time, the landlords will, if they are restricted from accepting more money, begin to solicit or accept more of the other forms of value or rewards offered by competing demanders.
Formerly, with unrestrained money competition, the people who are less well endowed with personal and cultural attributes could offset their disadvantages by offering more money. With price controls, nonmoney features necessarily have greater weight. Price controls don't hold down the full price; they change the form in which the competitive price is paid.
WEALTH TRANSFERS VERSUS COSTLY COMPETITIVE ACTIVITY
The supplier would prefer to be paid with a transfer of money, rather than have the demanders compete in costly ways—such as going on waiting lists or standing in lines—worth less to suppliers.
That's a reason the increase in nonprice competition caused by price controls is usually considered wasteful. But people whose time is of lower value may be benefited by price controls. (Warning: don't jump to the conclusion that what is wasteful is necessarily "wrong" by all criteria.)
RATIONING BY COUPONS
Rationing with coupons entitling a person to buy a specified amount of the good can avoid some of the wastes of nonprice competition under price controls, if the coupons can be traded. The sale would benefit the person selling Edition: current; Page: [160] the coupon (who values what could be obtained with the money more than what could be had with the coupon) and would also benefit the purchaser of the coupon. The worth of the ration coupon is the excess of the worth of the good obtained with the coupon above the restricted price of the good. Therefore, the full price for every consumer (money price plus coupon value) equals what the free-market price would be. The rationing does not lower the full price of the good; instead the form of the payment of the price is changed, from all money to some money plus the value of the coupon if sold to someone else.
Changes in Supply over Time
Typically, price controls have been placed on housing when the cost of maintaining and producing housing has increased, as in times of inflation. The controlled rent is almost always less than the cost of maintaining the existing supply and quality of housing. In general, rent controls would lead not only to an immediate "shortage," but also an eventual reduced growth in the stock of housing, and therefore an even greater shortage. Ultimately, the quality of housing may deteriorate to where it's worth only the lower rent-controlled value, as in a slum. That would eliminate the "shortage."
The Energy "Crisis"
A few decades ago, the amount of oil supplied to the United States and other oil-importing countries was suddenly reduced by major crude oil–producing countries. (The same kind of situation can occur on a smaller scale when there is sudden news of a crop failure, such as for coffee.)
A leftward shift of the vertical supply line in portrays the reduction in the supply of oil. A vertical supply line indicates the amount supplied will not respond to the price—for the interval we'll be examining. As the market price of oil began to rise, the permissible legal price was restricted at P3 by governmental price controls. The highest permitted price—the ceiling price—was below the new equilibrium price, P. The result was a "shortage" of oil.
It was the price control, not the reduced supply of oil, that caused this "shortage." If the price had been allowed to rise, it would have reduced the amount demanded to where the amount demanded matched the reduced amount supplied. As with every other good, people could then buy as much as they demanded at that new (higher) price.
The initial supply, S, with demand D, determines a market-clearing price of P1 at the quantity Q1. If supply falls to S1, market activity would generate a price of P2 at quantity Q2. However, if price is governmentally restrained at OP3, Edition: current; Page: [161] the quantity demanded will be Q3, greater than the Q2 available. The excess of quantity demanded over quantity supplied at the controlled price, Q3Q2, is a "shortage."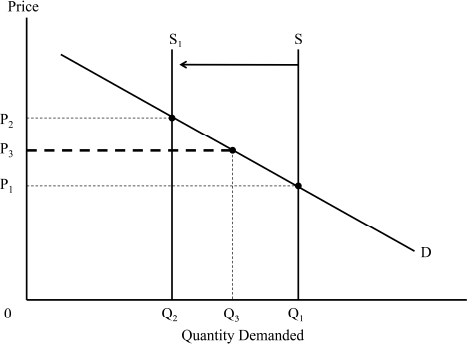 Figure 12.2
Price ceilings often have been placed on gasoline in domestic markets. When the money price of gasoline has been kept down by controls, everyone has a marginal worth of another gallon higher than the legal price. So people begin to compete more by nonmonetary methods. Some in the United States hire students (whose cost of time is low) to take their cars to the service station and wait in the lines. Tie-ins of overpriced car washes with every fill-up become more common. Everyone has to engage in additional nonmonetary forms of competition for the gasoline—just as they do for price-controlled housing. They wait in line meekly and longer, tolerating shorter hours, poorer service, and paying the seller more for other things (e.g., an oil change or tire rotation)—up to where the full price (money plus these other costs) equals the higher marginal personal worth of the reduced amount of gasoline.
To repeat, price controls—not a reduced supply—create a shortage and change the form of the competition and the full price. People incur costs of engaging in more of the distasteful, less preferred competitive activity. People who can engage more cheaply in those nonmoney forms of competition tend to benefit. Almost all the nonmoney competition to get favored status will be of trivial value to sellers relative to a payment of money, and the time customers Edition: current; Page: [162] waste in lines could be used for production. Competition is not eliminated; its form and components are changed, and they become part of the higher full price.
PRICE CONTROLS ON INPUTS (PETROLEUM) DO NOT REDUCE THE PRICE OF OUTPUTS (GASOLINE)
The president, Congress, and news media sometimes argue, incorrectly, that the price of gasoline could be lowered by restricting the price of petroleum, the major input in gasoline-producing refineries. But a low, controlled price of petroleum couldn't reduce the price of the product (gasoline) unless it increased the supply curve of gasoline relative to the demand curve for gasoline. Holding down the input price won't increase, and may reduce, the amount of that input, thereby raising its full price.
STATEMENT OF A BASIC PRINCIPLE
The value of a productive input is derived from the sales value of its final products. The cost or value of inputs does not determine the final product price. Paying a star athlete an enormous salary does not require the team's owner to raise ticket prices. That has the causation in reverse. There is great demand to watch the athlete in competition. In anticipation of being able to sell tickets at a high price, the team owners compete for the athlete's services, pushing the price to the public's high value placed on seeing that athlete's service.
This is the same as star actors who attract a large audience and therefore get a higher income. The higher demand for their performances raises the price of admission, and the larger box office receipts influence what the actors get. The higher costs of actors and athletes are the response to the higher demand for their performances. The costs which consumers deem worth incurring for a good reflect—rather than determine—its value.
Similarly, you hear that housing developers force up the price of land when bidding for land on which to build houses. In fact, the high demand for houses on that land induces higher values of the land on which to build the houses. The resulting price of housing then depends on the supplied amount of housing on that land. The effect of the developers supplying more houses makes the prices lower than they otherwise would be.
Suppose that the products derived from a barrel of crude oil (gasoline, diesel, jet fuel, kerosene, fuel oil, plastics, asphalt, chemicals, drugs, rubber, etc.) have a free-market value of $65. Assume the producers of nongasoline products derived from a barrel of oil are willing to pay $20 for their share of the oil. If gasoline is selling to the consumer at $2.60/gallon and 25 gallons of Edition: current; Page: [163] gasoline can be obtained from each barrel, that's $65 in revenue for the companies selling the gasoline. However, if the average cost of refining gasoline from oil and distributing the gasoline to retailers, including taxes, is $35 per barrel, the part of the oil in a barrel that is used to make gasoline is worth only $30/barrel to the refinery. Given the $20/barrel value for the crude oil used to produce nongasoline products, the derived market price of crude oil will be $50/barrel.
The demands for both gasoline and nongasoline petroleum products will be subject to both short- and longer-run shifts, like any other consumer products. The consequence will be that the derived demands for oil to make those products also will shift. A further consideration in the market for crude oil is that it is a worldwide market. The supply comes from many places, while the demand for final products is everywhere. Past political responses to consumer complaints about "high gas prices" have resulted in ceilings being placed on domestic crude oil prices. But that only reduces domestic production of crude oil and increases the derived demand for imported oil that is not subject to the ceiling.
Holding down the price of any input cannot increase the supply of consumer products derived from the supply of that input. Indeed, the input supplier is being induced to produce less! Because curtailing the price of petroleum does not increase the supply of petroleum, the supply of refined products—gasoline, heating oil, plastics—does not increase, and thus it does not hold down the price of the refined products. The final product's price will still rise to the market-clearing price.
THE OIL INDUSTRY DIVIDED—SOME ATTACKING AND OTHERS DEFENDING PETROLEUM PRICE CONTROLS
When the question of whether to remove price controls on petroleum was raised, it was fallacious to argue that removing the controls on petroleum (an input) would result in a rise in the price of gasoline (a product). First, not even the money price of gasoline had been kept down by price controls on petroleum. Second, price controls on petroleum had tended to reduce the amount of petroleum extracted from domestic oil wells. When price controls were removed on domestic petroleum, more was produced, so the price of gasoline, instead of rising, actually fell.
The so-called oil industry fought both for and against price controls on crude oil. The "oil industry" is not a monolithic group. The crude oil producers (e.g., drilling companies and "wild cat" exploration companies) fought against price controls on crude oil. The users of crude, the refiners (who were Edition: current; Page: [164] allotted crude oil at that low price and refined gasoline from it) loved the price controls—except that they, too, suffered from the "shortage" of crude. They demanded more than was available at the controlled price. So they, like consumers of gasoline, competed in new ways to get a larger share of the supplied petroleum. Some refiners, arguing they were small and therefore more deserving of help, were allotted quotas (some of which were promptly sold to other refiners at the higher worth of the crude).
Refiners began to compete more intensively in the political market for allocations by the federal government agencies that were assigning the supply. Since there was a shortage (caused by the price controls), someone had to allocate the oil among the refiners who were demanding more than was available. The refiners funded politicians' election campaigns in order to maintain price controls and get larger quotas. The crude producers contributed to the same politicians, trying to eliminate the controls. Politicians knew that with price controls they would acquire valuable authority to determine who gets the price-controlled goods.
Why Are Water Prices Kept So Low?
As population increases and rainfall does not, in some areas water supplies don't match the amounts demanded at the existing price of water. At a higher price, people will demand less water, eliminating lower-valued uses of the water according to each person's worth of water for various purposes. It does that more effectively than if the price of water were held down and water rationed by decree, used according to politically derived opinions about the best uses of water.
From time to time, California suffers from a reduced supply of water as a result of lower than normal rainfall. But the price of water is not raised whenever there is a drought, so a "shortage" develops. Immediately, political authorities impose "rationing" on quantities and permissible uses by governmental edicts, such as prohibiting watering of gardens, washing cars, using fountains, and so forth. However, in Arizona, where the supply of water is far less, no shortage exists, and no rationing rules are imposed. Instead, the price of water in Arizona has been allowed to rise to a market-clearing level at which the public can use however much water for whatever purpose it wishes. The higher price fosters conservation.
SURPLUSES AND PRICE FLOORS
What is typically called a "surplus" is a situation in which the price is not allowed to be as low as the market-clearing price. A limit on how low the price may be is often called a "price floor," in contrast to a "price ceiling," which Edition: current; Page: [165] is an upper limit on legally allowable prices. A minimum or floor price may result from government policies to curtail supply or cause a bloated demand, as illustrated in .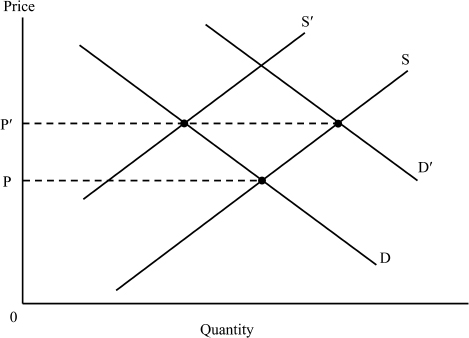 Figure 12.3
As illustrated in , a surplus is the result of the price control, not of some physically "excessive" supply. The disequilibrium in the case of a surplus stems from the controlled price below which transactions are not allowed. Yet, commonly, a "surplus" will be interpreted as if the supply were "too large," greater than the "demand"—as if price didn't matter. It's even been contended that the producers are so "efficient" that they're producing "too much," hence the surplus! It's then contended that production controls have to be placed on the producers to eliminate the "excessive" production (rather than letting the price fall).
Perhaps the most common price floors are for agricultural products. In almost every nation, farmers have induced legislation controlling some farm product prices at a high level—above the market-clearing level. The resulting surplus is then commonly solved by limiting the permissible amount of production.
There are three options in a surplus situation: 1) a lower permissible price or 2) the output and the amount that is offered for sale must be restrained Edition: current; Page: [166] or 3) the excess of the amount supplied over the amount demanded must be destroyed or disposed of "elsewhere." Since the first alternative is contrary to the purpose of the policy—a high market price—the other two are the pertinent alternatives. The surplus at that controlled price (often called the "support price")—SO – DO—is usually purchased by the government.
Figure 12.4
One response is to force the producers to reduce production, commonly by putting a tax on "excess production" or paying producers to curtail production. The permissible production is restricted in an attempt to have a sufficiently small supply to maintain the desired high price in the otherwise free market (at the cost of higher prices to consumers).
In the case of milk, the surplus is stored as cheese or powdered milk or distributed as "aid" to poor countries or as "free" cheese to senior citizens and school lunch programs. The cost is borne by the purchasers of the higher-priced milk products sold in the markets and by the taxpayers who finance the purchase of the "excess" milk products.
COMPETITIVE BEHAVIOR DURING A "SURPLUS"
With the price-induced surplus, suppliers compete in ways other than the dollar price alone. The price restriction is usually on just the money amount paid, but the "product" being sold can be improved. The sellers offer more side benefits and amenities, thereby increasing the "full product" worth to match the high price the buyer must pay. Free delivery, free credit, stronger guarantees, and free supplementary goods and services are examples.
Edition: current; Page:

[

167

]
When the airlines colluded with the federal government to control airfares at a high level, almost every flight had "surplus" capacity—empty seats. Each airline competed in other than explicit dollar fares. They increased services, size of planes, frequency of flights, free companion flights, better dinners, and free drinks. Once the airfares were freed from lower limits, the surplus capacity disappeared, and the "free" amenities were reduced.
With too high a fixed price, if amount produced is not limited, suppliers will compete by offering "better" goods, or by concealed or camouflaged price reductions. The price-controlled products can be bundled with other non-price-controlled goods and services—as a "tie-in" in which the added goods are offered at less than their competitive price. The whole package then has a competitive price.
IMPLICATIONS
The implications of all the preceding examples are that imposed price restrictions: 1) make the amount demanded at the money price exceed or fall short of the amount available; 2) restrain exchange from lower-to higher-valuing users; 3) reduce the quality and quantity of goods; 4) induce wealth-wasting forms of competition by altering the full-price components; and 5) increase nonmonetary discrimination in competing for goods. Finally, 6) imposed price ceilings do not keep the full price low—they change the composition of the full price, increasing the nonmoney costs until the full price is an equilibrium price more heavily weighted with nonmoney types of discrimination.
We may note situations in which it seems markets do not work as heretofore explained. However, it's not that markets cannot work. Instead, they aren't allowed to work. That happens when private property rights to some goods are not well specified or enforced and therefore can't be bought or sold. That's not a "defect" of markets. It's an absence of markets for those goods.
It is sometimes impossible or prohibitively costly to define and enforce private property rights over some goods, such as the air, and for land with respect to noise and views. So, in the next chapter, after exploring markets for goods controlled by private property rights, we'll examine some of the consequences for the uses of resources that are not controlled by private property rights.
QUESTIONS AND MEDITATIONS
1)

Do you think the rent controls that have existed in many cities were good or bad for each of the following: a) middle-aged couple who do not contemplate moving, b) young married couple with two children moving Edition: current; Page: [168] to a new town, c) black person or other minority moving to a new town, d) young person receiving a raise in salary, e) old person in retirement, f) person who likes to drink and smoke, g) beautiful young woman, h) homely immigrant, i) Muslim in a Jewish community, j) Jewish person in a Muslim community, k) woman who likes to work around the house and care for gardens, l) old couple who have saved wealth and invested in an apartment house.

Answer:

Rent controls establish a maximum rent, a ceiling above which rent cannot be legally raised. When the market-clearing rental price rises above the legal maximum, forms of competition other than money prices become more important—such as cultural, ethnic features, political connections. People who have more of the "desirable" features will acquire housing more easily than those that don't. Meditate on how well each of the groups listed above might fare in nonmoney competition for rental property.

2)

It has been argued that politicians tend to gain from price controls, and hence they advocate them. What line of reasoning would support that argument?

Answer:

Price-controlled goods are distributed with more political and government influence and authority: government officials set the prices and enforce the program—and take credit for supposedly keeping down the living costs of constituents.

3)

The military draft of the US government involved a form of price control—in which the maximum price (compensation) that could be paid by the military services was set by law. As a result, the number of personnel demanded exceeded the supply at that price, but the buyers (the army), instead of accepting the amount sellers (young men) were willing to provide at that proffered price, resorted to a compulsory draft to satisfy their "excess" of demand. Who gains and loses what by this system of price controls?

Answer:

The military draft was collusion by employers against employees, with the draftee obliged to work at tasks and at wages stipulated by the government. A limited segment of the population received less than market wages, which minimized budgetary government expenditures, but with draftees paying a great tax in-kind. Monetary taxation required to finance a Edition: current; Page: [169] volunteer (free-market) military is less than the real, unevenly borne costs of a drafted military.

4)

News item from the past: "Seoul, Korea (AP). The city government ordered the capital's 1500 restaurants not to sell any meal containing rice during lunch hours. The measure is designed to encourage the customers to take other food. South Korea is experiencing a serious food shortage because of a poor rice crop." Would open-market prices achieve the same result? How effective would this measure be?

Answer:

The poor rice crop is not corrected by the price control. The temporary reduced supply has to be dealt with by curtailing consumption. The curtailment can be accomplished by permitting the market price to rise, thereby conducing to individual decisions which in the aggregate will restrain amount demanded to the amount available.

5)

"With open-market pricing, housing units are scarce or expensive, whereas with rent control the housing market is characterized by shortages." Explain.

Answer:

All economic goods are scarce; shortages result from prices below the market-clearing level. Possession of nonpecuniary attributes will now play a greater weight in allocative decisions. Over time, housing quality and quantity will deteriorate.

6)

At the same price for each, you choose an internet-ready television over a standard flat-screen television, but when the standard flat-screen television costs 50 percent less than the internet-ready television, you choose the standard flat-screen television. In which case are you "discriminating"?

Answer:

Both. Choice is an act of discrimination.

7)

A distinguished professor of law has said: "Some people believe that every resource which is scarce should be controlled by the market. And since, in their view, all resources except free goods are scarce, all resources—even rights to radiate signals—should be so controlled. But surely some resources are 'scarcer' than others, and thereby possibly merit different treatment. It doesn't advance the argument very much to Edition: current; Page: [170] place a label of 'scarcity' on everything." Do you think economics should be studied by professors of law?

Answer:

Yes. The problem of economics—scarcity—involves how to determine who gets how much of which goods. What forms of competition are used to resolve these questions? It does advance the argument (analysis?) to grasp the meaning of scarcity and to understand that economics says nothing about which scarce goods ought to be allocated through the exchange-market form of competition and which scarce goods should be allocated by other forms of competition, such as physical force (violence), first come first served, waiting in line, who you know, appearances, personality, personal favors, cultural features. We leave it to you to try to figure out why the "degree of scarcity" should affect the form of competition that should determine how a scarce resource is allocated among alternative uses and users. In any case, scarcity implies competition to resolve who gets how much of which goods. If money competition is suppressed, other forms of competition must occur.
CHAPTER 13: MARKETS AND PROPERTY RIGHTS
"It is sufficiently obvious, that persons and property are the two great subjects on which Governments are to act; and that the rights of persons, and the rights of property, are the objects, for the protection of which Government was instituted. These rights cannot well be separated."
james madison,
Speech at the Virginia Convention,
1829
Apples on a tree in a public park are picked before ripe. Public beaches are littered. Garbage is dumped in rivers. Pollution of the air is prevalent. Mistakenly called "market failures," such phenomena reflect absence of private property rights. Markets are places or methods whereby demanders and suppliers can communicate to buy and sell private property rights. This chapter identifies key features of private property rights and how they determine the uses of resources. And we will see why no matter who owns a resource, private property rights help deter "waste," "pollution," and "abuse."
You propose to construct a building that would block the view from my neighboring apartment building. A "market transaction" between you and me can settle that dispute without a lawsuit—if we first know who has what rights. A judge could toss a coin to determine that. But that decision would affect only who is made richer, not whether the proposed building would be built. To explain, we'll run through the two alternatives, where I initially have the rights to the view, and then where you have the rights to block my view.
If initially ownership of my building includes the rights to the view, I could prevent your construction of a building without my permission. However, if your profit on the proposed new building would exceed the value to me of the view, you could buy from me the rights to the view. You would then construct your building, and the view would be lost to renters in my building. You would have an added expense, and I would be richer in money (but poorer in view), because you had to pay me to give up my rights. While I'd lose some rental value of my apartments (the occupants of my apartments would enjoy less view, but they'd have a compensating lower rent), the amount you pay leaves me financially better off. So, you'd pay me and construct your building. Both of us gain from the transaction.
Edition: current; Page:

[

172

]
In the alternative situation, you have the right to build. You could proceed with your construction without compensating me. But there is again a possible (initially beneficial) transaction. If my valuation of the view is greater than your anticipated profit, I could bribe you to forgo building. You thereby gain, and I minimize my loss.
HOW RELATIVE PREFERENCES ARE IMPRESSED ON THE OWNER
The choice of ingredients used in the preparation of food in a restaurant shows how an indirect force channels resources to the highest market-valued use. For example, the restaurant owner can decide whether or not to use a cooking ingredient such as MSG (monosodium glutamate), or in Europe whether GMF (genetically modified foods) are allowed. However, it is the customers, through revealing their preferences, who determine whether restaurants advertising that MSG or GMF is not used will be successful.
Without ordinances or regulations prohibiting smoking in bars or restaurants, the preferences of nonsmoking customers versus those of smokers will determine whether the restaurant owner will find it more profitable to restrain smoking. These are the same market forces that determine whether or not a restaurant offers alcoholic beverages, or how long it is open, or whether it is quiet or has loud music, or has tablecloths, or air-conditioning, or quicker service.
While smoking is permitted in most casinos in Las Vegas, some attract patrons by advertising that they offer a "smoke-free environment." Instead of competing by direct payments to have or not have smoking, the patrons merely choose among restaurants, bars, and casinos that do or do not restrain smoking. Owners are umpires between customers who have different preferences. The owner collects a reward in the greater revenue from patrons for a more highly valued environment. That's true for every business.
GOVERNMENT AGENCIES AND PRIVATE PROPERTY RIGHTS
Both preceding examples illustrate how the ability to buy and sell enforceable private property rights pushes resources toward highest market-valued uses no matter who owns them initially. The result is independent of how wealthy is the owner. A deep pocket does not increase the willingness to invest in unprofitable ventures.
Imagine an investor in a proposed oil refinery or a wood processing facility, which would spread odors for miles around. Negotiation for purchase and sale of many individual rights to satisfy the whole surrounding population would Edition: current; Page: [173] be much too expensive. As the population has increased with more interdependence in larger cities, problems formerly individually or privately handled, such as for water, sewage, personal protection, and roads, have become duties of a government, often by new regulatory agencies. If they alter private property rights in scope or value, the US Constitution, Amendment V, states "nor shall private property be taken for public use without just compensation."
The scope of that stricture on government power over private property has been the subject of much dispute and different interpretations in the courts of law. Were the rights that have been taken truly private property rights, or were they public property rights that had been used privately? Were the uses proposed really for "public use" or for private benefit? Was the amount of compensation "just" or too little?
Market Exchanges of Rights to Use Air Can Measure a Worth of Pollution Rights
When anyone mentions buying rights to pollute the air, the typical immediate response is, "You can't place a price on the environment. You economists assert everything can be reduced to money—as if market values could be placed on aesthetics and the environment." Look at what economic analysis actually says.
Purchase and Sale (Alienability) of Rights to Pollute the Air
"Alienable" is the legal word for "salable." In major metropolitan areas, air quality control agencies of the local government monitor the amount of pollutants, such as sulfides and oxides, emitted from commercial firms in an area defined by a "bubble" of airspace within which not more than a specified amount of pollutants is permitted.
Some years ago, the City of Los Angeles established a limit on the total amount of pollutants emitted by all commercial firms. The limit to be allowed ten years later was set at 25 percent of the total amount emitted in the first year. Either production of goods had to be reduced or more expensive methods of production with less pollution were necessary.
Each firm's permissible amount ("rights") of emitted pollutants was determined (usually set at the amount it had been emitting previously, establishing an initial cap on emissions). Each was allowed to sell to other firms its rights to emit pollutants. A market for pollution rights immediately developed. Incidentally, anyone could buy rights even for the purpose of reselling at what they hoped would be a higher price.
Our interest here is less in what the prices were or how much they fluctuated than in what alienability of property rights permits. Owners of some firms Edition: current; Page: [174] found it profitable to replace older equipment with less-polluting types of facilities, because their unused pollution rights could be sold to other firms where the rights to emit pollutants were more valuable.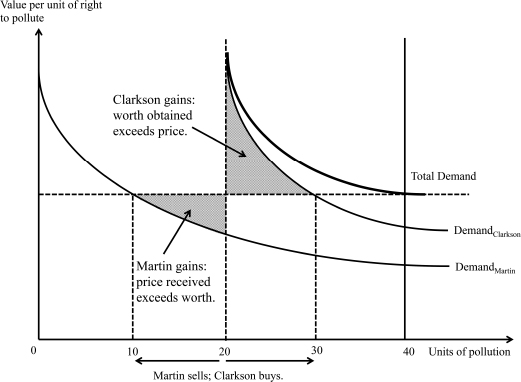 Figure 13.1
The effects of alienable pollution rights are the same as for tradable eggs between Ted and Rae (chapter 6), with "pollution rights" here replacing "eggs." The polluters can be the Martin Refining Co. and Clarkson Paint Co. Instead of "personal worths" of Ted and Rae, we compare the "marginal market values" of products.
In , both Clarkson and Martin initially emit 20 units of pollution. But the marginal value of further output for Clarkson is greater than the cost of buying pollution rights to generate the greater production, and the cost of buying pollution rights is greater than the value of more output to Martin. So both gain by Clarkson buying 10 pollution units from Martin, with each equating his marginal worth of output with the price of polluting. Salable, privately owned pollution rights result in maximum product value for a given total permissible amount of pollution. The rights to emit pollutants are attracted to Edition: current; Page: [175] their highest market-valued uses. As with Ted and Rae, the initial holdings of rights do not determine the final allocation, if the rights are salable.
Altering Production Techniques or Volume to Reduce Pollution
There can be reduction of pollution by a reduction in production with the initial technologies. But the price of polluting can affect the choice of methods of production, possibly encouraging less-polluting techniques.
The sites of production and pollution will be affected by choices of residence as well as by moving production. People may choose to live in places where pollution is less even when that is more expensive. Lower-income people tolerate more pollution and lower-quality living space in order to have more food, furniture, and health care. Poorer people buy cheaper used cars. They cause more pollution. But they prefer that to having better cars and less of other goods. All behavior involves and reflects choice among trade-offs.
TWO FALSE ISSUES
1.: Fairness and Amount of Wealth?
Opponents of allowing sales and purchases of pollution rights have argued that the richer firms will get pollution rights from the poorer ones, and that is unfair. However, the wealth of a firm has nothing to do with the marginal value of pollution rights. Greater wealth does not mean a person will, nor should, be foolish. Some believe (or argue as if) trade yields a benefit to only one party at the loss of another. Selling, as well as buying, can benefit a trader.
2.: The Myth of "Economics versus the Environment"
There is no conflict between economics and the environment. Everyone prefers a cleaner, safer environment. Everyone prefers more income. Some regard visits to the mountains, wilderness, and communing with nature more highly than do others. What economics emphasizes is that more of "this" means less of "that."
Arguments persist about whose benefits should dominate. But it's not a question of dominance. It's a question of trade-offs. Members of the Sierra Club and Audubon Society would prefer to have more natural resources preserved. Others, less interested in "nature in the raw" relative to other things, would like to have more development of public lands for homes and easier access (roads rather than hiking trails) to mountains. Economic analysis is not biased for or against either, nor does it indicate what the relative preferences should be. Instead, economics recognizes the necessity of choices among the alternatives.
Edition: current; Page:

[

176

]
THE RULE OF PRIVATE PROPERTY RIGHTS
Alienability of private property rights rests on (1) control of the resource and its services and (2) clear specification of the rights and the object.
1.: Control: The Cost and the Worth
What's the value of a private property right to the North Star? You couldn't control its condition or its services as a directional guide. If you were declared to have a "private property right" to a tagged whale last seen in the Alaskan region of the Pacific Ocean—good luck.
You may perform beautifully at the piano. You can say the music is your private property, but you'd have to control the sound as private property. Once the music is created, anyone in the room can hear it. But you can arrange to play the piano in an auditorium and sell rights to people to be in that room. You "tie" two rights: to be in a room, and then to hear the music at no extra cost. You could advertise that there will be "free music" to anyone who rents a seat in the auditorium from you.
You pay for the right to sit in the theater at the time a specified movie is shown. A sporting event, unlike one in a public park where anyone can watch, often is played in an enclosed arena. Spectators must pay to enter; control is effective.
Private enforcement of control abounds. Locks, fences, burglar alarms, safes, barred windows, home and office security devices, and security service firms protect control of the object. The private enforcement depends, as you would expect, on the costs relative to the benefits. Hardly anyone bothers to enforce limits on parking time on low-valued land (in suburban shopping areas). For midtown parking, a price is charged, and times are monitored. Some formerly almost free and unowned resources can become more valuable as populations increase.
Lakes, rivers, oceans, and the air are being subjected to more extensive control either by establishing private property rights or by direct controls by governments. The higher the potential worth of use of a resource, the greater is the cost that's worth incurring to control it. Airport landing rights and moving cocoons of airspace for commercial flights are bought and sold among airlines.
As the cost of effective surveillance over the ocean decreases, or as the worth of the control increases, greater distances from shore (200 miles instead of the old 3-mile or 12-mile limits) are being claimed by nations as their "property."
Whether currently disputed areas (for example, deep-sea floor minerals and Antarctica) will be established as private or government property of one or more nations remains to be seen. Even the western states in the Edition: current; Page: [177] United States have sued each other in federal courts for Colorado River water rights, and surely would consider military action if they were separate nations.
2.: Specification of Rights
No matter how well controlled are the objects, the rights to the good must be verifiable. The more complete, unambiguous, and reliable is the specification of the good and of the rights to the good, the more cheaply will the private property right be alienable.
As a buyer, you'll want assurance the seller does own the rights and that they are alienable, without unknown encumbrances and claims by other people, such as creditors or other partners. Verifying that is a major part of the "costs of transactions," especially for land and durable resources. Ownership of property rights to houses, land, and automobiles are recorded in government files. They are usually the most authoritative, reliable records. In almost all parts of the United States, private firms also record the information, the reliability of which is usually guaranteed by "title insurance" companies.
PROTECTION AND PRESERVATION OF ALIENABILITY
English courts have for centuries crafted and preserved alienable (marketable, salable) private property rights to resources. You may be told that with private property rights no one else can affect what you do with what you own. But others can and do affect the market value of what you own—an owner's wealth, as will be explained in following chapters, reflects its "capital value." The values (prices) of resources you own (except for money) depend on what other people think about your uses of resources you own. If they don't like what you are doing, they punish you. They do that in ways and to an extent to be explained. Nor are you are allowed to dictate all the future uses of the resources you leave to future generations. No "dead hand of the past" is allowed exclusive control.
So great is the value of alienability, the law has preserved it at the cost of other potential benefits. For example, shared private property rights among several people decreases the ready salability of shared resources. The law has generally been framed and interpreted so as to reduce the costs and difficulties of reaching decisions to sell or buy property "of the sharing group," as we'll show later.
SHARED OWNERSHIP
Sharing of private property rights is prevalent, even though it tends to weaken control, definiteness, and alienability of the shared rights. A form of sharing is marriage and the family. Methods of sharing have been devised that tend Edition: current; Page: [178] to protect the objectives of sharing ownership against diverse interests of the sharing owners.
A family may own a newspaper publishing company. Negotiation for sale of the rights to publish the paper can be hindered by disputes within the family about the wisdom, price, and sharing of the proceeds. There is also the uncertainty of who is a member. For a family, are all people born into the family sharing owners? Do descendants of members inherit rights of members? Does marriage into the family make the newcomer a member?
Unless these questions are answered appropriately, buyers will not be sure of what rights are being purchased or whether a sale is really a completed sale, or is challengeable by people claiming to be members.
HOW TO BECOME A MEMBER-OWNER?
A predominant feature affecting the rights and behavior in shared groups is how membership is obtained. May you enter at will with no payment or contribution to the group and without requiring permission from the existing members? If so, that could be called an "open" group. If a payment or contribution must be made to another member or to the whole group, that group would be a "closed" group. Entry into a political party is "open," as it is in most religions and cities. You do not have any salable rights of shared membership. Being a member (citizen) of the United States does not require a purchase from an existing member, although the government controls entry.
The meaning and worth to a member of what the "group owns" depends on how entry and membership are determined and on the behavior of members. If entry is open, congestion awaits. For "closed" groups, wherein membership must first be purchased from the group or another member, the members are guided by other members.
Stockholders own the modern corporation. Admission to that class is by purchase only. Anyone can enter the membership by purchasing a share (membership) from an existing owner. No one can object, or even know who are the other stockholders. It's called an anonymous society by the French. It's a limited liability corporation in the United States.
Many Swiss corporations have two classes of stockholders. In one class, any shareholder can sell to whomever that shareholder chooses. The other class of members must first obtain approval by the administrators of the corporation. A share of each type of stock typically has the same claim to dividends and assets of the corporation, so they differ primarily in confidentiality of who are the owners.
The incentives for the members to maintain the benefits of membership Edition: current; Page: [179] in open groups are less strong than when members own salable rights to membership. Market sales of membership rights in closed groups increase incentives of members to help maintain the advantages of membership. This is evident in different types of "country clubs." The members own some clubs as a closed group with entry only by purchase. Some grant only daily rental rights.
Courts have tended to judge and decide issues of ownership so as to preserve and facilitate reliable alienability of well-identified property rights. The general belief is that this tendency to maintain alienability reflects a social consensus to maintain the influence of market values as guides of future actions—by limiting who in the future will be recognized as a member.
Corporations can have thousands of members—stock or "share" holders. But how does that group sell or buy property rights to what the group shares in ownership? At one extreme, unanimous agreement of the members might be required. More commonly, the sharing members of a corporation are allowed to delegate to some one person or small group the authority to sell what the whole group owns, or to buy for the group and also to direct the use of those resources. An obvious difficulty with this method is the "principal-agent moral hazard," in which the agent may act more in accord with self-interest than the promised interest in the group, as will be explained later.
The other extreme way permits each member alone to sell or buy for the group. That's close to a family in which the husband or the wife can decide to sell what the family owns or to buy for the family. It's similar to some forms of business partnership. We'll explore later why in a business corporation the alienability of rights is among the shareholders and not among the employees.
WHY DELIBERATELY SUPPRESS PRIVATE PROPERTY RIGHTS OF A COLLEGE?
Although a member of a college student body, you can't sell that membership "right" to anyone else. It's nonalienable.
Your attention to what happens at your college might be more serious if you had an "alienable" (resalable) right of membership whenever you dropped out or graduated. If you are inclined to believe a system of salable rights would ruin the college's reputation, recall that similar rights are used for membership in the group of "owners" of Hewlett Packard, Ford, AT&T, and Apple, but they aren't "ruined." What, if anything, is different about a college? Most likely, none of its resources are held under private property rights.
What is meant by the "college's resources"? No one owns them; no one can treat the resources as private property. Instead, the college has an administrator with authority to control and to buy and sell the college's resources. Why Edition: current; Page: [180] are private property rights and responses to market values suppressed, when almost everywhere else efforts are made to strengthen responses to market values?
What can a person or a group do if a board of trustees administers the college? The board can use gifts of money donated to the college to buy things that then become "owned" by the college. The board of trustees can buy private property rights to goods, as when they buy automobiles or labor or building materials. But no one can legally let anyone use the college's resources as if they were private property. The college bought the private property rights to goods, but the board is bound by laws saying that not all the components of private property rights to those goods would be exercisable by the board.
Why would anyone ever establish a college that had to give up those features of private property rights? For two reasons: first, the government gives favors—the school is exempted from some taxes that would have to be paid when using private property, and people who donate to the college avoid taxes; second, and more important, the incentives of the trustees are directed away from profit and wealth maximizing. And it's considered good when the purpose is to help students obtain an education without paying the full costs.
A college is somewhat like a charitable organization. You might wonder why successful privately owned, profit-seeking schools exist at the elementary level. And private, for-profit schools exist for engineering, foreign languages, electricians, computer programmers, hairstylists, golfers, driving autos, and flying.
EXTERNALITIES
Although consequences to the owner dominate decisions about the use of privately owned goods, we are allowed to act in ways that affect other people. These effects are called "externalities." When you wear clean, pleasant-appearing clothes, or cultivate a pretty garden, which other people enjoy, that's a "positive externality." Living in a nation where everyone has at least a high school education is a positive externality benefit for everyone.
Many actions you take benefit other people, even though you are not paid to do so, in contrast to explicit exchange. If permissible actions are disliked or harmful to other people, the actions create "negative externalities." If other people are slovenly garbed and dirty, and speak in a rude fashion, we suffer negative externalities. Informal rules of social etiquette and social customs motivate positive, and suppress negative, social behavior externalities. This is sometimes labeled "internalizing external effects."
We typically don't offer to pay neighbors or friends to behave in some way, Edition: current; Page: [181] yet methods of compulsion exist. Probably the major forces are social ostracism and governmental force. Social ostracism is a subtle and powerful force. Etiquette in social conformity with custom helps internalize externalities. If you behave otherwise, friends begin to snub you, your reputation falls, and life becomes more lonely and confined. The line between "innovative leadership" and "disgusting nonconformity" is not bright and clear, but it does exist.
A society of generally educated people who read and write and speak the same language is generally advantageous to everyone. This "externality" effect is so important that compulsion by law to acquire those features is commonplace. Every child must attend school, whether governmentally provided and financed or a private school. Adults are not compelled by law to know the common language, but the economic and social penalty often is persuasive.
Physical externalities, if harmful, are usually declared illegal. However, pecuniary (financial) losses on competitors (negative pecuniary externalities) do not necessarily make an action illegal. Our better textbook reduces a competitor's earnings. That's not illegal, and is regarded as benign, in that more preferred goods are allowed to displace less favored goods. The analysis of the preceding chapters is consistent with, and not upset by, externalities or public goods.
PUBLIC GOODS
So far we have dealt primarily with goods that are useful for only one person at a time. If I eat an apple, I alone get the benefit. Goods are "private" goods if one person is the consumer or user. But for "public" goods, the amount of worth to one person does not reduce the amount of the good or its worth to other people. More for me does not mean less for you, once the good is produced.
Examples of goods almost exclusively composed of public-good attributes are mathematical theorems, TV and radio programs, melodies, poems, vaccinations, basic education, technology, ideas, and some public parks and wilderness. One person's access to, or knowledge of, an idea does not reduce the worth anyone else could also get with it. One viewer of a TV program does not displace another. Mosquito control districts, air pollution controls, flood controls, garbage and sewage disposal, streets, and police patrols are, or have some characteristics of, public goods. The same holds for some forms of national defense: if there is more for me, there is also more for you, unless it is a local antimissile defense for your town rather than mine.
What are called "commons" often are areas to which everyone in a community has a right of access. Some goods have mixtures of private and public-good attributes. The space around a musical band concert is limited, and a better Edition: current; Page: [182] space for me means a poorer space for others. The only worldwide public goods we can think of are the sun, moon, and stars.
Why are public goods specified and treated as different from ordinary goods? What are the economic aspects and problems posed by public goods, other than those posed by private goods? One major feature is that the creation of public goods is hindered because a reward for creating and maintaining them is difficult and expensive to provide. Two common procedures for such provision are (a) by governments with financing by taxation and (b) formation of private voluntary clubs for services to the members (its public). One widely applied process relies on the community of users voluntarily agreeing to rules of use and care. The control of abuse is both informal and formal. The community may establish a voluntary patrol or may rely on ostracism of abusers. Later, we'll explore a few of the means of controlling behavior.
GOVERNMENT CONTROL
Governments can apply force to obtain payment and to restrain free riding. Governments can use force that cannot be employed privately (such as jailing or imposing a fine on a detected nonpayer). Sometimes, if the government charges a fee for access to the public good, a complaint is voiced against charging an admission price. But the price can be used as a rationing device, to prevent the public good from being so over used as to be destructive of benefits.
What has been a public good now can become a nonpublic good. A public good (more for me does not mean less for you) can become a shared good. We share in having equal rights to access, and in having equal shares, but the shares can diminish with open entry. Public goods yesterday become congested goods tomorrow, and methods of control of entry or access will change. The oceans are ruled by the doctrine of freedom of the seas—except that what are called "seas" is being reduced as nations claim that more of the oceans are within their expanded national boundaries.
PUBLIC, OR GROUP, GOODS: CLUBS
Whatever the group, large or small, the prospect of free riding by someone in that "public" is likely to shrink the investment in production and maintenance of the public good. This initial free riding on the original investment could be reduced if the potential beneficiaries had to bear the cost of creating the public good. The investors would then be the subsequent beneficiaries.
A private yacht club facility, a privately owned golf course with owner-members only, or a fraternal organization used and owned exclusively by members, provide public-good services to members who pay the cost of both the investment and the subsequent service to the members.
Edition: current; Page:

[

183

]
A "club" can be defined as a "firm" in which both the investors and customers are the members. The public-good aspect of associating with those who are allowed to be members, not monetary profit, is the objective. For that, excludability is critical.
Even with entire nations, the residents have a club-like relationship and tend to object to newcomers who are "strange in behavior" and haven't paid for entry to obtain the privately supplied public goods.
PRIVATELY SUPPLIED PUBLIC GOODS FINANCED BY TIE-INS
Several ways have been devised to supply services privately and profitably despite, or because of, free riding. Private provision of some public goods occurs for which exclusion of nonpayers is "impossible." Paradoxically, in some cases, the more free riders, the better it is for the private supplier.
Examples are typical television and radio programs. You pay "nothing" to watch or listen, but it's not free. You pay a price—the time during which advertising is displayed. No charge is made, and no one is excluded. As a concert pianist does not force the listener to sit in a specified room for which an entry fee is charged, television and radio broadcasters and the suppliers of the internet services cannot compel you to devote some of your time watching advertising. However, when you want to obtain their services, this tie-in is the price of admission.
Forcing the viewer to see advertisements uses some of the viewer's time, which has alternative use values. To hold the viewers' attentions, the advertising is made attractive rather than only informative of the advertiser's brand name. The same method (advertising) of paying for underpriced (or "free") services is true for almost all newspapers and magazines, which are grossly underpriced relative to the costs of creating and supplying them. The payments for advertising in the magazine and newspaper serve the same purpose as advertising on "free" television for covering the costs. In several European nations, each television set is taxed to prevent free riding. In the United States, advertising provides funding and sidesteps free riding—that is, getting the benefit without paying any cost. In some nations, both advertising and government taxes on owning TV sets are common.
CHARITY
Another form of allocation of existing goods is by gift or charity. You may be at a college founded by charity of the founder. At some time you have used a library built and maintained by the charity of the Andrew Carnegie Foundation or by government use of tax money to create a "free library." Some television Edition: current; Page: [184] stations are financed by charity. Hospitals are probably the most prominent example of charity-supported organizations. Why is charity devoted primarily for schools, hospitals, and churches? Who gains what? Are the intended effects also the achieved effects? We'll see that some, but only some, of the principles and consequences of market exchanges apply to charity.
Who Gains What from a Gift?
Whatever the motive and intent, gifts (not in cash that can be spent, however much that is preferred) usually have some "waste" from the giver's point of view.
The US government grants aid to foreign governments, ostensibly for specific purposes. If a foreign government is given $100 million to build a dam which it would have built or bought even without the gift, what has it gained? The recipient's resources are released for other purposes. So the gift gives the recipient government some wealth with which to do more of whatever it wants.
To operate a television station in the United States, a license is required from the Federal Communications Commission (FCC). The law forbids assigning licenses on a first applier, first served basis. The winner is the applicant deemed most fit (based on responsibility, dedication to public service and education, etc.). Competition in establishing and comparing fitness is expensive; the combined costs incurred by all competitors in that competition can even exceed the value of the license. Much is expended in competing for the award—using lawyers, lobbyists, and political donations—because once obtained, the license is transferable at the market value. The cost of competing for the license is high because there's much to be gained by winning.
Governments have moved toward selling rather than "awarding" licenses or valuable rights, such as rights for oil exploration, use of a portion of the radio spectrum, or for "monopoly" rights to operate liquor stores, taxis, dairy herds, and tobacco farms. All these rights are salable once they have been awarded.
Nontransferable Aid and "Earmark" Financing
Some other gifts cannot be legally reallocated or resold. Examples are rights to enroll in a college or medical school, to move to the United States from another country or join some unions, adopt a child, camp in a national park, or be bused to school. Nevertheless, gifts received for what you would have done or received even without a gift release more of the gift for other purposes.
One dollar, no matter from where, is the same as any other. Money is fungible. So when children are bused to school "free of charge to the parents," Edition: current; Page: [185] who gets what benefit? Once relieved of buying transportation they otherwise would have provided, the parents are able to divert their expenditure from transportation to something else. The children whose parents would have had them walk get a gain in the form of a ride. The principle is simple: to the extent that recipients would have purchased the services now provided by a gift, they can use an equivalent amount of wealth for other purposes.
Governments levy a special tax for a specific purpose. Though the tax receipts are earmarked for that purpose, city officials can release equivalent amounts from other tax sources formerly allocated to that purpose. The net increase in the activity will be less than the earmarked tax receipts. Proceeds from the California lottery are assigned to public schools, but some of the money formerly assigned to schools is diverted to other uses. The net addition of the lottery to schools is smaller than the funds from the lottery by an amount equal to the reallocated funds.
QUESTIONS AND MEDITATIONS
1)

M owns and lives in a home near an area where a series of 20-story apartment buildings are to be built. M sues to prevent the construction on the contention that it will create extra traffic hazards and congestion. In court, M proves to the judge's satisfaction that his allegation is correct. How should the judge rule?

Answer:

M is suing for property rights to uncongested streets. Under current law, this kind of right seems not be recognized, and presumably the judge would rule against him. Who owns the streets, with authority to determine how heavily they can be used?

2)

A California city prohibits construction of any building whose shadow will fall on some other person's land between 9 a.m. and 3 p.m. Is that a restriction of private property or a strengthening of it?

Answer:

If you define access to sunlight as an aspect of landownership, then it is a strengthening of private property rights. But other property rights of building construction are being curtailed.

3)

A city passed a zoning ordinance prohibiting the owner of a large parcel of land from constructing homes on it because of a fear that the noise of a nearby airport owned by the city would be so disturbing to the new tenants that airport operations would have to be curtailed.

Edition: current; Page:

[

186

]

a.

Whose rights were being curtailed by the zoning ordinance?

b.

Under the definition of private property rights, were the landowner's rights being taken from him?

c.

Can you suggest some other solution to the problem?

d.

If you were a taxpayer in that town and did not live near the airport, what solution would you have voted for?

Answer:

a.

If the zoning at the time the owner purchased the land included the right to build the homes, then his rights are violated by a subsequent change in zoning that forbids the building of homes. If there was no zoning at the time the current owner purchased the land, the new zoning or ordinance clarified, defined, and allocated the rights for the first time.

b.

If there was a question of what rights were included with the land, a potential buyer of the land could ask for a clarification of those rights before purchasing the land.

c.

Possibly require that the contract of sale of land to intended home builders provide acknowledgment of the proximity of the airport; this would reduce the value imputed to the land to a level which informed buyers are willing to pay.

d.

Taxpayers in the town would probably want the homes built so that there would be more homeowners paying property taxes to help pay for schools and other city services. Best for taxpayers would be if the new homes near the airport were restricted to seniors only so they would be paying property taxes but not have children to send to the schools.

4)

Ralph Nader, a well-known exposer of product defects, complained that a person who relieves himself in a river is fined, but industries that pollute the same river are not. Muggers are punished, but smoggers are not. These he cited as illustrating the inequities and irrationalities of our society and economy in its attitude toward big corporations. What has Nader overlooked?

Answer:

He ignores the social gains provided by activities that produce smog and pollution as a by-product. As automobiles and airplanes produce "risk of death"; as travel takes up land for roads; as making sheet-steel involves less of other desirable things like leisure, quiet, and rest; as oil wells create an offensive odor in the neighborhood—so all productive activity involves some undesirable by-products. All of these pollutions of our environment are part of the costs of production and could be avoided if we were willing Edition: current; Page: [187] to have a less convenient, more Spartan life. We should not look only at costs and think that something is wrong with those economic activities that involve the largest costs, for they may also yield the greatest benefits. Relieving oneself in the river may be less valuable than the value of output from a factory that creates equivalent pollution and may be avoidable at lower cost. Similarly, smoggers are producing other services in the process, whereas muggers produce no social service.

The complaint that Nader should have developed is that governments and courts had not introduced a system of making people pay for the right to pollute, thereby bearing the full costs of their actions. Such a system would induce people to pollute less if the gains obtained from activities that yield pollution are worth less than the pollution damage. As we could produce less oil or less paper by having less pollution, there is a trade-off between more or less clean air or cleaner water and more or less other desirable goods output. Efforts to expose that trade-off rate and to induce the pollution costs to be taken into account by a system of prices for the right to pollute (by fines) rather than with zero prices or absolute prohibitions (infinitely high prices) are what Nader might more usefully have recommended.

5)

Camping fees in almost all state and national parks are so low that people want more space than is available, at certain times of the year.

a.

Why is the price for camping not at a market-clearing level?

b.

How much space would people want at a market-clearing price?

Answer:

a.

Camping sites are not privately owned.

b.

Less space per person.

6)

In Los Angeles, two closely situated golf courses, one privately owned and one publicly owned, are both open to the public.

a.

Which do you think charges the higher price, and which do you think requires less or no advance reservation?

b.

Who is benefited in what respects by each course's policy?

c.

As land values rise around the course, which one do you think will be converted to housing or business first?

Answer:

a.

Privately owned courses charge more and require less or no advance reservation. More amenities are provided to those who are willing to pay for them.

b.

More proceeds go to identifiable owners of the private course.

Edition: current; Page:

[

188

]

c.

Owners of the privately owned course will compare the return they could get from selling the land and investing the proceeds in alternatives—versus the fees they can charge from continuing to operate the course. Because individuals cannot benefit financially from selling the public-owned course, the political authorities may compare the property and other tax revenue that might be gained by selling the land, versus the fees generated by the golf course. Probably the privately owned course will be sold first.

7)

"Californians are crazy. Near a beautiful California beach, there is a luxurious motel and a state-owned camping area. Despite the greater luxury of the motel facilities, scores of cars are lined up for hours each morning seeking camping sites, whereas at the motel there is hardly a day that the rooms are all taken. This shows that Californians prefer outdoor, dusty camps to the luxuries of a motel with pool, TV, room service, and private bath." Do you agree?

Answer:

Tendency to price public parks and services at less than a market-clearing price is the explanation. Motels, priced higher than facilities in parks, rely on the law of demand to keep the amount demanded in line with facilities available.

8)

Churches are typically nonprofit institutions. Can you think of a problem in allocation of church facilities that is solved without use of the price system?

Answer:

Seats are allocated first come, first served rather than sold to worshipers—except in some churches, where a person donates a large sum and is given a special pew as a token of appreciation.

9)

The college you now attend is most likely a not-for-profit institution. Are any of its resources allocated at less than market-clearing prices? (Library facilities? Athletic facilities? Counseling? Course admission? Campus space?) Who gains by the power to select admissible students?

Answer:

Administrators have little incentive to maximize profits in a not-for-profit institution. On the other hand, they can gain personal and institutional popularity (with enhanced donations and charging of higher tuition) by providing attractive amenities and admitting children of the right sorts of families.

Edition: current; Page:

[

189

]

10)

Tickets to sporting events:

Why do college athletic conferences chronically have an enormously larger number of people wanting tickets than are available for the playoffs and important games?

Why are admission tickets for the Masters Golf Tournament (a prestigious golf tournament) fewer than the number demanded by the public?

Answer:

Receipts and returns are not wholly in the form of money revenue from selling tickets. And maximizing the money revenue does not enhance salaries of the administrators. The administrators and their organization can gain social and community stature by pricing tickets below the market-clearing level.

11)

"The imbalance between governmentally and privately provided services is evidenced by the fact that the family that vacations in its air-conditioned, power-braked, power-steered car passes through cities over dirty, badly paved, congested streets, not to mention the billboards. When the family picnics with excellent food provided by private business, they must sit by a polluted stream and then spend the night in a public park that is a menace to health and morals and littered with decaying refuse. Private abundance and public poverty are facts that assail every observant person. A plentiful supply of privately produced goods, and a shortage of publicly provided services, is inescapable testimony to the lack of a social balance between private and governmentally provided services."

Why are these arguments—taken from a popular book advocating more governmentally provided services—faulty and do not indicate anything about whether there is too little of such services? (Hint: Note the use of the term "shortage." How are governmentally provided services rationed?)

Answer:

Ignores prices at which government goods are distributed. Price of such goods is so low as to create a shortage and appearance of insufficient amount.

12)

You are running a university, and the faculty is asking for higher salaries, some of which you would be able to grant only by reducing funds available for buildings and activities such as sports. Now, the foundation of a rich alumnus gives your university a grant of millions of dollars, with Edition: current; Page: [190] the condition that the donated funds be allocated exclusively to faculty salaries. Who gains what?

Answer:

Building and nonfaculty purposes gain, and faculty also gains to the extent faculty salaries are raised more than they otherwise would have been raised. Money from other sources that would have been spent for faculty salaries now can be spent for other purposes.

13)

The faculty of many colleges are given free parking space.

a.

Who gains what?

b.

What would be the effect if the faculty could sell their space to students?

Answer:

a.

Those professors who obtain a desired space receive a gift (nonsalary compensation) in kind. But the university is giving away something of value, and it is forgoing money revenue it could have collected through renting the spaces.

b.

If the faculty is permitted to rent spaces to students, the spaces would be allocated more fully in accord with revealed preferences of the academic community, with proceeds going to the teachers rather than to the institution. An alternative would be for the school to leave the space vacant as scenic lawn.

14)

Immigration-quota rights to the United States are priced at "zero" instead of being sold at a market-clearing price to "acceptable" types of people. Who gains what? Why are these rights not sold at the highest price to acceptable people?

Answer:

The immigration administrators are salaried and do not receive money beyond their salary. Their motivation on the job is not to maximize profit, leaving them open to seek fulfillment of other personal and policy goals.

15)

"More of a public good can be produced without the production of other goods being curtailed." Evaluate.

Answer:

False; it is the consumption of the good that is referred to in the definition of a public good. Once the good is produced, any person can have as much as he or she wants without reducing the amount to anyone else.

Edition: current; Page:

[

191

]

16)

Public goods are those for which (choose the correct statement):

a.

several people can simultaneously enjoy the good;

b.

it is impossible to exclude some customers;

c.

no consumer reduces the amount of the good available to others by his act of consuming the good;

d.

prices should not be charged;

e.

the government should provide the goods.

Answer:

Answer c is best.

17)

A theater performance with a group of viewers is not a public good. Why?

Answer:

Each spectator displaces someone on the outside who might wish to enter—and the theater presumably cannot seat everyone who wishes to attend.

18)

"Economic theory is applicable only to a capitalistic society." Evaluate.

Answer:

The market-exchange system characteristic of private property (capitalism) has been the dominant institutional context of the preceding chapters. But the economic theory used there is applicable to any system of competition—resolving conflicts of interest among people arising from the fact of scarcity. In fact, the analysis of allocation with prices at less than the market-clearing prices is an application of economics to a socialist society in which free-market prices are not used. If the money price is below the free-market price, how will goods be allocated among the competing claimants? The use of nonpecuniary "discrimination" should come as no surprise.

Many Communist systems have relied on money prices and private property to ration existing stocks of some consumer goods. In Russia under communism, many goods were sold for money, and individuals got money income from wages and salaries—but not from ownership of productive physical capital goods and land. Given a person's money income, he was allowed to choose among a variety of consumption patterns by voluntary exchanges with other people via controlled (as distinct from open) market prices.

The principles are not idiosyncratic to capitalist systems. They hold for all known societies. The laws of demand and production hold also, whether or not exchange of resources via a private property exchange system is used.

Edition: current; Page:

[

192

]

Keep in mind the distinction between economic theory and analysis, on the one hand, versus, on the other, the institutional (legal and political) circumstances or conditions to which they are applied.

19)

In a public park an apple tree yields excellent apples, which may be picked by the public. When will the apples be picked? If the American bison had been owned by someone, do you think the animals would have been so nearly exterminated? Do you think seals and whales would be faced with extinction if some person or group were able to buy, as private property, the right to catch whales and seals?

Answer:

The apples would be picked and the bison slaughtered prematurely, for, with no designated and enforced ownership rights, the taking would be first come, first served. If you do not take now, some other greedy person is likely to beat you to the prize. If assets are privately owned, the owners have much incentive to protect and preserve them until optimum harvest time and then to harvest them at the optimal rate for the long run.

20)

Contrast socialism and private property as means of distributing risks of profits and losses.

Answer:

Socialism does not permit discretionary (optional) selection of wealth holdings by each individual. Gains and losses are borne in accord with taxes, rights to use government resources, and powers of political office. In a system of private property with open access to trade, consequences—value-change of resources, profits, and losses—are borne by the owner. By selectively purchasing and selling goods, people can adjust the combination of risks they bear. The right to buy and sell facilitates or permits profits and losses to be revised in accord with consumers' personal preferences.

21)

A wealthy industrialist has a stable of race horses and a breeding farm. The two, although operated as a business, lose over $500,000 annually. Yet that continues year after year because the owner enjoys the activity more than spending a similar sum for travel or conventional types of consumption activities.

a.

Is the owner maximizing wealth in that business?

b.

Is that behavior maximizing personal worth?

c.

Would an increase in the losses induce a decrease in that kind of activity? What does economic theory say about that?

Edition: current; Page:

[

193

]

Answers:

a.

Probably not.

b.

Probably yes.

c.

Yes. The higher the price, the less will be demanded.

22)

A large lake is stocked with excellent fish, but no one owns the fish or the lake. Only by catching the fish can you acquire ownership in the fish.

a.

What do you think will be the average age of fish caught as compared to the age of the fish in a privately owned lake?

b.

Which system will induce overfishing in the sense that more resources will be devoted to catching fish than the extra fish caught are worth? Why?

Answers:

a.

Fish will be younger and smaller, for the same reason that apples don't ripen in a public park. No one owns the fish (or trees in a public park), and the only way to capture the value of the fish is to catch the fish (or to cut a tree on public lands and take the wood).

b.

When no one owns all fish in the lake, the extra value of the fish taken will be judged by each separate fisherman according to his catch rather than by the total catch in the lake. Absence of property rights in the lake causes competition to acquire property rights in the fish by catching them first.

23)

Someone invents a new type of sail for a boat to capture the force of the wind. The inventor makes some sails and offers to rent them to a boat's owner. Instead of accepting this offer to rent sails, the boat's owner estimates that by taking a year off from fishing and investing one year of his crew's time in making their own sails, he and his crew could then catch more cod. He also estimates that the value of the additional cod caught in the subsequent three years of fishing will be greater than the cod sacrificed while making the sails plus the cost of renting sails. The boat's owner puts the decision whether to rent sails now or take a year off from fishing while they make their own sails to a vote by all the people on the boat. The decision is against the proposal to take the year off and make their own sails. Why is that result not surprising?

Answer:

Nonowners are less interested in the future effects than are owners, who are interested in the present value of the longer-run gains from current investment, as explained in chapter 30 on capital values. Ownership of a resource forces attention to capital values, which reflect the full long-run Edition: current; Page: [194] effects, and the owners bear the effect in the salable capital value. Employees bear less significant effects. "Employee ownership" does not give an employee any rights to sell a portion of that "ownership," as can be done with one's ownership in a stock corporation. What an employee "owns" is a right to vote on a decision about who will manage the "employee-owned" enterprise, but not the right to sell shares "owned" by the employee. Management is under less extensive policing by shareholders, who can sell their shares.